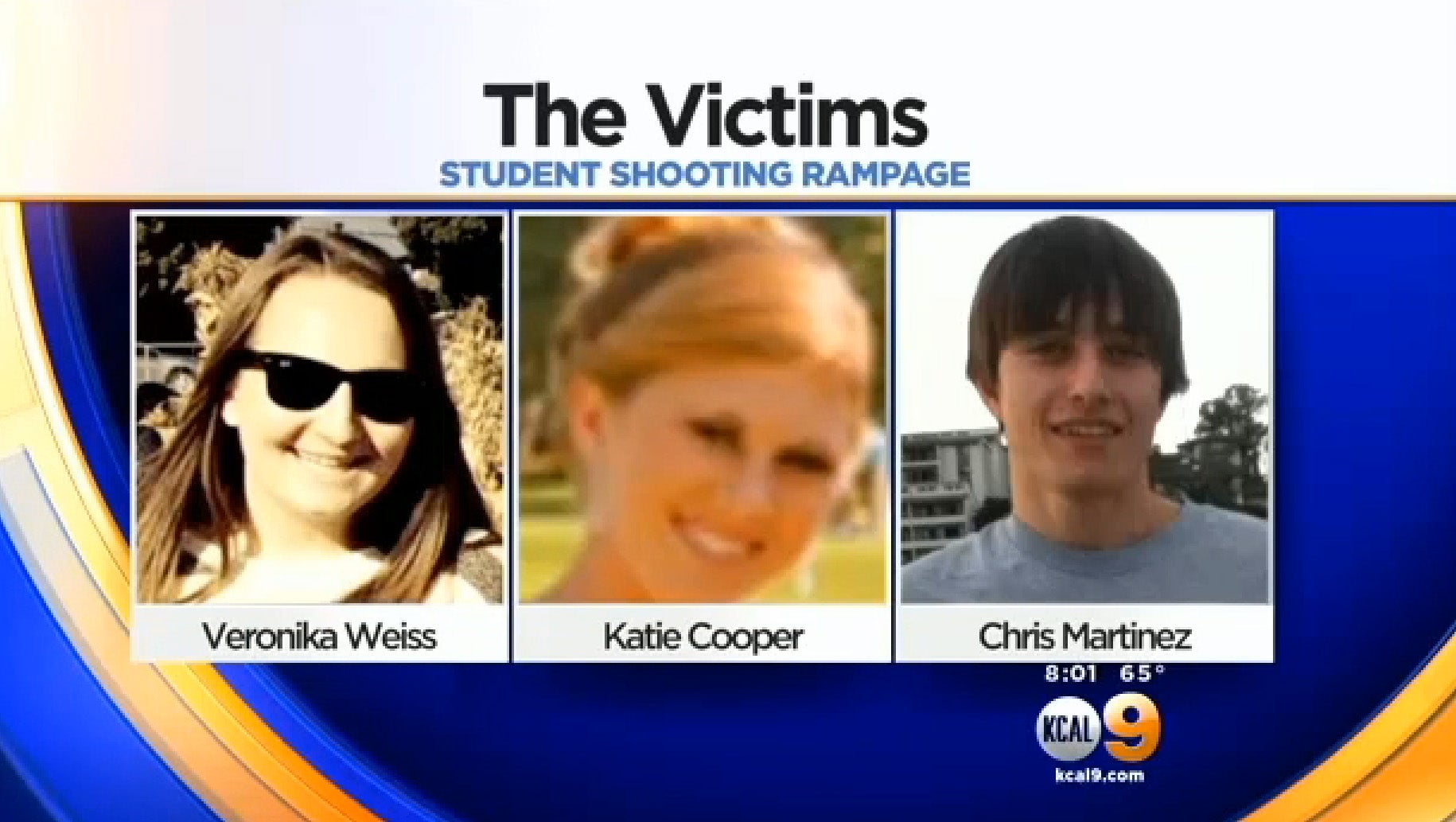 All six rampage victims were UCSB students
When Veronika Weiss didn't call, her parents became frantic. They used her "Find my iPhone app" to locate her cellphone. It turned out to be in thee middle of one of the many sites where a gunman went on a killing spree Friday night near the University of California, Santa Barbara.
She was one of six UCSB students to be killed in a rampage by 22-year-old Elliot Rodger, police said Sunday. Rodger did not attend UCSB but was a student at Santa Barbara City College.
Weiss, 19, from Westlake Village, Calif., was gunned down Friday along with Katherine Breann Cooper, 22, outside the Alpha Phi sorority house, where police say Rodger planned to begin a campaign of slaughter and "retribution" against women for rejecting him.
Police say Rodger pounded on the Alpha Phi door, but one inside would let him in. Thwarted, he looked for a different target and found it in a group of people walking nearby. He shot and killed Weiss and Cooper and wounded a third young woman, police said.
All three women were members of the Delta Delta Delta sorority.
A freshman, Weiss excelled at sports and was a math whiz, said her father, Bob Weiss.
"She wanted to be a financial wizard, and use her high aptitude with complicated math," he told the Los Angeles Times.
He told the paper how he and his wife, Colleen, desperately tried to contact their daughter after they heard reports of a shooting in the Isla Vista community.
Weiss was a straight-A student in high school, where she played four sports - cross country, baseball, swimming and water polo.
"She was tough," Bob Weiss told the LA Times. "She was a big strong girl and she was tough."
Cooper, from Chino Hills, Calif., was preparing to graduate with a degree in art history. Known as Katie, she graduated from Ruben S. Ayala High School in 2010.
Her friend Courtney Benjamin said Cooper was a painter with an outgoing side.
"She was a self-proclaimed princess and I love her for that," Benjamin said. "And I know she has a crown on her head today."
Another USCB student, 20-year-old Christopher Ross Michaels-Martinez, was shot and killed inside the IV Deli Mart. He was the last of the six people Rodger killed before dying of what appears to be self-inflicted bullet wound, police said.
"Chris was a really great kid," his father, Richard Martinez, said at a news conference Saturday where he choked back tears and eventually collapsed to his knees. "Ask anyone who knew him. His death has left our family lost and broken."
Michaels-Martinez, from Los Osos, Calif.,. was an English major who planned to go to London next year and to law school after graduation, his father said.
Martinez choked back tears as he spoke, then grew angrier as he talked about gun laws and lobbyists.
"They talk about gun rights. What about Chris' right to live?" Martinez said. "When will enough people say: 'Stop this madness! We don't have to live like this! Too many people have died!'"
Police said three other people, all male, were found stabbed to death at Rodger's apartment. They were identified Sunday as Cheng Yuan Hong, 20 of San Jose, Calif.; George Chen, 19, also of San Jose; and Weihan Wang, 20 of Fremont, Calif.
All three victims were UCSB students. Hong and Chen were listed on the lease for the apartment, along with Rodger.
Authorities said they were in the process of determining whether Wang lived in the apartment or was visiting the residence.
Hong was tied to a case involving stolen candles, according to Santa Barbara District Attorney Joyce Dudley. Sheriff's officials mentioned that case at a Saturday press conference, saying Rodger contacted authorities reporting his roommate had stolen candles.
Hong was charged with petty theft, and Dudley said he pleaded guilty.
Thanks for reading CBS NEWS.
Create your free account or log in
for more features.