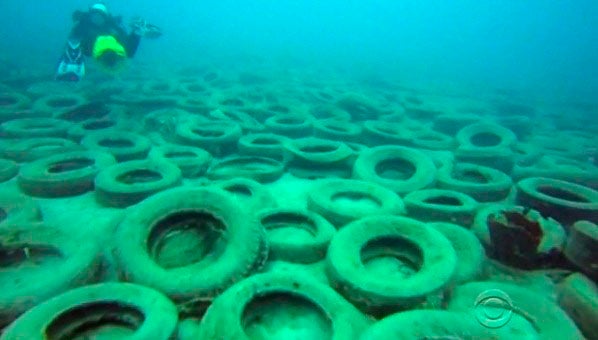 Divers work to clean up failed Florida reef project from the '70s
FORT LAUDERDALE, Fla. -- An attempt to save Florida coral is wrecking the reef instead. Apparently, they didn't think through what seawater does to metal.
The divers are off before dawn.
Diver Thomas Pennypacker is on a rescue mission off the coast of Ft. Lauderdale, saving a piece of Florida's natural coral reef. A massive 35-acre graveyard of old tires.
It started as a way to get rid of tires clogging up landfills back in 1970. Up to two million tires, bundled by metal clips, were dumped to create an artificial reef. The hope was that they would spur coral growth and attract fish, all good for the environment.
Really good idea -- really bad outcome. The clips rusted away, the tires broke free.
Storms and constant ocean currents keep the tires moving, dragging across and damaging the fragile living reef nearby, said Alex Delgado the dive coordinator.
"Right now it's just a wasteland," he said. "It's tires everywhere. Now we need to correct it before it does additional damage."
The tires have spread too, all the way as far as the beaches of Fort Lauderdale.
Surrounded by a seemingly endless mound of tires, Pennypacker slings them onto lines to be hauled up by a crane until he and his team fetch as many as 600 on a good day. It's a race against time.
Pat Quinn, natural resources specialist for Broward County, said if they don't get out of there, the tires will be there forever.
So far, Florida state funding will bring the number of recovered tires to about 160,000, not enough, experts say, to protect a reef 7,000 years in the making.
Thanks for reading CBS NEWS.
Create your free account or log in
for more features.