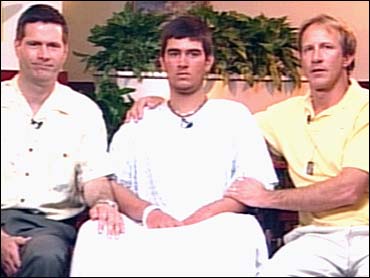 Two teenagers are resting after a terrifying ordeal at sea. Troy Driscoll, 15, and his 17-year-old friend Josh Long were adrift in their small sailboat for six days without food or drinking water. They were finally rescued by a fishing boat Saturday, more than 100 miles away from where they set sail off South Carolina.
Both teens were badly sunburned, dehydrated, and totally exhausted.
Speaking from his hospital bed, Driscoll told reporter Mike Hughes of CBS affiliate WCSC TV in Charleston, S.C., "I was OK for the first night and the second night, but after the second night, I thought we were not going to make it, because I thought the Coast Guard was going to get us real soon, but no one was there."
"Basically, I thought I would never see my family again," Long told Hughes, also from his hospital bed. "I just prayed every day that God would send me home or take me to heaven."
Long, 17, and his best friend and sea mate, 15-year-old Driscoll, each say it didn't take very much time to realize their afternoon fishing trip would turn into a fearful adventure.
"As soon as we got in the riptide, we knew we were in trouble," Long says.
The boys found themselves lost at sea, floating helplessly, surviving only on small sea creatures they found in the salty waters. Both boys credit God and each other for the strength to endure.
"It was a miracle," Driscoll says, "and, Josh, if it wasn't for him and our teamwork together, we never argued, we just encouraged each other on making it."
As far as getting back in the water some time soon, "I lost every bit of gear I had. But as soon as I get my gear, I'm going back in the water. Making sure I have two motors this time in the boat," Long smiled.
Both boys are in relatively good spirits after their ordeal and rescue, Hughes says, adding, "Remarkably, doctors say, both should make a full and complete recovery in just a few weeks."
On The Early Show Monday, Long told co-anchor Julie Chen, "I'm doing a lot better now that I'm home. It was bad out there, but I'm glad to be back with my family."
And Troy? "Troy is resting at this time right now," Troy's father, Tony Driscoll, told Chen. "He's had a lot of trauma. …He's just resting right now, trying to recovery from the long journey the boys had."
How did the two make it, Chen asked Josh.
"By God's hand," Josh responded. "We just prayed every day. Prayed for our families, prayed for our lives. Prayed to get home. And God answered us.
"I knew that there was some reason God was keeping us in that boat for. I knew he wouldn't let us suffer."
Eddie Long says, "For the entire week, we were unsure of what happened. No clues popped up. I mean, we couldn't find the wetsuits. We knew there were things that would float, even if the boat broke apart, it would still float. So no clues came up, so we hung onto hope and prayed that there would be a miracle that these boys could come back.
"The officials were trying to tell us to expect for bodies to float up between seven and ten days. But we knew we were shooting for a miracle. This is our miracle."

Thanks for reading CBS NEWS.
Create your free account or log in
for more features.