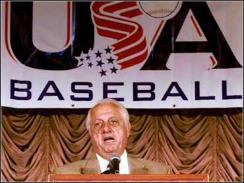 This Olympic Team No Dream
No baseball Dream Team in Sydney.
The United States has assembled a collection of up-and-coming minor leaguers and journeymen to represent it next month in the first Olympic baseball tournament open to professionals.
Pat Borders, a 37-year-old catcher who was a major league journeyman and currently is in the Tampa Bay farm system, was one of the few recognizable names on the U.S. Olympic team announced Wednesday.
Borders also played with Toronto and was the MVP of the World Series in 1992, the first year baseball was an official Olympic sport.
Players on major league rosters weren't available for the Olympics and teams were reluctant to part with some of their top minor leaguers, fearing they'd need them down the stretch. As a result, the U.S. roster is dotted with players currently toiling in such places as Pawtucket, Mobile and Rochester.
"We would have liked to have had players like Mark McGwire, Greg Maddux and Darryl Kile, but this is what was available to us," said Bob Watson, co-chairman of the selection committee.
The U.S. team, managed by Dodgers executive Tommy Lasorda, will be trying to upset two-time defending gold medalist Cuba. Japan, which will feature some of its best pros on its team, and Korea, which is suspending its pro season for two weeks during the Olympics, also are among the favorites.
Host Australia will feature All-Star catcher Dave Nilsson, who played in Japan this year so he would be available for Sydney.
Lasorda, a former Dodgers' manager and Hall of Famer, still has high hopes.
"We aren't going 6,000 miles to lose," he said.
Twelve of the players on the roster have some major league experience. Some of them were on the U.S. team that beat the Cubans during the Pan Am Games last year but lost to them in the gold medal game.
By finishing second, that team qualified the United States for the Olympics.
"There are a few guys that I wish were there because I know them and played with them last year," said Todd Williams, a pitcher in the Seattle farm system who played in the Pan Am Games.
"But this committee has gone through so much to pick a team, I don't think they were going to get anybody who wasn't capable of doing the job. So I think the team we've got and the goal we have, it should be easy to put a good team out there."
Outfielder Shawn Gilbert, who has spent some time in the majors with Los Angeles and now is with their team at Albuquerque, knows expectations are high for the United States.
"The othr countries are definitely underrated, as far as their play. But it's our national pastime, so we're expected to win, in the eyes of our country," Gilbert said.
Asked if the Olympics' stringent drug-test policies might have deterred some players from committing to play for the United States, Bill Bavasi, co-chair of the selection committee, said he didn't believe so, and that all the players had been made aware of the Olympic policies.
Major league baseball has no drug testing except for players who have had substance-abuse problems.
The U.S. team, which opens the Olympic round-robin series against Japan on Sept. 17, has a pitching staff that includes Ryan Franklin, Chris George, Matt Ginter, Shane Heams, Rick Krivda, Roy Oswalt, Jon Rauch, C.C. Sabathia, Bobby Seay, Ben Sheets, Williams, Tim Young and Kurt Ainsworth.
In addition to Borders, the catchers will be Marcus Jensen and Mike Kinkade.
Infielders on the 28-man roster are Brent Abernathy, Sean Burroughs, Brent Butler, Mike Coolbaugh, Gookie Dawkins, Adam Everett and Doug Mientkiewicz.
The outfielders are Gilbert, Anthony Sanders, Ernie Young, Brad Wilkerson and Mike Neill.
One more player will be added to the roster, which will then be cut to the 24-man limit by Sept. 15.
Watson doubts that the United States will ever field an Olympic team with its best major leaguers.
"I don't see anybody here giving up players to do that. Maybe if they play the Olympics in the Southern Hemisphere in November," he said. "But if we win the gold medal with these guys, maybe that won't be an issue."
The United States lost to Japan in the semifinals of the 1996 Olympics and also failed to win a medal in 1992.
©2000 The Associated Press. All Rights Reserved. This material may not be published, broadcast, rewritten, or redistributed
Thanks for reading CBS NEWS.
Create your free account or log in
for more features.