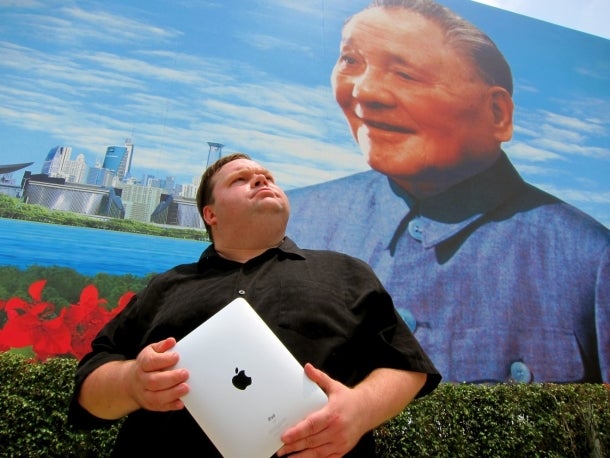 "This American Life" retracts Apple Foxconn episode
(CBS News) Chicago Public Media radio program "This American Life" is retracting an episode containing a scathing account of Apple manufacturer Foxconn by American author Mike Daisey.
"We've learned that Mike Daisey's story about Apple in China - which we broadcast in January - contained significant fabrications," Ira Glass, the show's host and executive producer, said in a statement. "We're retracting the story because we can't vouch for its truth."
Daisey made headlines with his one-man show "The Agony and Ecstasy of Steve Jobs." In the critically acclaimed show, Daisey recounts his visit to Foxconn in Shenzhen, China. During that visit, Daisey allegedly met with iPhone workers who claimed to be poisoned by a chemical called n-hexane, interacted with a man who had never seen an iPad and met with underage workers.
Glass admitted they should have killed the story during the fact check, when Daisey claimed the name of his interpreter in China was different than the name used in his one-man show. The allegations were difficult to confirm because Daisey also claimed that his interpreter's cell phone number was disconnected. However, many of Daisey's other stories did check out, so producers continued work on the show.

According to a statement released by "This American Life," questions of Daisey's account at Foxconn were questioned by "Marketplace" China correspondent Rob Schmitz. "Marketplace" had previously reported on Foxconn and Apple's supply chain. Schmitz located Daisey's interpreter Li Guifen, who disputed many of Daisey's account of Foxconn.
"Daisey told This American Life and numerous other news outlets that his account was all true," Schmitz said in a blog post, "But it wasn't."
In "The Agony and Ecstasy of Steve Jobs," Daisey claimed to have met factory workers at the Shenzhen Foxconn plant who claimed they were poisoned by the chemical called n-hexane. The incident in question actually happened in Suzhou, China at another manufacturing plant - Wintek.
Apple iPhone factory workers' petition begs for reform
"It happened nearly a thousand miles away, in a city called Suzhou," said Schmitz. "I've interviewed these workers, so I knew the story. And when I heard Daisey's monologue on the radio, I wondered: How'd they get all the way down to Shenzhen? It seemed crazy, that somehow Daisey could've met a few of them during his trip."
Daisey released this statement on his website Friday:
I stand by my work. My show is a theatrical piece whose goal is to create a human connection between our gorgeous devices and the brutal circumstances from which they emerge. It uses a combination of fact, memoir, and dramatic license to tell its story, and I believe it does so with integrity. Certainly, the comprehensive investigations undertaken by The New York Times and a number of labor rights groups to document conditions in electronics manufacturing would seem to bear this out.


What I do is not journalism. The tools of the theater are not the same as the tools of journalism. For this reason, I regret that I allowed THIS AMERICAN LIFE to air an excerpt from my monologue. THIS AMERICAN LIFE is essentially a journalistic - not a theatrical - enterprise, and as such it operates under a different set of rules and expectations. But this is my only regret. I am proud that my work seems to have sparked a growing storm of attention and concern over the often appalling conditions under which many of the high-tech products we love so much are assembled in China.
Soon after the episode of "This American Life" aired, the New York Times published an in-depth series of investigative reports of Foxconn working conditions. The reports were damning and sparked a firestorm of media attention and petitions demanding Apple to put pressure on Foxconn to improve working conditions. Apple responded to allegations of poor factory conditions by hiring independent auditors.
"This American Life" will dedicate a full hour to detail the errors in the retracted episode, "Mr. Daisey Goes to the Apple Factory." That episode will air Friday night on WBEZ in Chicago at 8 p.m. ET and nationally this weekend on public radio stations. Streaming and downloads of the show can be accessed at thisamericanlife.org.
Updated 5:25 p.m. ET: Article originally identified American Public Media as producer of "This American Life." Corrected to reflect Chicago Public Media as producer of the program.
Thanks for reading CBS NEWS.
Create your free account or log in
for more features.