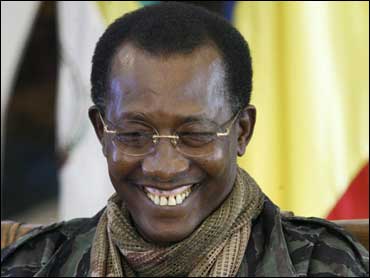 The world's enduring dictators: Idriss Deby, Chad
This is an installment in the WorldWatch series, "The world's enduring dictators," inspired by events in Tunisia and Egypt, in which CBSNews.com takes a look at the men who continue to rule their lands unimpeded by law. See a complete explanation of the series and a list of others profiled here.

Idriss Deby, Chad
Length of rule: 21 years. Deby led a military coup - with support from his now-occasional nemesis, Sudanese President Omar Bashir - that overthrew his predecessor in 1990. In mid-May, Deby was declared the winner of a disputed presidential election that most opposition parties boycotted, and which gave him his fourth five-year term.
Feature page: The world's enduring dictators
Most despotic acts: Deby played a key role in escalating a bloody proxy war between Chad and Sudan throughout the 2000s, much of which manifested itself in the Darfur crisis, and has resulted in accusations of gross atrocities on both sides. The Chadian army is currently beset by accusations that it frequently uses child soldiers in its many conflicts, sometimes as young as ten years old. As part of the Deby regime's unending fight against insurgents, state security forces are accused of carrying out "a regime of murder, torture and enforced disappearance of suspected government opponents," according to Amnesty International. Finally, one of the worst signs of his leadership are the persistent rankings of Chad as one of the world's most poverty-stricken countries, despite abundant natural reserves of oil, uranium and gold.

Outlook for change: Deby has survived numerous aggressive threats to his regime, including rebels seeking his ouster reaching the capital in 2006 and 2008, as well as his own ethnic group turning on him. As mentioned earlier, however, he won as much as 88 percent of the vote in the recent presidential elections, virtually assuring he will extend his reign past the quarter-century mark. Protests and organized opposition movements are generally scarce in Chad, and any chances of unseating Deby were greatly diminished when longtime opposition leader General Wadal Abdelkader Kamougue died in early May.
Chad stats:
Population: 10,758,945; Sara 27.7 percent, Arab 12.3 percent, Mayo-Kebbi 11.5 percent, Kanem-Bornou 9 percent, Ouaddai 8.7 percent, Hadjarai 6.7 percent, Tandjile 6.5 percent, Gorane 6.3 percent, Fitri-Batha 4.7 percent, other 6.4 percent, unknown 0.3 percent; Median Age is 17.
Constitution and the Rule of Law: Republic; Everyday law based on French civil law system and Chadian customary law.
Economic Indicators: Overall GDP is $18.7 billion (world rank is 128); Per capita GDP is $1,800 (world rank is 192); unemployment rate not available.
Press freedom index world rank: 112
Thanks for reading CBS NEWS.
Create your free account or log in
for more features.