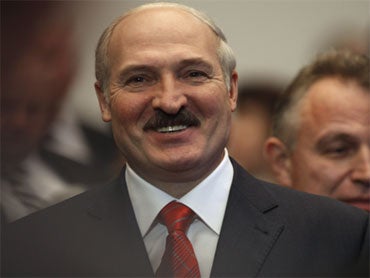 The world's enduring dictators: Aleksander Lukashenko, Belarus
This is an installment in the WorldWatch series, "The world's enduring dictators," inspired by events in Tunisia and Egypt, in which CBSNews.com takes a look at the men who continue to rule their lands unimpeded by law. See a complete explanation of the series and a list of others profiled here.

Aleksander Lukashenko, Belarus
Length of rule: 16 years. Lukashenko won his fourth term as president late last year in a vote widely decried as fraudulent - much like the preceding three elections. Even though he won 80 percent of the vote, Lukashenko still felt the need to accuse the opposition of "banditry."
Feature page: The world's enduring dictators
Most despotic acts: To this day, Europe's only remaining dictator is regularly accused of jailing and torturing dissidents. Lukashenko even celebrated his recent reelection by jailing hundreds of dissidents, as well as some of those who ran against him, which was after a few of them of them were detained and beaten by state security during the campaign. In an interview with The Washington Post, Lukashenko expressed no regrets for the mass arrests, saying: "If it were to happen again tomorrow, I would do the same thing I did at that time. I would protect the house of government as it has to be done according to the constitution." Meanwhile, many former allies and government ministers have either fled abroad or joined the opposition or have simply disappeared. The news website Russia Today, claims that the Belarusian KGB (they never bothered to change the name) has begun targeting social networking sites run by opposition members, showing up at hosts' homes and threatening family members.
Outlook for change: As many as 20,000 protesters took to the streets against Lukashenko after last year's election, but were beaten back immediately by security forces. However, Lukashenko enjoys at least some support abroad and, according to the Wall Street Journal, "Mr. Lukashenko's domineering style of rule enjoys broad support among Belarus's population of 9.5 million. His promise of political and economic stability (has) played well with many voters." While in Europe recently, President Barack Obama drew attention to political repression in Belarus, even threatening to pursue wider sanctions. The European Union and Washington have already slapped travel bans and asset freezes on top Belarussian officials. Still, with Russia backing him up, Lukashenko is largely expected to be able to weather Western sanctions and condemnation - as well as a recent massive currency devaluation - for some time.
Belarus stats:
Population: 9,577,552; Belarusian 81.2 percent, Russian 11.4 percent, Polish 3.9 percent, Ukrainian 2.4 percent, other 1.1 percent; Median Age is 39.
Constitution and the Rule of Law: Republic; Everyday law based on civil law system.
Economic Indicators: Overall GDP is $128.4 billion (world rank is 60); Per capita GDP is $13,400 (world rank is 87); unemployment rate is 1 percent (world rank is 5.)
Press freedom index world rank: 154
Thanks for reading CBS NEWS.
Create your free account or log in
for more features.