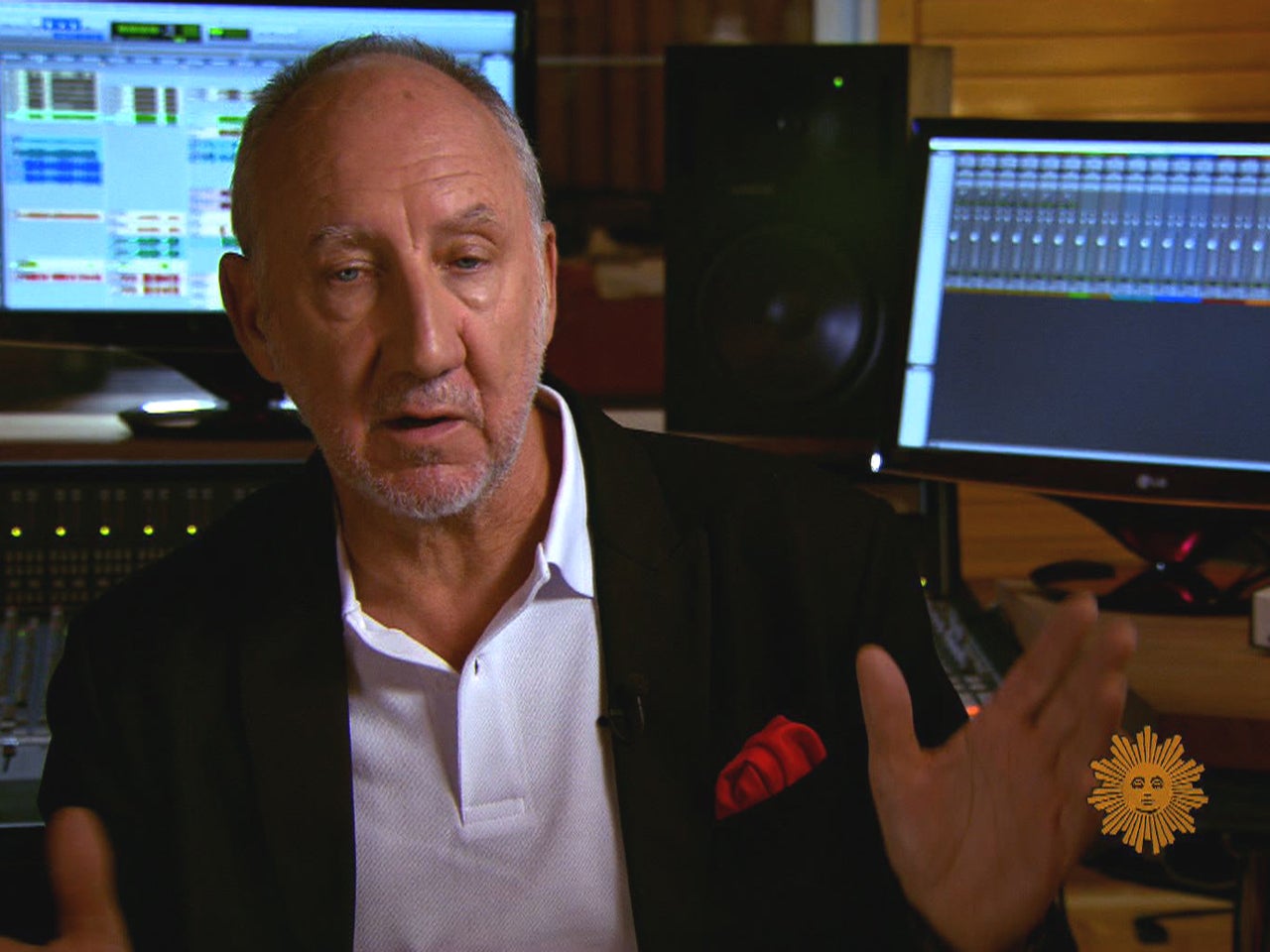 The Who's Pete Townshend, a reluctant rock star
(CBS News) "My Generation" was a huge hit for The Who back in 1966. Now, lead guitarist Pete Townshend is telling all about the highs and lows of life as a rock star. Here's Anthony Mason with our Sunday Profile:
It's one of the signature moves in rock & roll: Pete Townshend's windmill wind-up. But he now admits he stole it from the Rolling Stones' Keith Richards.
"We were doing a show supporting the Stones, first time I ever played with them. Anyway, as they went on the curtain got in the way of Keith Richards and he was kind of limbering up. He was kind of going like that."
It was London, late 1963. And the next time The Who played with the Stones, Richards wasn't windmilling anymore.
"I went up to him afterwards and I said, 'Don't you do that arm swing thing?' And he went, 'What?'" Townshend laughed. "So I decided to own it, yeah. And now I can do it with such force that I can break all six strings, just downwards BANG. So that's how I started. I'm showing off!"
The Who would ascend to rock's mountain top, of course. Their incendiary performances became legendary, and the band has gone on to sell more than 100 million records.
But in his new autobiography, "Who I Am," Townshend paints himself a reluctant rock star.
"I wish sometimes I had just been a composer," he told Mason.
Always happier at home in his studio ("The engine room of my work"), playing and experimenting with sounds ("If I just throw my fingers somewhere, something interesting will happen").
It's a short walk from Townshend's London home to the River Thames,
He wanted to take us on a cruise aboard the Zephyr, a boat he'd built himself. He's spent much of his life near the river.
He's used it for some rowdy rock & roll behavior, like tossing empty champagne bottles at the Houses of Parliament.
"So we'd get the bottles and we'd throw them up on the terrace, in a kind of rebellious way. And you'd hear them land," he said. "One day we're coming back, and somebody threw three or four bottles back at us!"
But he also found inspiration along its embankments. The song "I Can See For Miles" was conceived there. "So for me this is very familiar ground. I wrote 'Tommy' here, 'Quadrophenia' here . . . "
As The Who's main songwriter, Townshend's music would give voice to Britain's post-war generation. His songs about teenage disaffection were rooted in his own troubled childhood:
Born into a musical family - his father was a saxophone player, his mother a singer - Townshend was just six when his parents sent him away for two years to live with his mentally ill grandmother. He described it as the darkest part of his life.
"Yeah it was. I don't remember much about it. What I can remember was extremely disturbing."
"In some ways you seem kind of haunted by this whole period," Mason said.
"Oh no, definitely I am."
Haunted, Townshend says, by the feeling that he was an "inconvenience" to his parents.
"That probably more than anything, probably far more than whether or not my grandmother tried to drown me or made my life miserable or denied me sleep or food or whatever it was that she did, whether or not any of her weird boyfriends abused me in the middle of the night, that stuff I think I could understand," Townshend said. "What I can't understand is why that feeling of being abandoned is so huge and so difficult to get past."
It would surface unexpectedly in Townshend's epic rock opera, "Tommy," the story of a deaf, dumb and blind boy abandoned by his parents.
"I looked at this story and I thought, 'Where the hell did that come from?' And now I kind of know. It came from the deeper recesses of my subconscious."
"Tommy," and especially the band's performance of it at Woodstock, would (in Townshend's words) "elevate The Who into American rock aristocracy."
But he says he didn't particularly like Woodstock. "The experience? No, I hated it, because of the chaos and the disorganization and the mess."
"At the same time it ended up being pretty important for the band, didn't it?" Mason said.
"Vitally important. If we hadn't been there, I don't really think we would've succeeded much, much further."
In the Seventies The Who's new anthemic sound would fill stadiums. But drugs were beginning to take their toll - first on the band's anarchic drummer Keith Moon.
At The Who's peak - "Quadrophenia" in 1973 - Townshend says Moon was in trouble. "You know you could see he was headed for rock star hell."
By 1978, Moon was dead. And three years later The Who would split up, not to reunite until the late '90s to help save the band's bass player, John Entwhistle, from losing his home.
"It sounds as is, if John Entwistle hadn't needed the money, The Who might never have come back together," Mason said.
"It's true. I certainly had no need for them," Townshend said.
"But you don't seem to regret now that you've come together."
"No, of course, I don't regret it," he laughed, "because the one great thing that has come out of it is I got some more time with John Entwistle, who I just loved to bits."
Entwistle would die of a drug overdose in 2002. He was 56.
"But better yet, their emergence of a new true relationship with Roger Daltry, which I never ever thought would be possible, where we're real intimates," Townshend said.
"Why didn't you think it would ever be possible?"
"Because we're so different."
The band's founder and lead singer, Daltry was a former sheet metal worker . . . Townshend, a former art student. The Who's two surviving members long had an uneasy relationship.
"And what's so great for Roger and I is that we forgive each other our defects," Townshend said. "You know, we are the Lord's Prayer incarnate. And we have trespassed against each other."
Daltry would stand by Townshend at his bleakest hour: In 2003, Townshend was arrested after his name surfaced in a child pornography investigation.
"Did you think at that moment your reputation was effectively destroyed?" Mason asked.
"Yeah, I think so," he laughed.
As a father of 3 and a possible abuse victim himself, Townshend had campaigned against child pornography:
"This idea that there was an industry out there trading in images of children being abused, it was just abhorrent to me," he said.
To demonstrate that major banks were making money off the industry, Townshend says in 1999 he used a credit card to log onto a child pornography website, then immediately cancelled the account.
"That one transaction is the one that came up somewhere" as the one for which he was arrested, Townshend said.
"The police when they arrested you confiscated 11 of your computers and found ultimately nothing?"
"There was nothing. I hadn't searched for child pornography and I hadn't downloaded any."
Townshend accepted an official "caution" from police rather than face trial.
"Do you feel like you're past it at this point?" Mason asked.
"Well, we're talking about it now . . . " he replied.
Now 67, the musician will head back out on tour with The Who next month. Pete Townshend hopes his memoirs will finally help explain just who he really is:
"You talk in the book about ultimately trying to rescue and redeem the lost boy in yourself," Mason said.
"Do I?" he laughed.
"Yeah. Well did you? Have you?"
"Yes," Townshend said. "Yeah. Definitely."
For more info:
Thanks for reading CBS NEWS.
Create your free account or log in
for more features.