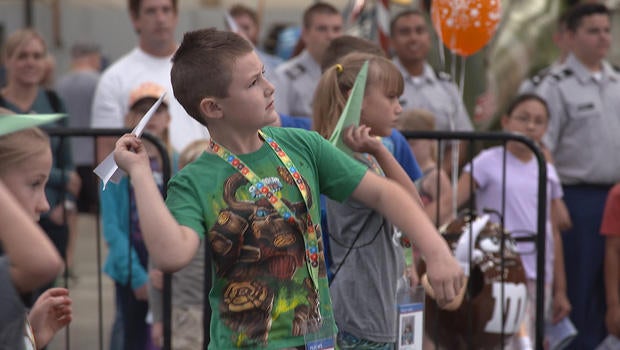 The unfolding history of paper
More and more of us may read their newspaper online. But many kinds of paper are "on a roll." Martha Teichner this morning offers us a crash course on paper. You might want to take notes:
They're just pieces of paper. But with a few folds and a toss, these kids created the magic of flight.
Competing in the Great Paper Airplane Fly-Off at the Pima Air and Space Museum in Tucson, Arizona recently, they probably were not marveling at making the magic happen.
But paper is like that -- known for what it does, not so much for what it is.
"Paper is at the center of so many of the elements of the development of civilization," said Mark Kurlansky, who has written "Paper: Paging Through History" (W.W. Norton).
"It's about communication and writing and thinking, and art and science and architecture and mathematics and political movements. And that's why it's such a great story, you know?"
A story that begins in China, where supposedly nearly 2000 years ago, a eunuch in the royal court, named Cai Lun, invented paper.
"The Chinese were really the only ones to invent it," said Kurlansky. "Everybody else just took the idea."
For papermaking to spread from China along ancient trade routes to the Middle East and finally into Europe took a millennium.
The name paper comes from papyrus, but ironically, the dried reed sheets the Egyptians wrote on were not really paper.
To make paper, some sort of plant fiber -- wood, cotton, linen, hemp, among others -- is beaten into a pulp and then soaked in water until it becomes what's called a slurry, explained Amy Jacobs, education director of Dieu Donne, a papermaking studio in New York City.
"It's very similar to 2,000 years ago, except we have electricity," Jacobs said of the process used today, "and we're using actually, partially-processed 100% cotton today. But it's really the same thing, where you're making a pulp."
The secret ingredient: Cellulose, a substance in all plants that acts like glue and causes the fiber particles to bond together. Until mechanization came along, this painstaking process was how all paper was made -- which became a problem in the Middle Ages, when demand for books increased exponentially.
The Gutenberg Bible was the first major book printed on a printing press using movable type, and it started a paper revolution.
"It showed that printing could work and work well, and be easily reproduced," said Kurlansky. "And to do that, it really needed to be on paper."
Fewer than 50 Gutenberg Bibles survive. The Morgan Library in New York City owns three.
Kurlansky said the paper used would have been made from mostly linen and rags.
Rags was what almost all paper was made of back then, so no rags, no paper. Which is why Benjamin Franklin, founding father and famous printer, was in the rag business and owned paper mills.
Pennsylvania, Franklin's home state, was the heart of early American papermaking. It was in the town of Chester, Pa., on the Delaware River, that in 1890 the Scott brothers came up with that great innovation: Toilet paper on a roll.
By then most paper was being made out of trees, not rags.
Today, the Chester Mill (now owned by Kimberly-Clark) produces about two million rolls of bathroom tissue a day -- 700 million a year.
"We can basically wrap the entire Earth 1,000 times with all the paper that we make with Scott 1000 in a year," said operations manager Jeff Hutter.
Americans used more than 77 million tons of paper in 2015, although we did recycle more than two thirds of that (66.8%)​.
Back in Tucson, though, at the Great Paper Airplane Fly-Off, the statistics were of another sort. Among the day's winning throws: Michael Thompson's was the longest, at 104 feet.
Not bad for a piece of paper!

For more info:
Thanks for reading CBS NEWS.
Create your free account or log in
for more features.