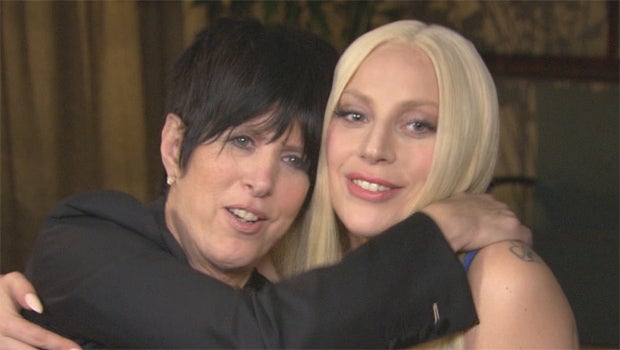 ​The tenacious Diane Warren and Lady Gaga
SHE WRITES THE SONGS that many of the biggest performers of our time want to sing. Her name is Diane Warren. And this morning, she and Lady Gaga are talking with our Ben Tracy:
Lady Gaga performed her haunting new song, "'Til It Happens to You," at Billboard's recent Women in Music event.
"'Til It Happens to You," is about surviving sexual assault. It was a work in progress by legendary songwriter Diane Warren for the documentary "The Hunting Ground," about rape on college campuses.
But when Gaga came on board, she wanted to make the song even more powerful:
"The melody was beautiful, but maybe it didn't go to the place I felt that it needed to go for it to, at the end, arrive in a triumphant place," Gaga said.
"At the end of that song, that's a warrior singing that," said Warren. "That's a warrior."
The song is deeply personal to both women because both have survived sexual assault.
"How emotional was this to record this song?" asked Tracy.
"I know I feel really and truly like I bared my soul," Gaga said. "It wasn't until I was almost, I think, 27 years old that I did even acknowledge that this happened in my life. Like, 'Oh yeah, that.'"
Both women says writing the song was a spiritual experience. It also led to Grammy and Oscar nominations. It is Diane Warren's eighth Academy Award nomination in a remarkable three decade-long career.
While you may not know her name, you do know her songs; Warren has provided the words and melodies for some of the biggest voices in music, including "If I Could Turn Back Time," performed by Cher; "I Don't Want to Miss a Thing" by Aerosmith; and "Because You Loved Me," sung by Celine Dion.
"Every time someone sings my song, I'm really excited because it sounds a lot better than me singing them!" Warren laughed. 'Cause I suck! I know what my job is. I know what my gig is. My job is to write a great song."
Warren is a songwriting machine. She has written more than 250 Top 100 hits, 70 of which cracked the Top 10.
She's written for practically everyone: Whitney Houston, Faith Hill, Christina Aguilera, Ricky Martin, Eric Clapton, Celine Dion, Mary J. Blige, Beyonce.
And Warren likes to go big, often writing sweeping, unapologetic power ballads, such as Bad English's "When I See You Smile."
When Tracy visited her studio, Warren said she writes at least one new song every week.
"How many unrecorded hits do you think you have?" Tracy asked.
"A lot, a lot. I really do. Dozens and dozens, yeah, that're better than some of the songs that I've had hits with."
Her songs tend to touch on some common themes -- love and tenderness, among them.
I could stay awake just to hear you breathing,
Watch you smile while you are sleeping,
While you're far away and dreaming.
I could spend my life in this sweet surrender.
I could stay lost in this moment forever.
Every moment spent with you is a moment I treasure.
But romance is not her particular strong suit. "No, I sleep with a cat," she laughed."I love my cat."
"That's very direct!" said Tracy.
"I just haven't been, like, in love the kinda love like, 'I wanna sit and hear you breathe.' I don't want somebody to stay up and hear me breathe, either. I'd be like, really? It sounds good in the song. Like, people love it. It's a great opening line. But, like, 'I could stay awake just to hear you breathing'? Ewww!"
Her true love is her work. She's been writing songs since she was 14, while growing up in a suburb of Los Angeles. Warren was always intrigued by the unfamiliar names on records, and realized those were the songwriters.
Her dad bought her a guitar, but her mom did not think songwriting was a real career. That only fueled Warren's ambition.
Her first big breakout hit came in 1985 when she helped DeBarge find the "Rhythm of the Night."
For 30 years now, Warren has written many of her songs inside her office in Los Angeles. "I've been here a long time!" she laughed.
"I mean, this is like an episode of 'Songwriter Hoarders,'" Tracy said of the cluttered office.
It's a time capsule. A black shelf knocked down during an earthquake in 1994 remains where it landed. She says she doesn't move anything because of a combination of superstition and laziness.
Tracy said, "Thank you for showing us this, because I understand you don't let people come in here."
"This doesn't happen," she laughed. "This is an exclusive!"
She's been called the "song whisperer." "I love that," she said, "'cause I think I am. You know, I think when I meet with an artist, I kind of can feel it. You know, I feel what that right song is."
Even when the artists doesn't. Cher had no time for what would become one of her signature songs, "If I Could Turn Back Time."
"Cher hated it, hated the song," said Warren. "I got on my knees and held her leg, and I go, 'I will not let go of your leg until you say you will try this song.' She goes, 'F you, Diane.' You know, when I believe in something, I can't stop, 'cause I don't know how to stop."
Warren doesn't seem to mind that Lady Gaga turned out to be just as tenacious.
"I'm always trying to make people uncomfortable," Gaga said, "and take them out of the comfort zone of what they create, and try to encourage them to change their process to see what will happen when you are doing something that you don't expect of yourself. And that's, I think, what made this song great in the end, is there's like a chaos, but a resolve. And that's us. Chaos (Gaga) and resolve (Warren)."
Gaga added of Warren, "She's just insane ... ly talented!"
And that crazy talent is what has made Diane Warren such a force in music without ever singing a note.
She explained: "It's always gonna be about one thing: the song. Guess what? It comes down to the song and always will."

For more info:
Thanks for reading CBS NEWS.
Create your free account or log in
for more features.