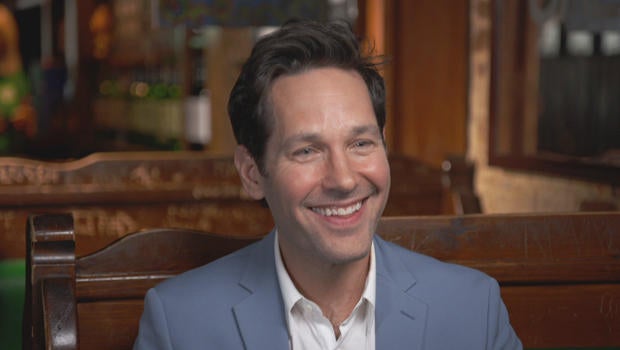 The superpowers of Paul Rudd
Paul Rudd can do drama, he can do comedy. He can even be a "superhero," as Tracy Smith shows us in our Sunday Profile:
At 49 actor Paul Rudd might not seem like the superhero type. As the comic book hero Ant-Man, he doesn't really have any superpowers; the magic suit does all the work.
For his part Rudd is valiant, and vulnerable. It's a combination that's made him a star. From action films to rom-coms, Rudd has quietly become one of the biggest names in Hollywood: the drinking buddy with a certain sex appeal.
Most celebrity interviews are done in fancy hotels: Rudd took Smith to McCoys, the tiny New York City bar where he's been coming for 17 years. .
Smith asked, "Did you ever, let's say, 15 years ago, fathom being a Marvel superhero?"
"No, of course not. I figured early on [acting] was what I wanted to do for a job. And I certainly hoped it would work out, and that I would be playing lots of different parts. But I don't think I anticipated being an ant!"
In this summer's sequel, "Ant-Man and the Wasp," he's equal parts Avenger and punching bag.
Again, not your typical superhero. But Rudd hasn't exactly led a typical life. You often hear about celebrities with traumatic childhoods: that wasn't the case here. Rudd's British-born parents, Michael and Gloria, made their home a happy one.
It was also a bit transient: Dad was an airline exec who moved the family around a lot, settling in Kansas City when Paul was 10. By then, he was used to being the new kid. "I think I learned early on that if I can somehow make people laugh, I'm not gonna get beat up, and I can maybe be accepted into a group a little bit easier," he replied.
"Did you get beat up?"
"I didn't get beat up, no, but I always felt a little bit on the outside. And you know, certainly in Kansas, being Jewish was a bit of an anomaly in the town that I lived in and the school that I went to. So, I think I always felt a little bit on the periphery of things."
He wound up at the University of Kansas, and raised money for acting school working – appropriately enough – with ham. "With glazing hams, it was more than just a basic glaze," he explained. "I had to, it was a full day, of a torch and a sugar sifter. And it's kind of a repeated motion of sift, you know, just the back of 'em. You get a rhythm down. That's where the art comes in! And then you gotta wrap it and weigh it and get it out front 'cause, especially during holiday season, those hams, it's a quick turnover!"
Smith asked, "But those early jobs teach you something, right?"
"Well, they taught me that I don't wanna glaze hams for a living!"
By 1995, Rudd wasn't in Kansas anymore: In "Clueless," opposite Alicia Silverstone, he took his place as one of the film industry's leading romantic funny guys.
Smith said, "It's interesting because you got 'Clueless,' and a lot of people say that was the breakout role for you, right? I would imagine that the world kind of opened up as far as movie roles. And it was then that you said, 'I'm gonna go to New York, do some theater.'"
"Yeah. Much to the chagrin of my agents!"
Still, the play he was in, Alfred Uhry's "The Last Night of Ballyhoo," won a Tony.
The parts got bigger, and funnier:
In the space of a decade, he went from a TV guest star to movie star.
In real life he married to his college sweetheart Julie: they have two children, Jack and Darby. But his story has some darker moments, too.
Paul Rudd was especially close to his dad, who died of cancer in 2009. "It just knocked my world off its axis.
"You have these weird thoughts. It was like, 'This day is the first day of my life my father hasn't been alive to … like, I'm on Earth, and he's not on Earth. And I just remember having lunch a week later with a friend of mine who had lost his dad. And he said, 'You'll never get over it, but you will get through it.' And that's certainly the case. I mean, I'm not over it.
"But I have a daughter that my dad didn't even know he would have had a granddaughter. That's just unacceptable. It's just the way it is. And you know, you get on with your life."
Dad might be especially proud of this: Rudd is co-founder of The Big Slick, an annual weekend of fundraising to benefit Kansas City's Mercy Children's Hospital.
The whole Rudd family gets into the act: Paul's sister, Mandi, helps run the show; nephew Henry is the bat boy. Paul's mom, Gloria, told Smith the event means a lot of really hard work, "but it's a labor of love."
"We truly do pinch ourselves and get chills when we get to talk about it, [and] actually get to be a part of this, for all of us," said Mandi.
"Yeah," said Gloria. "We drank the Kool-Aid!"
To Paul Rudd himself, it's clearly more than just another photo-op: Before the game, he and his pals spent a few hours with the kids at Mercy Hospital – and being Ant-Man really meant something.
"I would go into those hospitals for years, and the kids were always so nice, and they didn't know who I was. They weren't really old enough to see any of the [Judd] Apatow stuff, any of those rated-R comedies. And then 'Ant-Man' changed that. And so now these kids are aware of who I am. And it makes the visits with them really fun for all of us."
This year the Big Slick raised more than $2 million in a single weekend, and all of it goes straight to the hospital.
Smith asked Rudd's family, "Now, I know this is a huge group effort, but I have to ask you as sister and mom, to just brag a little bit about Paul."
"Ugh," said mom.
"Oh, that guy," said sis.
But Gloria then added, "He's pretty incredible which, you know, I'm biased anyway. But there are many moments in life when you have a child, where you have a proud moment, and when I see him with anybody's children is when I love him the most."
Paul Rudd doesn't really have superpowers – but then again, maybe he does.

For more info:


Story produced by John D'Amelio.
Thanks for reading CBS NEWS.
Create your free account or log in
for more features.