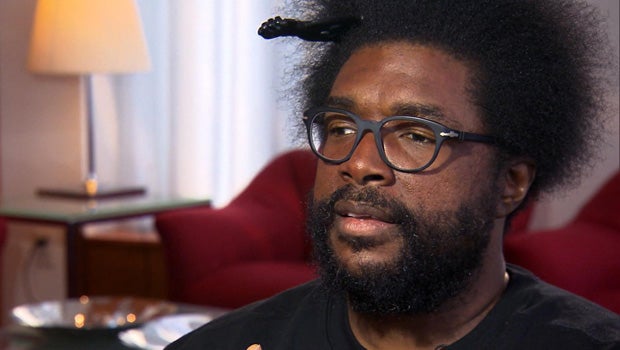 ​The roots of Questlove's success
The bandleader known as Questlove has been shaking up the music world for years with recordings and concert tours. Now he's on late night TV. With Anthony Mason, we Take Note:
As drummer for the influential hip hop group, The Roots, Questlove has always heard music differently.
He could, he told Mason, always sort of hear the beats between the beats.
Even when he was a child, his parents saw it: "They would notice that I wouldn't sing the melody or what's up front. I would sing something that was buried way, way in the back."

"Why did you notice that?"
"That's a question I'm still trying to wrestle with. Because my manager says, 'You can't write a straight pop song!'"
But five years ago, when Jimmy Fallon wanted a house band for his new late-night show, he offered the job to Questlove and The Roots.
Fallon recalled, "I said, 'Look, here's the deal. You'll be the best band ever in the history of late night, ever. Because you can play with Tony Bennett, AND you can play with Jay -Z. No one does that.'"
After years of touring, The Roots just wanted a steady gig.
"We saw Fallon as sort of, 'Okay, well, we're gonna retire and, you know, ride off into the sunset.' And suddenly this has done wonders."
It has changed everything for 43-year-old Questlove, the stage name of Ahmir Thompson, who Rolling Stone has called "America's band leader," and Time magazine recently anointed the "Coolest Person of the Year."
"This is probably the most golden year of any year that I have ever had," Questlove said.
He followed Fallon to "The Tonight Show" . . . has become one of the most sought-after DJs in the country . . . and when Elvis Costello made a new album, he asked Questlove to co-produce.
"We kind of had the same path," Costello said. "I think when you grow up around music when you are a kid, you see the magic of it -- and you see the mundane workaday aspect of it. It is a job, and it puts the work ethic in you. So that's really I think something we share."
Ahmir Thompson grew up in West Philadelphia. By age 10 he was touring with his father's doo wop band, Lee Andrews & the Hearts.
"He taught me how to do wardrobe, how to cut light gels, operate the spotlight" Questlove said. "And I woudl do this in a nightclub."
One day the drummer broke his arm. "And then that's when I did my first show," Questlove said. "And that was at Radio City Music Hall."
He was all of 12 years old. "Yeah, 12!" he laughed.
Mason went with Thompson back to his old West Philly neighborhood. "That used to be a record store that I used to get my 45s at!"
But when they pulled up to his old house, he hesitated.
"Oh boy," Questlove said. "YEah, believe it or not, it is kind of hard for me."
"Why is it hard?"
"It's just haunting. It's not a traumatic hard. It's just . . . ghosts. In my head, my worst nightmare was having to return here."
"Because that would mean, what?" Mason asked.
"Defeat."
To keep him off the streets, his parents (who still live in Philadelphia) made Ahmir practice four hours a day.
"Much to the chagrin of the neighborhood," he said. "I was a loud drummer, and the walls are very thin."
The house is empty. "No one's moved in since my father moved out," Questlove said. "Oh my God, the curtains are still up from -- that's crazy!
"My father chose this neighborhood so that the money he would have spent on a bigger house went to putting me through private school," he told Mason. "His main concern was always making sure that I just escaped. Like, he used to say, 'You see all this out there? You will not be a part of that.'"
His father and mother, a former singer and model, allowed Ahmir to watch only music TV shows.
To the young drummer, "Soul Train" was school. "That was like going to Harvard for us," he said. "To watch, James Brown cues his band with his elbow."
Thompson's other education came at Philadelphia's High School for the Creative & Performing Arts. His classmates included the members of Boyz II Men, some of the country's top jazz musicians, and a young rapper, Tariq Trotter, with whom he'd start The Roots.
"He still is, literally, the fastest, sharpest, lyrically deviant mind I have ever met," Questlove said. "You could tell him something once and it could be five minutes of text, and he will dictate it back to you verbatim."
"Isn't that kind of what you do with drum beats?"
"That is what I do with music. But I think it's more effective when you do it with words," he laughed, "'cause words are relatable."
On weekends, The Roots would busk on the street corners around the University of Pennsylvania. "Busking is what really established us," he said.
They started getting interest from bars that weren't into hip hop: "Often we'd have to play it down a little bit" Questlove said. "Like, 'What do you guys do?' 'Well, we do spoken word!' That was our Trojan Horse into the battles: 'We do jazzy spoken word'!"
They'd become one of hip hops most acclaimed groups, with two gold records and three Grammys. But it's the gig with Jimmy Fallon that made Questlove a household name.
Each night before the show, he stops to pick out a signature bow tie.
"I kind went over the top the past few episodes," he told Mason.
"So you're going to tone it down today?" Mason asked.
"Yeah, I don't want to be, like, the Doc Severinsen jacket and tie."
He's a cultural icon now, with three million Twitter followers.
In his new apartment, 70 floors up overlooking New York City, it can seem like Questlove is on top of the world.
"This really, to me, sort of calms me down," he said, taking in the view. "Especially at nighttime."
But face-to-face with his own success, in front of a new Philadelphia mural dedicated to The Roots, he has difficulty accepting it.
"I've never felt worthy," he told Mason. "I don't know if it's trying to please my father, or just being hard on myself. Do I drive by here and feel like, 'Yeah, I made it'? Naw."
All his life, Ahmir Thompson says, his quest has been for another kind of respect: to be seen as "normal."
Usually, he told Mason, "black entertainers and black figures in general, it's either you're superhuman or you're subhuman. But I really think it's an achievement if you're level zero. 'Cause if people can relate to you, and see you as a human being, that to me is a bigger eye-opener than for you just to leave your legacy and, 'Oh, he was a God.' You know, 'He is a God' I am a man."
To listen to The Roots perform "Tomorrow," featuring Raheem Devaughn, click on the audio player below.
For more info:
Thanks for reading CBS NEWS.
Create your free account or log in
for more features.