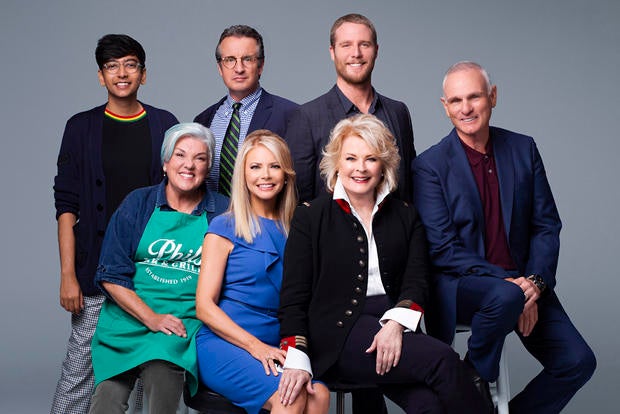 The return of "Murphy Brown"
Thirty years after her debut, Murphy is back. A new version of the hit comedy "Murphy Brown" premieres Thursday night here on CBS. Lee Cowan takes a look back, and a look forward:
It's been 20 years since Candice Bergen took her final bow as Murphy Brown, the fictional newswoman many real-life journalists secretly wished they could be.
The show had a good, long run – ten seasons – the cast and crew earning their fake newsroom a slew of very real Emmys.
When it finally ended in 1998, most thought it would go where most sitcoms go … maybe a DVD boxed set or reruns on cable.
But then came Election Night 2016. "It was just, it was just grief, frankly ... till now!" said Bergen laughing.
Murphy is now back on the air, hosting "Murphy in the Morning," just in time for the midterms.
"Cold and flu season is approaching, so get your shots, pull out your heavy winter coats, and Ruth Bader Ginsburg, stay away from drafts, please!"
Cowan asked, "Is this, at some level, activism in a sitcom?"
"Yes," said showrunner and writer Diane English.
"We haven't really articulated that we consider ourselves 'The Resistance,' but I think that's the subtext, certainly," said Bergen.
"So, if Hillary had won, you guys probably wouldn't be here?"
"I don't think so," Bergen said.
English agreed: "We didn't feel like we should go back and revisit it unless there was a real reason to do it."
"And this was the reason?"
"Well, it got us pretty close, you know, but when you look at what's going on on the front page of the newspaper every day, that's what put us over the top."
It really wouldn't work, of course, unless the rest of Murphy's gang felt the same way.
"What a perfect time for Murphy Brown, a reporter, and Frank and Corky, reporters, to come back and start covering some of the madness," said Joe Regalbuto, who – along with Faith Ford and Grant Shaud – was anxious to return.
Cowan asked, "Was it a strange thing to kind of re-inhabit a character that you hadn't really dealt with in 20 years?"
"I was, like, sort of concerned about that, because my character was based on being young and in over his head," said Shaud. "And I thought, if I'm sort of freaking out at my age now, is that gonna be awkward?"
"Now you're just old and over your head?' said Ford.
"Now I'm just old and and overwrought. And it works fine!"
Regalbuto said, "I love the two babies talking about being old."
Murphy's Washington watering hole, Phil's Bar, looks just like the original. The only difference now, though, is TV veteran Tyne Daley, who plays Phyllis, the barkeep serving the worst coffee in town.
Murphy's Georgetown townhouse had to be re-created, too.
What was it like walking onto the set for the first time? "Tears came to my eyes because it's almost identical to the set that we had when we started 30 years ago," Bergen said.
Regalbuto said, "I walked in with Faith, and Candice was already crying on the set. Faith started crying."
"I was a heap," Ford laughed. "I was just a heap. I wasn't expecting it."
"We're home again," said Regalbuto. "And you don't go home again. But we came home again."
But what does it mean to be home again in such different times?
There were tough issues in the '90s, and the show dealt with them – everything from alcoholism to cancer.
Diane English hopes the new "Murphy Brown" will be even more topical. Storylines already include gun control, immigration, and sexual harassment.
Murphy: "Hello, the show's called 'Murphy in the Morning.' They're not firing me!"
Harassment Trainer: "Do the names Matt Lauer, Charlie Rose and Bill O'Reilly ring any bells?"
Audience: "Oooooooh"
"We have 13 episodes, we're here to make some noise," said English. "We're expecting a certain amount of backlash, yeah. But you know, we used to get it in old days, too."
Most notably back in 1992, when Murphy became a single mom, which brought this famous rebuke from then-Vice President Dan Quayle: "Bearing babies irresponsibly is simply wrong. Primetime TV has Murphy Brown mocking the importance of fathers by bearing a child alone and calling it just another lifestyle choice."
Some of the new cast members aren't even old enough to remember that backlash, including Jake McDorman, who plays Murphy's son, now all grown up.
"Actually hadn't seen any of the original series," said McDorman. "I mean, I knew about it, but I hadn't seen any of it."
Cowan asked, "Did you go back and then look at some of the older episodes?"
"Not until after we filmed the first episode, which was a smart move because it's intimidatingly good!"
What may be most intimidating, however, is the idea of the current White House reacting. New cast members Nik Dodani and Adan Rocha say they're both "terrified"
Rocha's character is especially timely – he plays an immigrant in constant fear of being deported.
Dodani plays the newsroom's social media guru. In real life, however, he thinks he's better off not knowing what the White House might say. "I deactivated my Twitter," Dodani said. "It's my message to America – delete your Twitter!"
With just days to go before the premiere, you might expect nerves to be a little raw, and they are.
Cowan said, "I imagine because the expectations are so high, maybe impossibly high..."
"You had to bring that up," Bergen laughed.
The last three episodes aren't even written yet, by design, so the show can be flexible enough to respond to news of the day.
Bergen said, "Every show night I start getting all weepy, and Faith comes in, she says: 'Now, can-do, You can do this.' I know, but it's so much!"
"Why do you get weepy though?"
"The show was so important to so many of us when we were doing it, and you really connect on a level that's deeper, I think, than usual."
The world is perhaps more polarized than it was when Murphy was last on the air, but Candice Bergen, and the rest of the cast, are counting on the fact that somewhere in the middle of the left and the right, there's still a little room for humor.

See also:
For more info:

Story produced by Jay Kernis.
Thanks for reading CBS NEWS.
Create your free account or log in
for more features.