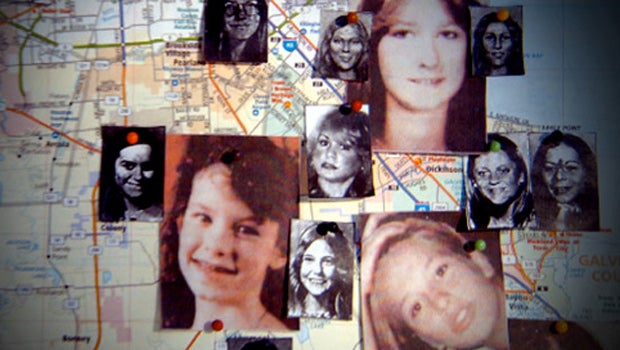 The real-life mystery of Texas' killing fields
Produced by Lourdes Aguiar, Alec Sirken, Jenna Jackson and Chris O'Connell
[This story originally aired on Oct. 22, 2011. It was updated on July 7, 2012.]
Since the 1970s, over 30 young women and girls have disappeared or been found murdered in the 50-mile desolate area between Houston and Galveston - a stretch of land that some call a highway of hell.
"This bridge up ahead had a sign on it when you came out in this direction...it said, 'You are now entering the cruel world,'" federal agent Don Ferrarone pointed out as he drove along Interstate 45 with "48 Hours Mystery" correspondent Erin Moriarty. "And it's just, you know, it's just a perfect place [for] killing somebody and getting away with it."
"If you can just imagine having one of these little girls out here...one of these young girls out here...and there's no chance for them to be rescued, to be helped. And they're on they're own," said Ferrarone.
It was the haunting faces of the lost that inspired Ferrarone to write the screenplay for the movie "Texas Killing Fields."
Photos: Can you help solve these cases?
Links and resources
It's also what compelled "Avatar" star Sam Worthington to take part.
"I looked at that and it was just tens and tens of girls that had gone missing and I have got a young sister and you know it kind of disturbed me in a way that I just said straight away, 'I wanted to be a part of this,' to get this story out and make people aware of what's gone down there will hopefully maybe shed some light on some of the disappearances and the mysteries involved," he said.
The movie was released ibn 2011, but while the mystery of the fields may be new to Hollywood, it has consumed the lives of many Texas cops for over the last four decades, including investigators Brian Goetschius and Michael Land from Texas City.
Land served as a model for Sam Worthington's rough-and-tumble character in the film.
"There's a scene where your character goes in and ends up in a brawl right inside that bar," Moriarty noted to Land. "Ever happen to you?"
"Oh, hundreds of times," he replied.
"I hear you guys also described as angels, but kind of different angels. How do you see yourself?"
"Warrior angel...they're the biggest, baddest angel," he replied. Land even sports the symbolic warrior tattoo on his arm.
The other lead character in the film, played by Jeffrey Dean Morgan of "Gray's Anatomy," was inspired by the more genteel Brian Goetschius.
Asked what kind of angel is Goetschius, Land called him "the guardian angel...He's Mr. Helper, he's gonna help everybody."
In the film, Goetschius' character prays over bodies. Goetschius does that in real life, too.
"Are you praying for their souls?" Moriarty asked.
"Oh sure. For me it's that little bit of comfort to step into it and give people some answers," he replied.
"But isn't it hard to keep your faith when there's so much evil, and that's what you see here? These cases involve pure evil."
"I've never stopped long enough to -- to realize that. I just keep going, and -- and the faith is there.
Twenty-five years after the string of murders began, Goetschius became yet another cop to face the darkness. In March 1996, 13-year-old Krystal Baker suddenly vanished from the gritty industrial town of Texas City.
"I realized, at that point, that the devil was there," he said.
And true to form, Goetschius became a guardian angel for Krystal's mom, Jeanie Baker.
"And I love guardian angels and this one here reminds me of Krystal," she said, pointing to an angel at a shrine in her home.
Baker is still haunted by memories of her daughter.
"I dream about her mostly when she was a little girl. And every once in a while when she's a teenager," she explained. "And she told me one time, she says, 'Mama, I'm just out here hangin' out with my friends. Everything OK.'" And I woke up the next day. I wished I could have stayed in that dream a little longer," she continued in tears.
Krystal was striking, says Baker, and resembled a great aunt -- Norma Jean Baker -- who became larger-than-life movie star Marilyn Monroe.
"Whenever anybody mentions Krystal Baker, they always say she looks or looked a little like Marilyn Monroe," Moriarty noted.
"Yeah, well, she does," Baker replied. "She's kin to her from -- her dad's side of the family."
"And she had a heart of gold, but she was a typical teenager, you know? She was 13, goin' on 14," said Baker
But like any teenager, Baker says Krystal had a rebellious streak and on March 5, 1996, Krystal had an argument with her grandmother and stormed off.
Krystal called her mom from a nearby convenience store.
"I said, 'You need to go back to your grandma's house and stay there.' And then she walked out," Baker said. Krystal vanished.
Frantic, Baker called the Texas City Police Department for help, but she was in for a rude awakening.
"So, the police didn't help you look for your daughter?" Moriarty asked.
"No, they really didn't. They just-- kept telling me she was a runaway," she said. "So, for that to happen and -- and have -- be helpless, nobody helping you was really rough."
Brian Goetschius admits that missing kids -- particularly teenagers -- were handled differently in those days.
"When she first disappeared, did the police take it seriously? Moriarty asked.
"It was under the radar," he replied. "It -- it was -- a runaway, a missing person. And -- and not that we didn't take it serious, but it -- it was the way it was. I mean we entered it in the computer as a runaway and you know, went about your business."
That is until two weeks later.
"One day, I was getting ready for work and Goetschius called me and told me that there were some pictures I needed to come down there and see," said Baker.
Krystal had been beaten, sexually assaulted and strangled. Her body was then dumped under an interstate bridge two hours away near the Louisiana border.
As it turns out, Krystal's body had actually been found the very same day she went missing, but in a different county. She was listed as a Jane Doe for two weeks... her killer unknown.
"So, for those two weeks that I was lookin' for her, she was already dead," said Baker.
"What made the Krystal Baker case so difficult to solve? You found her body," Moriarty noted to Goetschius.
"We had a two-week window that we lost," he explained. "I mean, people can't remember who they saw at a convenience store two week ago, walking down the road, hitchhiking. It -- it just wasn't there."
Krystal's case soon grew cold. Her story was mostly unknown to the public until a year later when another little girl disappeared.
"I was thinking it was the same person that did it to my daughter," said Baker.
Just half an hour away in suburban Friendswood, 12-year-old Laura Smither was abducted while jogging on her street.
"Was that when people really started saying, "Oh my gosh," Moriarty asked.
"And it was so unusual for over there that -- that this couldn't happen in my neighborhood," Goetschius replied. "And-- and lo and behold, that monster is there. We know he was."
One by one, young women were kidnapped and murdered. But it took the disappearance of a 12-year-old girl in 1997, to wake up the community.
When Bob and Gay Smither talk about their daughter, Laura, they sound like every other proud parent.
"She just lived to dance, she went to dance six days a week," said Gay Smither, looking at photos of her daughter.
"You're not supposed to be friends with your kids, but believe me, I was," said Bob. "And it's just a hole that can never be filled."
"...we miss her," a teary-eyed Gay added.
Their photos end just as Laura was about to turn 13.
Photos: Can you help solve these cases?
Links and resources
In 1997, Erin Moriarty was with the Smithers, covering this story for "48 Hours," just days after their daughter went missing.
"How could I forget it," Moriarty said. "I have a child on my own who was the same age as Laura was when she suddenly vanished."
Moriarty still haunted by Laura Smithers case
Laura had gone out jogging that morning.
"Bob became alarmed first," Gay recalled. "We were serving pancakes and he said within a couple of minutes, 'She should be back, she should be back.'"
"Laura would not be 10 minutes late," said Bob.
"So we called the police immediately," said Gay.
This kind of thing wasn't supposed to happen here. This is the middle class community of Friendswood, south of Houston -- a place that had once been chosen one of the safest places in America.
This time, unlike the Krystal Baker case, the police and the community mobilized quickly.
"Our family really needs your assistance. Somebody, somebody must have seen something that morning," Bob Smither told reporters at a press conference.
"Whoever has her could take another child. We don't want your families to go through this," Gay said.
Knowing that every moment counts, helicopters were called in; Then, even the marines.
Seventeen days after Laura disappeared, Gary Tugwell and his son were walking their dogs near a pond 12 miles north of town.
"And we thought it was like a dead animal in the water," Gary Tugwell explained. "And my son Jason, he says, 'No, he said animals don't have socks.'"
It was Laura Smither's nude, decomposing body. She had been murdered.
"I mean, our lives as a family were totally shattered," Gay told Moriarty.
Bob added, "It took a long time for it to really be internalized. We probably still pretty much in denial when you were in her before."
And coming a year after Krystal Baker's murder, the cops now knew these were not isolated incidents. Finally, police from different jurisdictions all started comparing notes.
"So it's like, 'Wow, this doesn't stop. Everybody let's get a grip on it," Goetschius said. "And we couldn't -- there was no end."
In fact, four months later, another young girl disappeared. This time it was 17-year-old budding actress Jessica Cain.
"She would not go somewhere without calling. She'd call one of us at least, that's why we know something's wrong and we gotta find her!" a friend of Jessica's told reporters.
Jessica's pickup truck was found abandoned beside Interstate 45, just like the ominous opening scene of the movie "Texas Killing Fields."
"What do you have? You have a car beside the road. That's it, that's your crime scene," said Goetschius.
Once again, police had little to go on.
"Frustrating beyond belief," Goetschius said of the case. "I mean how do you find out who was out on the road in the middle of the night? You don't."
Jessica's disappearance was one too many for Mike Land and Brian Goetschius. The cases of abductions going back years had to be stopped. But how was the killer able to lure these young girls and then seemingly disappear into thin air?
"You had Jessica Cain, with just the vehicle beside the road. Was it a policeman? I mean, was it one of us? ...Was it a wannabe policeman, you know a volunteer fireman? I mean somebody we're close with, somebody we drink coffee with? And, you just didn't know," Goetschius told Moriarty.
As efforts to find Jessica Cain intensified, even grieving parents Bob and Gay Smither joined the search.
"We knew exactly what the family was going through," Gay explained. "Of course we were gonna go help, just like people came to help us."
So did Tim Miller. "Anytime there is another missing person, it brings it all back," he told Moriarty.
Jessica Cain was never found. For Miller, this was all too close to home. His own daughter, Laura, had gone missing in 1984.
"The particular area where your daughter was found has kind of gained a name over the years, hasn't it?" Moriarty asked.
"Yeah," Miller replied. "Now they call it the Killing Fields."
And over the years, a frightening prime suspect emerged.
"Mothers would see him in the grocery store and immediately back pedal," said Skip Hollandsworth of Texas Monthly magazine and a CBS news consultant. "Or they would take their daughters and hide them in a different aisle. ...you couldn't help but wonder, "Is this the guy?"
Wherever there's a search for a missing child, you will most likely find Tim Miller. His own daughter, Laura, was kidnapped and murdered when she was 16.
"One thing worse than having a murdered child, and I know this for a fact -- it's knowing that they're out there dead somewhere and never being able to say goodbye. Never having that little bit of closure," he told Erin Moriarty.
Motivated by his loss, Miller started the rescue group Texas Equusearch.
Miller went to Aruba to search for Natalee Holloway and Florida for Caylee Anthony. Equusearch has helped look for missing people and located scores of bodies.
"Tim found his calling," according to Skip Hollandsworth of Texas Monthly magazine, who has followed Tim Miller's story for years.. "...a psychologist might think that Tim is still searching for his daughter."
"Laura was just so into music, and she had so many friends, and she was gigglin' and laughin and jokin' all the time," Miller recalled fondly.
Photos: Can you help solve these cases?
Links and resources
It was September 1984. Laura Miller disappeared after making a phone call from a League City, Texas, convenience store.
"And then," Miller explained," next morning, went to the police department and reported her missin', and -- they said, 'Laura's a runaway.'".
Seventeen long months would pass until the Millers finally learned what had happened to their daughter: Laura had been murdered, her body dumped in an old, secluded oil field.
Tim Miller put a cross in the field that still stands today.
"I come here more than I go to the cemetery," he told Moriarty. "I don't know. It's Laura's little special place...Right here," he pointed out "this small little indentation is -- right here's where her little body was found. And I couldn't believe it... This place lives up to its name... 'the killing fields.'"
"It's about a mile from I-45 and the wind cuts through the mesquite trees and rattles the little leaves," explained Hollandsworth.
It was the remote, 25-acre patch that first earned the name "the killing fields." Laura was one of four young women murdered and then dumped here; two of the women have never been identified.
A perfect place for a serial killer.
"It's a kind of environment that's sultry and sinister," Hollandsworth continued. "Easy to get to. You jump off of I-45. You drive down one of the -- dirt rutted roads. You dump the body. And you're gone for good."
That's what made investigating the murders so difficult.
"There's lots of little towns through this area," Hollandsworth continued. In the mid 1980s, police in those towns weren't known for sharing information.
"So a body found in one town, the news doesn't get out to the other town. There's no major coordinated effort to figure out how to stop this," he said.
The Millers felt like they were on their own.
"There was never even a tiny article in a newspaper, there was no media, there was no search, and nobody gave a damn, except me."
By Tim Miller's account, there were problems with the investigation.
"This shirt was actually found on her body?" Moriarty asked Miller holding a picture of a shirt.
"Right beside her," he replied.
"Was it ever tested for DNA? ...Ever sent to a lab?"
"No."
"Just lost?"
"Just lost."
Eager to find his daughter's killer himself, Miller scoured the killing fields looking for clues.
But his search was in vain. Then finally, in 1993, nine years after Laura's disappearance, an unlikely suspect emerged: Robert Abel, a retired NASA engineer.
"Robert Abel helped figure out how to get the Saturn rocket to the moon," Texas Monthly reporter Skip Hollandsworth explained. "He was this brilliant scientist."
At the time of the murders, Abel also leased a horse stable adjacent to the killing fields. Two of his former wives told investigators that he had a dark side.
"His second wife says that one night sex and he went into a near-violent rage and says, 'If you don't have sex with me, I'm going to kill you,'" Hollandsworth said. "His third wife arrives at the League City Police Department, and says, 'Abel should be one of your suspects. He beats his horses with a pipe.'"
Hollandsworth interviewed and wrote about Abel. "And he seemed so humble and so diminutive in stature that I was distracted and thought, 'There's no way.'"
But the more he talked to Abel, Hollandsworth says, the more he began to wonder.
"We sat down for a cup of coffee and he looks at me and says, 'I had this bad rotator cuff injury, so there's no way I could have shot one of these girls, put her in my car, driven her to my -- land, and then carried her body out.' And it just seemed like it was one detail too much."
"Everything pointed to Robert Abel," said Miller.
As word spread about a potential serial killer, Abel became an outcast.
"Once his name came out, he was this pariah in south Texas," Hollandsworth said. "Teenage boys would drive past his stables...and shout out, 'Killer. You're the killer.'"
Brian Goetschius says that's when police started looking into any connection between Abel and the other murders along I-45.
"Was there any thought that the same person who may have killed Laura Miller and these other three girls might be responsible for Krystal Baker?" Moriarty asked.
"Oh, at that time, yes," Goetschius replied. "But sure, the person that did that could have done Krystal, Jessica, and Laura."
Tim Miller began following Abel's every move.
"I made Robert's life miserable," he said. "...I'd stalk him."
And as police began to close in on Abel, Miller said, "I was out of control. I was obsessed."
Would Tim Miller take the law into his own hands?
"There are a lotta people that thought Tim would definitely kill him," said Hollandsworth.
"A smart serial killer, one who knows how to cover his tracks, can baffle any police department..." explained Texas Monthly reporter Skip Hollandsworth, "and this one at the killing fields was taking years between his killings. He was patiently waiting before bringing another body under the tree and laying her out...How could such a monster exist?"
But Tim Miller was convinced that the monster was very real and his name was Robert Abel.
"I certainly wondered," he told Moriarty. "In fact, I more than wondered. I knew."
There was just one problem: Police had nothing to connect Abel to the killings. He just fit an FBI profile.
"There has never, to this day, been a shred of physical evidence linking Robert Abel to the four killing field murders or to any of the murders," Hollandsworth said. "There has never been any eyewitness that has said he saw Abel with one of the girls. There has never been any kind of evidence found in massive searches of his property, of his home, his self...there's been nothing."
Robert Abel was never charged.
"Well, even though they didn't find anything, my sick mind told me that it was him anyway," Miller explained. "It's all the pain. You know...it just eats at you and eats at you."
Years would pass before Miller finally gave up on Abel as a suspect. He says he even apologized.
"I said, 'Robert, I am so very sorry," Miller said. "And I hugged him and we both cried."
But the damage had already been done.
Photos: Can you help solve these cases?
Links and resources
"So for six years he lived this lonely grief stricken life," Hollandsworth said. "And in July of 2005, he drove an old golf cart onto a railroad track just as a train was approaching."
At first, rumors suggested it had been a suicide; But it was ultimately ruled an accident.
Writer Skip Hollandsworth believes Abel was himself a victim of the fear and paranoia that consumed the community."I think Abel is a tragic character," he said.
"I know we helped destroy his life," said Miller.
"Do you feel some responsibility?" Moriarty asked.
"I do. I do. It's not a good feeling."
Tim Miller's anguish was about to get a whole lot worse.
Five months after Robert Abel died, Miller received a chilling letter, put together like something straight out of a mystery novel.
"I got goose bumps right now thinkin' about it when I first opened it ..." he said. It starts out, 'Tim Miller, Boo! It's me you're lookin' for. You have not seen me but I was the last man to see your Laura. And I am too smart and I tampered with evidence.' ...And it's like he's takin' responsibility for many of the murders on Interstate 45."
Asked if he thinks the letter was fro real, Miller said, "I mean, it's extremely, extremely strange and disturbing. But we'll never know."
"What was that letter about? ...It didn't give away any real information that led to the killings. But it adds to this haunted story. It's just one more turn and you keep wondering, when's the next one coming?" said Hollandsworth.
The writer has never been identified, but if the letter was a message from the killer, it wouldn't be the first time. Over the years, investigators like Brian Goetschius and Mike Land were taunted with confession letters and phone calls. One call was so harrowing it inspired a scene in the film.
"The movie was as real as any of the different tapes that we've heard," Goetschius said. "And if you can't see the devil, you can certainly picture him from the -- the emotions and -- and feel the violence and the -- and the rage over that phone."
"How frustrating is that for you as an officer?" Moriarty asked.
"Oh, I think it was -- it was horrendous to -- to know that you're hearing it, but there's nothing you can do. Nothing," Goetschius replied.
The outcome of the phone call Goetschius received would be one of the few bright spots in this investigation. The attacker was caught and his victim saved.
"And-- and she was luckily alive -- she was allowed to live," he said.
The attacker was convicted, but never linked to any of the cases of the dozens of young girls murdered in the Interstate 45 corridor. Most remain unsolved -- a fact that weighs heavily on the heart of Brian Goetschius, a father of seven children himself.
"In this movie, your character becomes obsessed with these cases. Did you? Is that pretty accurate?" Moriarty asked.
"We just lived, ate and drank to...let's clear one of these cases, let's see what we can do, what's out there, what's next," said Goetschius.
"Brian wants to solve every case," Tim Miller told Moriarty." Brian cannot wait for the day to come when he's working these cases that he can go knock on that family's door and say, 'Listen we made an arrest.'"
But one arrest won't be enough. Based on the number of victims and the decades that the crimes have spanned, investigators are now convinced that evil wears many faces.
"I think it's clear to everybody now that various men did various things to various girls," Hollandsworth said. "So there's not going to be one killer that emerges that wipes all of these unsolved cases off the books."
And there's no shortage of possible suspects -- from transient workers to the many paroled sexual predators released from nearby prisons.
"One time a police department did a survey of how many sex offenders live in that coastal area, and they came up with 2,100 names," Hollandsworth explained. "So it's a place where something can happen."
And when something does, the fields conspire to keep the killers' secrets.
"The environment down here is just horrendous," said Goetschius.
"It's harsh," land added. "The weather...the areas where these bodies have been dumped are, you know, remote... If you don't find it pretty quick, your ability to -- to get usable evidence is diminished."
Asked if there was ever a time when he said 'I just can't do this anymore? It's just too tough,' Goetschius replied, "I haven't come across it yet. I still want to do it. ...These could still be solved...there's still hope."
And Goetschius' optimism is about to pay off. After almost 15 years of frustration and dead ends, one of his most haunting cases may be solved.
There's the Hollywood version, where the good guys win, the girl is saved, and one case is neatly wrapped up at the end.
And then there's the real world... where so many cases of dead and missing girls remain unsolved. The actors in "Texas Killing Fields' hoped somehow, the film might make a difference.
"People we never know might see the movie and go, 'I remember that something went down in the fields and I remember this certain car and I remember this person seemed a bit dodgy,' ...and maybe a family then can know what happened to their daughters," said actor Sam Worthington.
Just months after the movie wrapped up, that's just the kind of big break that came in the Krystal Baker case.
In 2009, on a hunch, a savvy police officer in Texas had Krystal's dress tested to see if there was any DNA; There was. It was submitted to the national computer databank.
Around the same time in Louisiana, a man named Kevin Edison Smith was arrested on a drug charge. His DNA was taken as part of a routine procedure under Louisiana law and entered into the same databank.
The stunning result: A DNA match. Finally, investigators were able to connect these two distant dots on the map... Krystal Baker's killer had been found.
Photos: Can you help solve these cases?
Timeline: Tracking Kevin Edison Smith
Links and resources
"Thank God for technology and that's what's evolved. And that's what cleared this case," Goetschius told reporters.
"I had given up hope, and I just assumed the guy got away with it," Jeanie Baker told Moriarty. Now, she says "I'm thankful. It was a miracle. It was just plum a miracle that he got caught."
Under interrogation, Smith admitted killing Krystal -- but claimed it was an accident.
Finally, in April 2012, 16 years after he choked the life out of Krystal Baker, Smith was tried and convicted of capital murder. The sentence: Life without parole.
Now, local police departments are checking to see if he can be linked to any other cases.
The Smithers don't have DNA evidence, but they think they know who killed their daughter, Laura.
Soon after Laura disappeared, a man named William Reece abducted another young woman just a few miles from Laura's house. He was convicted for that crime. He's a prime suspect in Laura's case, but has never been charged.
The case is still officially unresolved. Asked why, Goetschius told Moriarty, "We just don't have the physical evidence at this time."
What some grieving families have done is try to save others from their fate.
The Smithers started what they call the Laura Recovery Center, a mobile office that goes on site around the country whenever there is a search for a missing child.
Jeanie Baker is pushing for a law in Texas similar to the one in Louisiana that helped capture Krystal's killer -- a law that would require DNA testing of all arrested suspects.
"Like, whenever they stop somebody -- or they put anybody in jail for any reason," she explained.
"Whether felony or not," Moriarty added.
"It doesn't matter."
"Take their DNA sample. Put it on the system."
"Exactly," said Baker.
As for Tim Miller, there still has been no arrest in his daughter Laura's murder 27 years ago. The loss has kept him focused on helping others.
"Amazingly, out of that experience...he's found in his agony, this -- desire to live again," Hollandsworth said. "And he is now one of the most world-renown searchers for missing bodies."
But he can't stay away from the killing fields where Laura's body was found.
"I would go out there where Laura's little body was found, where I put that cross, and I would say, 'Laura, please don't hate your daddy, but I cannot come out here anymore.
"And I would literally be walking to my truck -- and I turned to the left and I'd hear this little voice, 'Dad, don't quit, please don't quit.' And I'd say, 'Damn you, Laura, just damn you. Just damn you."
Despite the frustrations, police continue to chip away at all the unsolved abductions, case by case.
"It's become this kind of ghost story for South Texas," Skip Hollandsworth explained. "For these parents, this mystery is not just a ghost story. It is a horrible reality."
But at least the killings seem to have stopped. No young girls have been murdered in the past few years.
"Does that mean it's over, or do you still fear--" Moriarty asked Land.
"Hope so. Always that fear," he said. "But you hope that it's over, and again -- that's another point of this movie. ...you know if people see this...if young women will see this and go 'that could happen to me, you know I'm gonna pay better attention to what I'm doing or where I'm going' -- it would be worth it."
But it's an ongoing battle between that hope... and fear.
"That monster's still there," Goetschius said. "He just hasn't struck. It's... it's gonna happen."
Thanks for reading CBS NEWS.
Create your free account or log in
for more features.