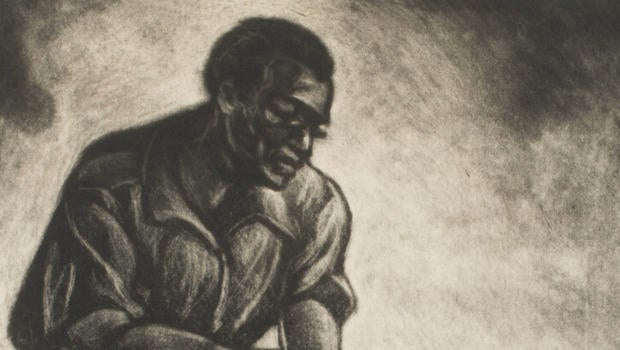 The pioneering prints of Dox Thrash
From time to time we like to take a look at the works of artists who are far too often over-looked. To Faith Salie now, and an artist with the perfect artwork for our favorite morning of the week:
The collection in New York City's Metropolitan Museum of Art contains a whimsical print called, familiarly enough, "Sunday Morning." The artist? A name that may not be familiar: Dox Thrash.
"By mainstream artist standards, too many people just don't know who he is," said Leslie King Hammond, graduate dean emeritus at the Maryland Institute College of Art. "One, he's a black man; and so there he was, working in a medium that didn't really favor the kind of attention that was going on in modernism at that time."
Dox Thrash revolutionized printmaking in the 1930s. And he's someone more of us should know about, said Hammond.
"I want Dox Thrash now to be seen as one of our great American artists," said Hammond.
"Not African American?" asked Salie.
"No, American artist who tells wonderful, important, pivotal stories about American history, American life."
Born in Georgia in 1893, Thrash was raised in a former slave cabin by a single mother. He left home at 15, fought in World War I, and spent time at the prestigious Art Institute of Chicago before eventually settling in Philadelphia, where he found inspiration just outside his door.
One etching, at the Philadelphia Museum of Art, shows two women pausing to talk on a street corner a couple of blocks from Thrash's house.
John Ittmann, who oversees the Thrash Collection at the museum, has written a book about the artist. "He used subjects of everyday life around him," he said.
And he captured those subjects by pioneering a completely new printmaking process: "carborundum mezzotint."
Most printmakers start with a light surface and add dark layers. But Thrash did the opposite – scraping away the dark to create lighter grays and whites. He named the technique after his mother, calling it "the Opheliagraph."
"He was able to achieve the full range of the tonalities, really inky blacks, lighter tones, the whole range of black identity," Ittmann said.
For Thrash, the palette of black identity wasn't just about color. He was inspired by the "New Negro Movement" of the 1920s and '30s, in which black writers, musicians and artists sought to define and celebrate what it meant to be African American. This cultural and social explosion was centered in New York City's Harlem and came to be known as the Harlem Renaissance.
For his part, Thrash wanted to depict people of color with a common humanity, as reflected in this portrait called, simply, "Life."
Hammond said, "To have your child to be able to learn to read at a young age was a very precious thing, because there were many individuals who migrated from the South and could not read."
And then there's "Saturday Night":
Salie said, "The clock says midnight, she looks tired, and she's straightening her hair."
"She has to; it's Sunday, the next day is Sunday, she's got to go to church," Hammond said. "One would not ever go to church unprepared."
"So, she's straightening her hair to go to church the next morning? She's not straightening her hair to go out on Saturday night?"
"She is doing both, because sometimes whatever you do Saturday night, you have to go Sunday morning to repent!" he laughed.
Which brings us back to "Sunday Morning."
We may not know about this woman's Saturday night. But in Dox Thrash's empowering hands, we see that she'll face her Sunday morning with her head held high.

For more info:

Story produced by Aria Shavelson.
Thanks for reading CBS NEWS.
Create your free account or log in
for more features.