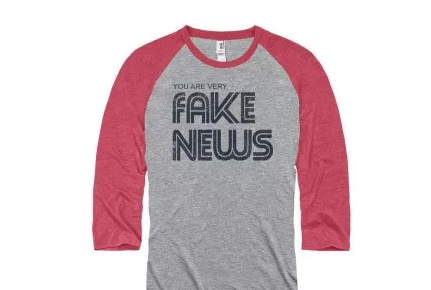 The Newseum is selling "Fake News" merchandise
The Newseum, an interactive museum in Washington, D.C., dedicated to educating citizens about the free press and recording important moments in media history, is selling "Fake News" t-shirts and "Make America Great Again" hats. As first reported by Poynter, the museum's online gift shop features long-sleeved shirts which read "You Are Very Fake News," echoing one of President Trump's favorite descriptions of news organizations. The Newseum is also selling a t-shirt that pictures an American flag and the words "great again" underneath.
Only three other political figures are specifically referenced in wearable merchandise at the Newseum: John F. Kennedy, Martin Luther King Jr. and Benjamin Franklin.
Trump often criticizes news organizations as "fake news" and the "enemy of the people" on Twitter and at political rallies, sometimes targeting individual reporters. At a rally in Tampa, Florida, on Tuesday, several attendees heckled reporters attempting to broadcast from the event, notably CNN's Jim Acosta. Some at the rally were wearing hats which read "CNN Fake News."
After Ivanka Trump, the president's daughter and adviser, said in an interview with Axios Thursday morning that Trump did not consider the media "the enemy of the people," the president tweeted a clarification. "They asked my daughter Ivanka whether or not the media is the enemy of the people. She correctly said no," the president wrote on Twitter. "It is the FAKE NEWS, which is a large percentage of the media, that is the enemy of the people!"
Acosta asked Press Secretary Sarah Huckabee Sanders whether she considered the press the "enemy of the people" at a White House press briefing Thursday.
"I appreciate your passion, I share it. I addressed this question, I addressed my personal feelings. I'm here to speak on behalf of the president. He's made his comments clear," Sanders said in response. Acosta walked out of the room in frustration.
Violence against journalists has also been more of a threat in recent months. Five staff members of the Capital Gazette in Annapolis, Maryland, were killed in a shooting in June.
In a statement, Sonya Gavankar, director of public relations for the Newseum, said the museum was trying to support free speech.
Museum spokesperson Sonya Gavankar defended the decision to sell the shirts.
"Fake news is a word that is in our popular culture now and this is intended to be a 'satirical rebuke' and appears in our store with T-shirts that include a variety of other 'tongue-in-cheek' sayings," she said in a statement. "The mission of the Newseum is to champion freedom of the press along with all the freedoms of the First Amendment, so being a place where people of different viewpoints feel welcome is very important."
Thanks for reading CBS NEWS.
Create your free account or log in
for more features.