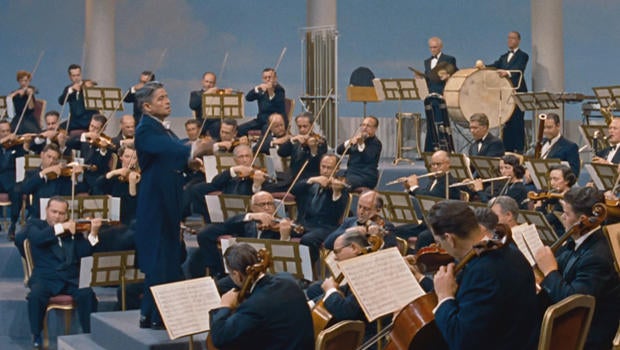 The Newmans, a movie music dynasty
Members of an Oscar-winning family of note are sharing their story this morning with our Lee Cowan:
Of all the Oscar-nominated composers who have recorded at 20th Century Fox, there's one name spoken with such reverence it's as if this scoring stage was a chapel: that name is Newman.
"There may not be any musical saga quite like the Newmans'," said film score historian Jon Burlingame.
When Robert Redford knocked the lights out in "The Natural," he did it to a Newman score.
When Tim Robbins clambered his way to freedom from Shawshank Prison, that's another Newman composition you hear.
And yes, it was a Newman who gave a toy his very own story.
Over the last eight decades, the Newman Family has racked up more than 90 Oscar nominations -- a feat Burlingame says will likely never be repeated.
"There are Newmans everywhere dotting Hollywood history from the beginning," he said. "It's an extraordinary story."
Let's start at the beginning...
The fanfare that opens every Fox movie was composed by the first Newman to come to Hollywood, Alfred Newman.
"There is not a question, in fact, that Alfred Newsman was the greatest conductor in the history of Hollywood," said Burlingame. "He was amazing on the podium. He could elicit a performance from the orchestra unlike anybody else working in Hollywood."
Over the course of his career -- most of it as music director at Fox -- he composed, conducted or arranged more than 200 film scores, earning him a stunning 45 Oscar nominations. He won nine Academy Awards.
Excerpt: "Main Title" from "How the West Was Won" by Alfred Newman
It must have run in the family, because his two brothers, Emil and Lionel, joined him in the business.
Lionel composed the familiar theme for the TV series "Daniel Boone," and eventually succeeded Alfred as head of Fox's music department.
He had 11 Oscar nods to his name -- so many that Marilyn Monroe said she wouldn't do a musical without him.
As time went on, the Newman family tree grew, and with each new branch there seemed to be more music that blossomed.
"It was kind of like a siren call, but it wasn't a natural thing that everyone [went], 'Well, this is what we're going to do,'" said Alfred's son, David Newman. "None of us intended when we were young, I don't think, to do this."
David Newman grew up to score over 100 films himself, including the music for "Hoffa."
Excerpt: "End Credits" from "Hoffa" by David Newman

"It probably is a genetic thing, because it just so clicks with my sensibility," he told Cowan. "It feels like what I'm supposed to be doing."
When he's not composing scores, he's conducting them, as he did at the Hollywood Bowl, leading the orchestra in music from "Raiders of the Lost Ark" by John Williams.
To keep the orchestra in sync, he uses a device invented by his father: a screen displays colored streamers to tell a conductor exactly when the music needs to match the action.
"That's warning me, that crescendo, here we go … one two three four, one two and three four, like that," David demonstrated.
Conducting is something most Newmans seem to do, and do well. David's younger brother, Thomas Newman, worked on the score for Pixar's "Wall-E." "I don't think I ever wanted to be in film; I didn't think I could do it," Thomas said. "So I really kind of went into it kicking and screaming!"
He loved music, but wanted to make it his, not just re-invent his father's work. And that he did. From the James Bond film "Skyfall" to "American Beauty," he's been nominated for an Oscar 14 times.
"It was tough at first to have any sense of what I was, what my style was, and then how I would fit in," said Thomas. "I think I had to give it all up, I think that's what happened. And that was kind of the beginning of me, when I stopped trying to be, I think in a way, a member of the family."
Alfred's Newman nephew, Randy, may be the Newman you're most familiar with.
Cowan asked, "Do you sort of feel like now you're the patriarch now of this family?"
"I guess, so, I guess I am, with the musical Newmans at the moment," he replied.
Remember the satirical song "Short People"? Well, that's his. He seemed destined to write songs from a very early age.
Excerpt: "Short People" by Randy Newman
"One day I woke up and there was a baby grand piano in my room; in case I was Mozart and hit some thirds, I guess they wanted me to have the chance to do it!" Randy laughed.
But it's his movie music that's really set Randy apart. His score for "Ragtime" earned him the first of 20 Oscar nominations. He's been nominated more than any other Newman (except Alfred).
Excerpt: "Train Ride" from "Ragtime" by Randy Newman

Cowan asked, "Is there a little competitiveness among you?"
"No," Randy replied. "None of us will admit that, let me put it that way!"
Before you start thinking this is like the musical Brady Bunch, not every apple fell close to the tree.
Maria Newman calls herself the "black sheep" of the Newman family.
"You say that with pride," said Cowan.
"Yes, I guess it is with pride. At least it's with some kind of cynical pride!"

Make no mistake: Maria Newman is musically gifted, just like her siblings. But the bug to compose film scores just never bit.
"I was always scared of being terrible," she said. "I think all of the Newmans are just sort of scared, that we're frauds, that one day whoever knows us will wake up and just say, 'Ugh, those mediocre Newmans, they're just all frauds!'"
"See, you all say that, and yet you're all so accomplished, I just don't understand it."
"Ah well, maybe it keeps us working hard," Maria said.
She has worked very hard, becoming a well-known classical composer -- finding her Newman notes on a scale all her own.
"I needed to prove myself, to myself more than anybody else," she said.
Excerpt: String Quartet No. 2: Lauds in F Major, OP. 35 by Maria Newman

Now, the third generation has set off prove the Newmans aren't done yet.
Joey Newman is Lionel Newman's grandson. "I'm certainly not going to get it served to me," he said. "It's not going to be handed to me; I'm going to have to work for it."
Already his music is winning awards, including his score for the ABC sitcom, "The Middle," now in its ninth season.
"My family sometimes says, 'Oh, that sounds like something your grandfather would, you know, gives me these feelings' and all that kind of thing," Joey said. "Maybe it is in some of the approach, the melodic writing, the sensitivity to picture."
For the Newmans, music is a generational compulsion, it seems -- a thread that has never frayed.
They may not be a household name, but the Newman family is woven in our collective moviegoing experience, one that more often than not has perked the ears of Oscar.
As film music historian Jon Burlingame said, "When you look at the individuals, and you see how talented each one of them is in their own way, and then you put it all together, it's a bit mind-boggling!"

For more info:
Story produced by Reid Orvedahl.
Thanks for reading CBS NEWS.
Create your free account or log in
for more features.