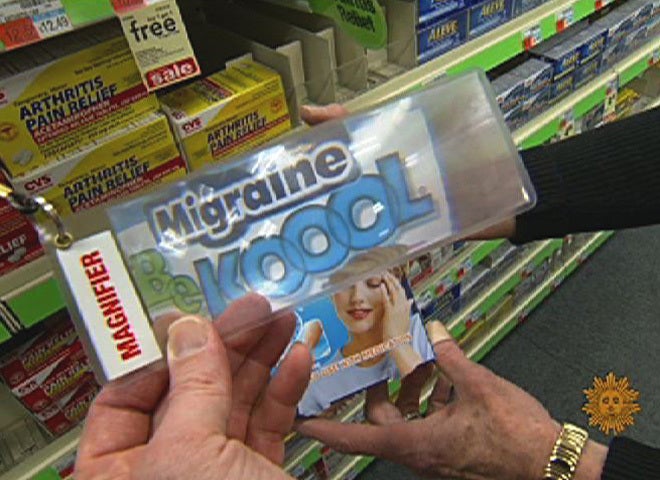 The new target demographic: Baby Boomers
You've heard the old saying, 'You're not getting older, you're getting BETTER.' Well, that's very much the pitch advertisers are making to the Baby Boom generation, as Rita Braver reports in our Cover Story:
Updated since original March 9, 2011 broadcast.
They are DETERMINED to keep old age from creeping up on them ...
"If you don't keep doing this, soon you won't be able to do anything," said one man on his exercise workout.
Determined to do it differently than their parents did ...
"I wanna preserve, so at least when I'm older I can walk, I can travel, I don't have to have a walker," said one woman.
And Corporate America is listening.
The first baby boomers are turning 65 this year, and a projected 72 million - about one fifth of the U.S. population - will be that age or older by 2030.
So the race is on to develop products and services for what used to be the youth movement:
"We're not the first generation to get old, but we're the first generation to have greater expectation that old age could be better," said Professor Joseph Coughlin. "Technology has helped us live longer; now we want to live better."
Coughlin is director of MIT's Age Lab, where Research Associate Katie Godfrey helped Braver put on "AGNES," a suit designed to transform someone (oh, say a 63-year-old correspondent) into a 75-year-old suffering from arthritis.
Bands and harnesses restrict movement.
Gloves decrease hand sensitivity.
Special shoes make you wobble.
A neck brace stops the head from turning.
A heavy helmet simulates spinal compression.
And the finishing touch: goggles that blur your vision.
Braver described the experience as being pulled down a little bit. "Standing up straight is hard," she said, "and just walking is difficult."
EVERYTHING is harder, from reaching for a product on a shelf, to opening a jar, to reading ingredients.
So, Coughlin says, companies like CVS have started making it easier for older folks to shop:
"Do you notice how the shelves are lower now? Coughlin said during a tour of a CVS store. "The signage is now easily read. It's carpeted, it's quieter, so it's easier on the boomer and older ears. If you notice the lighting, it's softer."
But though there are even MAGNIFYING glasses to help you read labels, it's all very SUBTLE - deliberately!
After all, asked Braver, "Are baby boomers going to buy something if it says This is for the aging baby boomer?"
"No," said Coughlin. "In fact I'm starting to think if they see that it says it's for baby boomers, that they're not going to walk - they're going to run."
The "Help, I've fallen and I can't get up!" ads were some 20 years ago!
But today, ads for products like Depends project VITALITY ...
Tempurpedic makes adjustable beds sound like FUN ...
GE calls appliances that are easier to reach "Universal design" ...
Your car can now warn you when something is too close, or even parallel park for you ...
But even with the median age for car buyers at 60+, nobody shouts, "This is for you, old-timer!"
Coughlin says sellers engage in coded language.
"Yeah, business doesn't want to use the 'O' word, or the 'A' (of 'age') word either," he said. "Smart is the new young for us old folks."
And new technology may even help monitor our health, right in our homes!
For an experiment at a seniors building in Portland, Ore., Thomas Riley, a research associate at Oregon Health and Science University, is installing sensors in the apartment of 75-year-old Curtis Guthrie.
"Every time you walk under a sensor," Riley explained, "we'll get a piece of data that tells us what time you went through each sensor, which will give us your walking speed."
Every movement Guthrie makes - even the speed at which he types - will be beamed back to a lab.
Someday, the whole baby boom generation might have such sensors in our homes, as an early warning system, because a slow-down in movement may indicate a decline in physical AND mental ability, according to researcher Tracy Zitzelberger:
"It's a way to generate a red flag, so that if someone is perhaps experiencing a depression, or has an injury, that we can intervene and be able to treat whatever is an issue for them," Zitzelberger said.
And someday, we may also have robots like "Celia" in our homes to help families check up on us:
"Celia would walk up to you and greet you, and you would see your family member on the screen," said Riley.
Riley showed us how a son might access Celia from his home computer to help an ailing mother ...
So, baby boomers, take heart: The more we demand, the more we are going to get, especially with our $3.4 trillion annual buying power:
"We're not willing to go into that old age very quietly," said Coughlin. "And so I think our greatest contribution might be how we face longevity and how we reengineer it for our kids and our grandkids behind us - that is, that old age can be more engaged, more connected, more purposeful and have greater legacy than ever before."
Power to the people!
For more info:
Agelab at MIT.edu
Oregon Health and Science University's Living Laboratory
geappliances
"Redefining the small car"
at ford.com
aapr.org
Thanks for reading CBS NEWS.
Create your free account or log in
for more features.