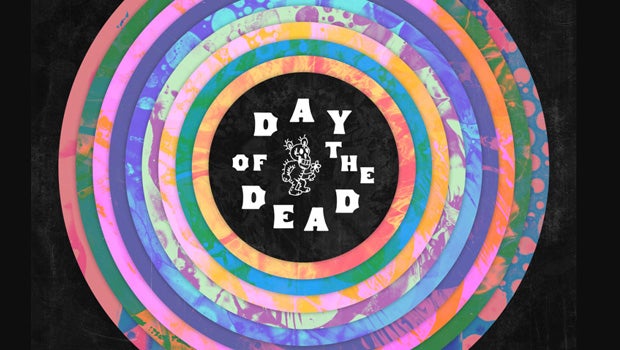 Dessner brothers release Grateful Dead tribute album
Producers Aaron and Bryce Dessner took time out from their band, The National, to release a new album, "Day of the Dead" -- a five-hour celebration of the classic songbook of the iconic Grateful Dead.
"It was really hard to decide when you could be done because, honestly, it could be 12 hours long," Aaron said.
"If we'd gone further than that, we might have been arguably, you know, insane!" Bryce added.
"We were almost insane to begin with!" Aaron said.
The indie rock band guitarists started working on their side project nearly five years ago. But it really took off after they played with the Dead's Bob Weir in 2012, reports "CBS This Morning: Saturday" co-host Anthony Mason.
"It established a lot of great energy with him and with a lot of people around him. And it kind of picked up momentum there," Aaron said.
Weir and the Dead gave the go-ahead. "When they blessed it, we just thought, how could we not do this?" said Aaron.
The album is benefiting the Red Hot Organization, the AIDS charity that put out its first fundraising record, "Red Hot & Blue," back in 1990.
"After I finished the first one, I didn't think I was going to survive. I was like, I'll never do this again," said Red Hot co-founder John Carlin.
But Carlin then got a call from George Michael's manager, who said Michael "'really wants to do something around the AIDS crisis. He has this song that he wants to donate to you,'" Carlin recalled.
That song, "Too Funky," became a worldwide smash, and would anchor Red Hot's second record geared to club kids affected by AIDS.
"Then it was just too great to ever look back," Carlin said.
"Day of the Dead" is the 20th Red Hot album. The Dessners -- who also produced the "Dark Is the Night" album for the charity -- recorded 59 tracks and had no trouble attracting artists.
"We had a kind of wish list of artists we wanted to work with," Bryce said. "But once word got out, artists started coming to us."
That included Mumford & Sons, Bruce Hornsby, Lucinda Williams and Wilco.
"There is chemistry, real chemistry between these groups of people coming together to play the music so well," Aaron said. "It wasn't a forced kind of awkward, 'Let's cover the Grateful Dead.' It was like it was already there. We were just kind of turning the faucet on essentially."
"And the question was never, 'Did we go too far?' It was more like, 'Have we gone far enough?'" Bryce said.
"I think we didn't go far enough. That's why we are deciding today to issue Volume 2," Aaron joked.
"No, I think we've done it," Bryce retorted.

For more info:
Thanks for reading CBS NEWS.
Create your free account or log in
for more features.