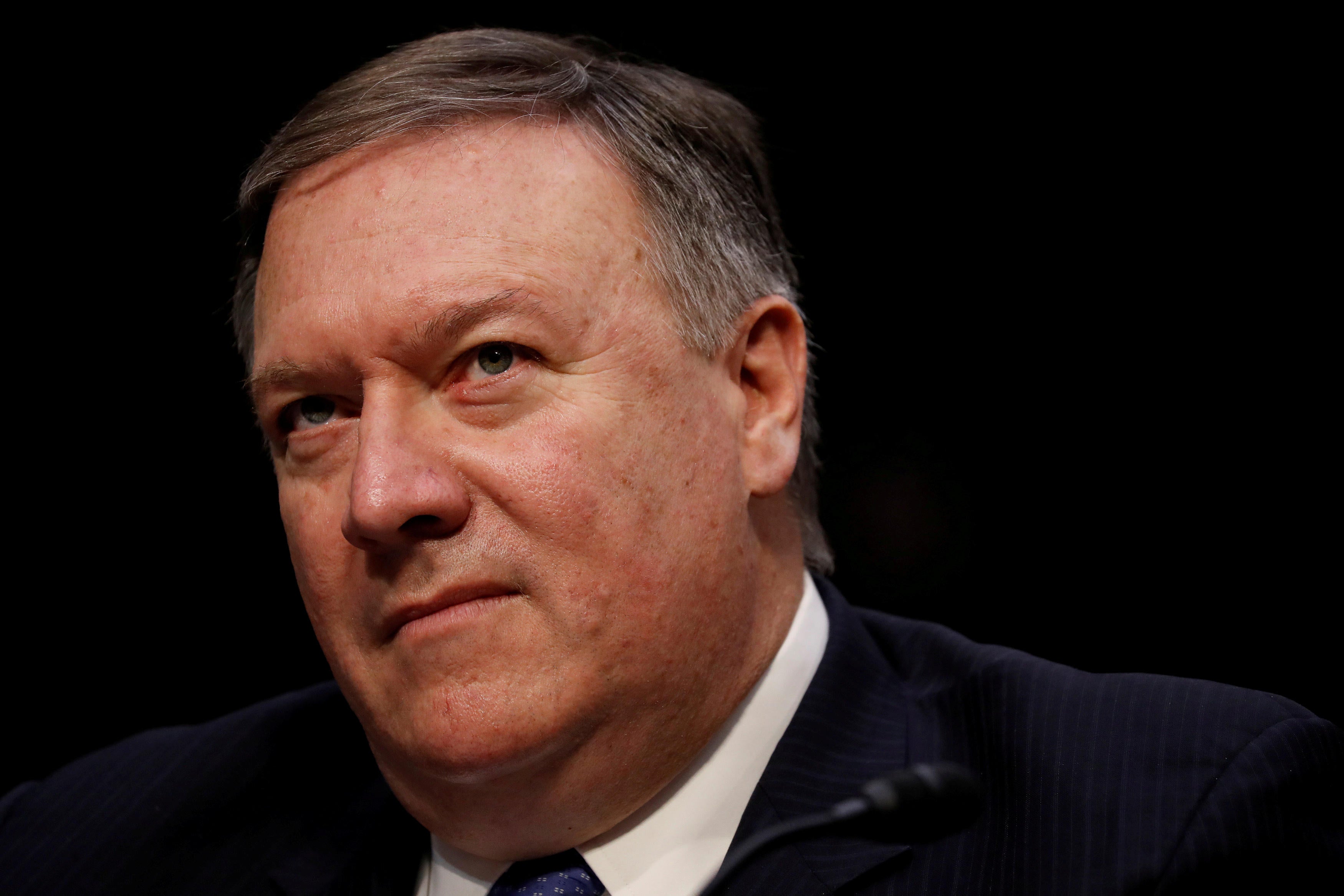 The math for Mike Pompeo's confirmation to be secretary of state
President Donald Trump's pick for secretary of state, CIA Director Mike Pompeo, is facing so much opposition from Democrats on the Senate Foreign Relations Committee that the panel could be forced to take the unusual step of sending the nomination to the full Senate without a favorable recommendation.
Democratic Sen. Jeanne Shaheen of New Hampshire on Tuesday became the latest member of the committee to announce her opposition, along with Sen. Tim Kaine, D-Virginia, Sen. Chris Murphy, D-Connecticut, Sen. Tom Udall, D-New Mexico, Sen. Cory Booker, D-New Jersey, Sen. Ed Markey, D-Massachusetts, Sen. Jeff Merkley, D-Oregon, Sen. Ben Cardin, D-Maryland, and Sen. Rand Paul, R-Kentucky. Both Shaheen and Kaine had supported Pompeo as CIA director last year.
In a speech at the Center for Strategic and International Studies Sen. Bob Menendez, the ranking Democrat on the committee, announced his opposition as well to Pompeo.
"I believe our nation's top diplomat must be forthright, and, more critically, [Pompeo's] past sentiments do not reflect our nation's values, and are not acceptable for our nation's top diplomat. The American people deserve better," said Menendez.
He added, "Even in my private conversations with him, he didn't tell me about his visit to North Korea. Now I don't expect diplomacy to be negotiated out in the open but I do expect for someone who is the nominee to be Secretary of State, when he speaks with committee leadership and is asked specific questions about North Korea, to share some insights about such a visit."
CBS News' Alan He reports that out of 50 Republicans and 49 Democrats with Sen. John McCain, R-Arizona, absent the Senate would need one Democratic to provide a confirmed "yes" vote in order to make up for Sen. Paul's "no" vote.
Pompeo is still expected to have enough votes in the full Senate to replace Rex Tillerson, who was fired by Mr. Trump. But as support peels away, his confirmation may come down to a handful of senators. The backlash ahead of the panel's vote is a rare rebuke for such a high-profile Cabinet pick, and sets Pompeo on a potentially uneven path for the new job.
"I continue to have deep concerns regarding Mr. Pompeo's past statements and policy views, particularly in regards to the LGBTQ community, American Muslims and women's reproductive rights," Shaheen said in a statement, after calling the former Kansas congressman Tuesday to tell him she would be opposed.
Shaheen said Pompeo's previous roles "are fundamentally different from that of Secretary of State, who represents American values around the world."
A sign of the important role Pompeo plays in the Trump administration: The CIA director traveled to North Korea for a secret meeting with leader Kim Jong Un, two U.S. official say. The meeting came as U.S. and North Korean officials plan a summit between Mr. Trump and Kim. The officials spoke anonymously because they were not authorized to discuss the trip publicly.
Rarely has the Senate panel failed to back a nominee, and some said not since President George W. Bush nominated John Bolton as U.S. ambassador to the United Nations has the committee declined to recommend a White House pick.
Republicans have a narrow Senate majority, which gives them a single-vote advantage on the panel. But with stiff opposition from Democrats — and at least one Republican, Sen. Rand Paul of Kentucky, opposed — the committee may have few other options when it convenes as soon as next week.
"We'll see," said the committee's chairman, Sen. Bob Corker, R-Tenn.
Under Senate rules, if the nominee does not have support in the committee, the panel could report to the full Senate unfavorably, which would send a strong rebuke to the White House, or simply report without a recommendation. It also could take no action.
One top committee Democrat, Sen. Ben Cardin of Maryland, said he was still reviewing his decision. Senators submitted more than 100 questions for the nominee after his initial hearing, and many are waiting for those responses.
Mr. Trump initially tapped Pompeo as CIA director, one of his first Cabinet nominees in 2017, and they became close allies. But some Democrats have faced resistance for their votes, and Pompeo is having a tougher path as the nominee for secretary of state over his hawkish foreign policy views and comments about minorities, having suggested that Muslims should denounce extremism and gay people should not be able to marry.
During his confirmation hearing last week, Pompeo told senators it's unlikely he'd resign if Mr. Trump fired special counsel Robert Mueller, who is leading the investigation into Russian interference in the 2016 election.
Of the more than a dozen Democrats who supported Pompeo's nomination as CIA director in 2017, at least four, including Sen. Dianne Feinstein of California and Sen. Brian Schatz of Hawaii, now oppose his nomination for State.
"The Secretary of State is a very different role than CIA director, and it's not the kind of position you learn on the job," Feinstein said in a statement Tuesday. "I sense a certain disdain for diplomacy in Mike Pompeo that I believe disqualifies him from being our next senior diplomat."
Senate Minority Leader Chuck Schumer, D-N.Y., who also backed Pompeo earlier, declined to say Tuesday how he would vote.
Thanks for reading CBS NEWS.
Create your free account or log in
for more features.