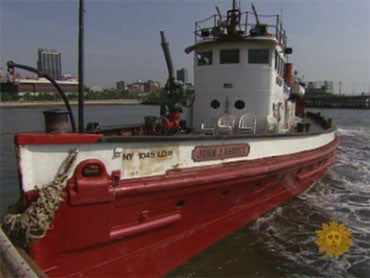 The Little Fireboat That Could
The red and white boat catches your eye as it churns along the Hudson River. While it might come across as a source for entertainment as it sprays water high into the air, in her day the Fireboat John J. Harvey - with the power of 20 firetrucks - was the toast of New York Harbor.
She heroically battled blazes on cargo unloaded on the city's piers.
"You'd have barrels of highly flammable petroleum next to cotton on a pier built of wood on wooden piles soaked in oil, so something would start and they'd burn all the time," Huntley Gill, one of the John J. Harvey's current owners, told CBS News "Sunday Morning" Senior Correspondent Rita Braver.
By the way, this gasoline-powered vessel was named for a fireboat captain who died on the job.
"This boat was built in what year?" Braver asked Gill.
"1931," Gill said. "She's the first large modern fireboat built in America in that everything before her was steam. It's really quite incredible."
But incredible or not, in 1994 New York City decided that the Harvey was over-the-hill and took her out of service. Six years later, she was to be auctioned off for scrap. That's when Gill, a preservation architect, and a group of about 20 friends heard about it.
"A bunch of us reached into our own pockets and said, 'This is just too interesting not to do,'" Gill told Braver. "I think we might have been inebriated when that happened. I've forgotten now."
"Your bid was for how much?" Braver.
"$28,010," Gill said, "because we heard a rumor that somebody was bidding $28,000. As it turns out, the next lowest bid was $10,600."
"Did you guys have any idea how expensive it would be once you had it?" Braver asked.
"We were totally deluded," Gill said laughing. "It's like a love affair. Once you're in it there's nothing you can do."
When Tim Ivory - known as "the man who can fix anything" - was hired on, he found the Harvey's mechanical systems in pretty good shape.
"It needed about 12 hours of love," Ivory told Braver. "Then from that point we had some things running."
And so the Harvey, now operated as a non-profit, was on the water again, manned mostly by volunteers like Captain Bob Lenney, who had actually worked on the fireboat for 31 years and retired when she went out of service.
"Oh, yeah, this is the best boat," Lenney told Braver. "Others think that theirs is the best, but this is the best."
Jessica DuLong, a dot-com manager who'd never even crewed before, worked her way up to chief engineer.
"I'm standing surrounded by five big, powerful diesel engines," DuLong told Braver. "I love that!"
The pick-up crew and the Harvey stayed busy celebrating harbor events and showing off for school kids. Then came Sept. 11, 2001.
"We heard from another co-owner," Gill told Braver. "He called the fire department and asked if you guys need help. They said, 'God knows we need all the help we can get. Just go down there and see if you can be of any use.'"
CBSNews.com Special Report: Eight Years After 9/11
Their first assignment was to help evacuate lower Manhattan.
"It was like the floodgates have opened," Ivory told Braver. "People poured onto the boat. We started heading north. As we're going north, this guy in the fire department sees this fireboat going by and says, 'We need them!'"
With hydrants blocked on land, hoses already had been strung from the city's two other fireboats, the river providing an unlimited water supply.
Of course the Harvey hadn't fought fires in years, and the crewmember assigned to check out the 20 hose valves found a problem
"Got all the way around on this thing and there was just two that worked," Ivory told Braver.
But Ivory, himself a former firefighter, was able to jury-rig a solution.
"It was just 'Let's try this,'" Ivory told Braver. "For all I know, it could've failed miserably. Maybe it was divine intervention. I don't know."
The Harvey kept at it for three days, pumping some 38 million gallons. DuLong has documented its 9/11 role in a new book.
"I could see that this boat was doing the job that it was built to do," DuLong told Braver. "That was just overwhelming to me."
"You put everything else aside," Ivory told Braver. "The tragedy aspect of it, you block out otherwise you're not functional. You kind of focus on what's the next step of the job."
And so the story of the John J. Harvey has a happy ending: recognition in the Congressional Record and a slew of awards.
"Every fireboat and every boat built since 1931 owes her a debt," Gill told Braver. "In technology and the thinking and design, that's an artifact that if you can keep it alive and if you can keep it working, now that's a job of work, as my grandfather would have said. That's really a great thing."
By CBS News "Sunday Morning" Senior Correspondent Rita Braver
Thanks for reading CBS NEWS.
Create your free account or log in
for more features.