​The heist of the century
The art world calls it the HEIST OF THE CENTURY ... works by Rembrandt, Vermeer, and others, stolen from one of America's finest museums. Years later it remains an unsolved mystery, investigated this morning by Erin Moriarty:
Entering the Isabella Stewart Gardner Museum in Boston is like taking a step back in time. The lavish courtyard and art-filled rooms, designed by its namesake and founder, remain much as she left them a century ago ... except for 13 empty spaces.
"When you walk by here, you have all these wonderful pieces, and then you see this empty panel," said Moriarty.
"It makes me want to weep," said museum director Anne Hawley. "It's time to bring them back."
On March 18, 1990, Hawley received news no museum director wants to hear.
"I think it was around 8:00 in the morning," she said. "I was called by the security director here. He told me there had been a theft."
She had no idea how big the theft was.
Earlier that morning, at 1:24 a.m., two men dressed as police officers arrived at the museum's employee entrance.
"The guard answered the buzzer and the thieves said, 'Boston Police, we're responding to a disturbance," said current museum security chief Anthony Amore. "And based on that alone, the guard buzzed them into the building."

The two phony police officers then announced, "Gentlemen, this is a robbery."
The night watchman who let them in, Rick Abath, was tied up in the basement along with another guard. Eighty-one minutes later, the thieves had pulled off the priciest art heist in history, walking out with an estimated half a billion dollars worth of art.
"It was devastating," said Hawley. "It's like having in the family...these works are so important."
Gone: The only known seascape painted by Rembrandt. "It had such motion in it," said Hawley. "The turbulence of the sea and the movement of the ship were so agitated and so strong. It just drew you towards it."
Gone: Rembrandt's "A Lady and Gentlemen in Black," as well as a self-portrait etching.
"I think that they were targeting Rembrandts," said Hawley, "and then they decided to just take some other things."
The thieves may have thought "Landscape With an Obelisk" was also a Rembrandt; it was actually painted by one of his students, but they took it anyway.
Also gone: Five works by Degas; Manet's "Chez Tortoni"; an ancient Chinese beaker; and a Napoleonic flag finial.
But the most heartbreaking loss for Hawley was a painting by Vermeer -- one of only 36 in existence.
"The Concert" had been set up by Gardner so viewers could sit in a chair and just contemplate Vermeer's picture. Now the chair sits before an empty frame.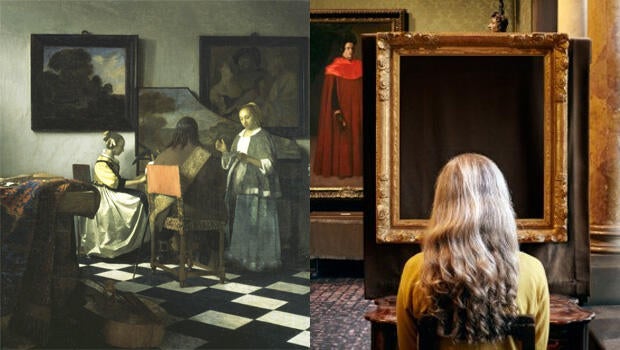 The thieves appeared to know nothing about art, leaving behind more valuable pieces, and using box cutters to remove paintings from frames. "The thieves pulled them off the walls, shattered the glass, and cut the paintings out," said Hawley.
"These guys were burglars," said FBI Special Agent Geoff Kelly. "They would have just as easily stolen a car or somebody's TV. They didn't know what they were doing. These were not sophisticated art thieves.
"They woke up the next morning, after the Gardner heist, I believe, unwittingly realizing that they'd just committed the heist of the century."
But apparently, they were smart enough. More than 25 years later, no arrests have been made, and none of the art has been recovered.
"When people say, 'Well, why is it important?' I say, 'Imagine if you could never hear Beethoven's Seventh Symphony again, ever.' Well, a Vermeer is certainly at that level of creation, and so is the 'Storm of the Sea of Galilee,'" said Hawley.
"I mean, these works are major iconic works of Western culture. And to have them removed, just ripped from the culture, is a crime. It's really a crime against civilization."
Since 2002, Special Agent Kelly has run the FBI task force that continues to search for the art.
"There's nothing like it," he said. "There's nothing that compares to a group of individuals bluffing their way into a museum by posing as police officers, spending 81 minutes inside the museum with a comfort level that's unheard of, taking their time, being deliberate, and disappearing into the night. These thieves definitely had inside information."
Which brings us back to the security guard who let the thieves in, Rick Abath.
"If the police come to your facility and ask for admission and you haven't called for them, you then call the police and check if they were actually deployed there," said Amore. "
And Abath hadn't done that.
Abath, then a 23-year-old musician moonlighting as a guard, quickly fell under suspicion, especially after investigators discovered something perplexing in one of the galleries called "The Blue Room." At some point in the evening somebody came in there and stole a painting off the wall, Manet's "Chez Tortoni." The problem is, the museum's motion detectors tracked no movement at all in that room during the entire 81-minute heist.
"At no time between 1:24 a.m. and 2:45 a.m., did any alarm on this floor get tripped," said Amore.
The only person who had been in the room that night was Rick Abath when he made his nightly rounds.
"Someone went into the Blue Room that night, and the only one that went in that room that night was the security guard, according to the motion sensor printouts," said Amore.
"Doesn't that mean that he had to be involved in this?" asked Moriarty.
"It's one of the aspects of this case that we continue to investigate," said Kelly.
But Abath was never arrested. He has always denied he had anything to do with the robbery.
"Is it possible he assisted without knowing he did?" asked Moriarty.
"Oh, that's definitely possible too," said Kelly. "It's quite possible that somebody was just talking at a party or at a bar out of turn, and someone took note of what they were saying."
But just this summer, a video was released by the Justice Department that raises even more questions about the former security guard.
Surveillance footage appears to show Abath just 24 hours before the heist allowing an unidentified man to enter the closed museum. Was this a trial run?
Twenty-five years later, Abath now lives a quiet life in Vermont. We went there hoping he might be willing to talk about that video. He wasn't.
But the fact is, even if he were involved in the robbery, he can't be prosecuted; the statute of limitations has run out.
"If somebody was involved in the original theft of the paintings, they could not be charged for it," said Kelly. "And as far as possessing it, if they came forward and wanted to return them, they would not be arrested.
"We just want the art back," he said.
But where is it? Why was it taken? And most important, how do they get it back? That is all authorities want to know now -- and they believe one man holds the key.

Part II
How does a half-billion dollars' worth of art simply vanish? The mystery of the Gardner Museum heist has tantalized investigators for so long, it has even etched itself into pop culture, as when Vermeer's "The Concert" was spotted on the walls of Mr. Burns' mansion in "The Simpsons."
But as FBI Special Agent Geoff Kelly knows all too well, life doesn't always imitate "The Simpsons."
"The people that took these paintings don't have them hidden in some private art gallery, sitting back and just reveling in their beauty," he said. "These paintings are most likely up in an attic somewhere, or in a basement, not being viewed by anyone."
Investigators have long believed that members of organized crime pulled off the heist. The idea was to either hold the art for ransom or trade it for reduced prison sentences. So over the years, the FBI and the Boston Police Department scoured the criminal underground, but came up with nothing.
Kelly said, "I would say in the last ten years I've probably had at least a dozen or so moments where we've really looked at each other like, 'This one's it. This is it.' And they haven't panned out."
The most dramatic close call, says museum director Anne Hawley, happened in the summer of 1997. She found out by reading the Boston Herald. In bold headlines, the paper announced that one of its investigative reporters had gotten a glimpse of the missing Rembrandt seascape, signature and all.
"It was very exciting to think that this might be the beginning of the end and lead to the return of the paintings," said Tom Mashberg.
Like something out of a crime thriller, Mashberg was taken in the dead of night to a warehouse in Brooklyn, New York, by an antiques dealer with a criminal past, William Youngworth, who then removed a painting out of a large tube.
"It was pulled out and kind of unfurled," said Mashberg. "And I was not able to touch it and really get close to it, but I was able to look at it under the beam of a flashlight. What I looked at appeared to me to be an aged painting with a lot of the earmarks of an authentic 17th century work of art."
Youngworth, who was facing unrelated theft charges, said he'd turn over the Rembrandt and other art to authorities in exchange for immunity.
There was just one hitch, said museum security chief Anthony Amore: "The paintings are thick; they're not like fabric. They've been relined over the years."
Amore says the stolen Rembrandt couldn't have been rolled. "Imagine trying to roll cardboard," he said. "What happens when you give it that little turn. This isn't gonna roll."
So to bolster Youngworth's claim that he had access to the missing art, Mashberg was given paint chips as proof. "When I looked at them I thought, 'Oh, like these are cigarette ashes. What is this? This is ridiculous. No one's ever gonna get any information out of this.'"
But the chips were analyzed, and here's where the story takes another dramatic turn: they weren't from the Rembrandt, but they may have come from a Vermeer.
What's more, the chips happen to be the same color (known as red lake) as the blanket in the stolen painting, "The Concert."
"Wouldn't that indicate that that had to come from the Vermeer at the Gardner?" asked Moriarty.
"I'm not disputing that," Kelly replied.
But the analysis took time, and by then, Youngworth had stopped cooperating. In 2002, when Kelly took over the investigation, he tried to pressure Youngworth into talking.
"I can't tell you what he knows or what he does not know," Kelly said. "I can just tell you that the paint chips appear to have been from a Vermeer. And despite the offers of immunity and the reward, the painting has not been recovered."
Youngworth, now 56 years old and still selling antiques in Massachusetts, refused to talk with "Sunday Morning," and the FBI seems to have shifted its focus.
In March 2013, investigators revealed new details:
"For the first time we can say with a high degree of confidence, that we've determined that in the years since the theft, the art was transported to Connecticut and to the Philadelphia area."
They believe the original thieves are dead, but what they didn't share then was the name of the man they're convinced can lead them to the art: Robert Gentile.
"I believe that he knows either where some of the artwork is or could point us in the right direction," said Kelly.
Gentile, 79 years old and ailing, was reputedly a member of the Philadelphia La Cosa Nostra. On federal wiretaps he is reportedly heard talking about the art, and a search of his Connecticut home in May 2012 uncovered a list of the missing pieces -- and their market values.
"I certainly concede that that list is damning," said Gentile's lawyer, Ryan McGuigan.
But McGuigan says investigators are wrong; he says his client never had the art, but may have tried to con art collectors into thinking he did.
"It is a quote that he's said many, many times: 'I got caught in my own trap,'" said McGuigan. "He thought to himself that he could fake people out into getting some money."
Gentile is in federal custody facing a long prison term on an unrelated gun charge. The art could be his get-out-of-jail-free card, not to mention the five-million dollar reward he would be eligible to collect.
"I tell him time and time again, 'Is there anything that you're not telling me, Bobby? Because you know, if there is, you'll be really comfortable in Aruba,'" said McGuigan. "And he said, 'I got nothing, kid.'"
And that is where the trail goes cold.
It's been more than 25 years. Moriarty asked, "Does this mean this was the perfect crime?"
"No," said Kelly. "This was the antitheses of the perfect crime." Although the artwork is still missing, "Nobody got any money off these paintings. The perfect crime means you got away with it and you profit from the crime. And I don't believe that anybody has profited at all from this crime."
But many have been hurt by it.
Museum director Anne Hawley still desperately hopes that someone will call the museum with information so she can see the priceless works back on museum walls before she retires at the end of the year.
Moriarty asked, "What do you personally miss the most?"
"I love the Vermeer," Hawley replied.
"Do you fear that 'The Concert' will never be seen again?"
"I can't go there," she said. "'Cause I really think these works are out there, and that somehow, if we can just appeal to whomever is holding them, that we can get them back."
Do you have information about the whereabouts of the stolen Gardner Museum artwork? Contact the FBI's hotline at 1-800-CALL-FBI or submit a tip on their website. All information will be held in the strictest confidence.

GALLERY: The $500M art heist, unsolved

For more info:
Thanks for reading CBS NEWS.
Create your free account or log in
for more features.