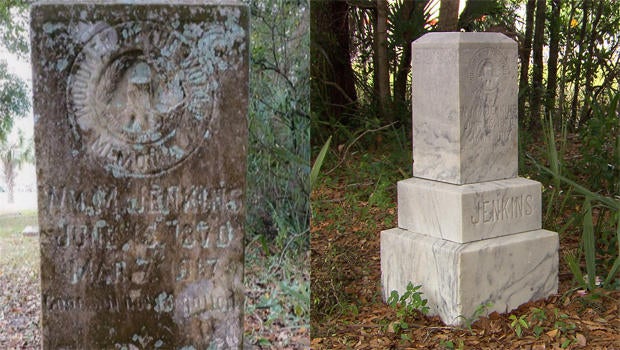 President Obama placed a wreath at the Tomb of the Unknowns in Washington Friday to honor our veterans. Anna Werner has found a Florida man committed to honoring our fallen heroes in his own way:
In cemeteries across America, you will see them: headstones blackened by age and the elements. Some are unrecognizable: "They were filled with moss. They were very dirty," said Andrew Lumish, of Tampa, Fla.
And what troubled him more was many of them belonged to veterans. When Werner asked what disturbed him so much about that, Lumish replied, "They were forgotten. I couldn't properly thank them. I couldn't properly understand who they were or what they were about."
So Lumish has made it his life's goal to scrub away that grime, and uncover the names on veterans' headstones so visitors would see them.
"If they can't read it at all, they can't celebrate it, they can't honor that person, they can't appreciate that person," he said. "Whereas if you properly restore the monuments, you can begin an entire conversation, and potentially -- in a figurative sense -- bring that person back to life."
Lumish's regular job is specialty cleaning. Though he'd never worked on a headstone before, he developed his own method for cleaning them: "I scrub. And I scrub. And I get the edges. And I get in the letters. And I get in the numbers. It could take 20 minutes, it could take two hours."
And his results are stunning.
Most any Sunday you can find him in a cemetery, instead of at the beach. "This is more fun for me. Hands down. Seven days a week, 365 days a year. If I could do this every day, I would."
He set up a Facebook page, titled with his nickname: The Good Cemeterian. It's a celebration of those veterans' lives, filled with the stories of the men and women beneath the gravestones.
He gets a lot of thanks from veterans and their families for what he does, but has trouble feeling like he deserves it.
"I am appreciative of it, but I'm unworthy of the same respect of someone who chooses to go the route to serve our country," Lumish said. "And for someone to approach me, to show me that level of respect, it's humbling, to say the least."
Bringing back the names and lives of veterans, he says, is just what he does.
"I get to everyone eventually," he said.
"That's a tall order," said Werner.
"Not if you love doing it."
"I mean, there are thousands of tombstones, monuments."
"I'm gonna live a long time!"
For more info:
Thanks for reading CBS NEWS.
Create your free account or log in
for more features.