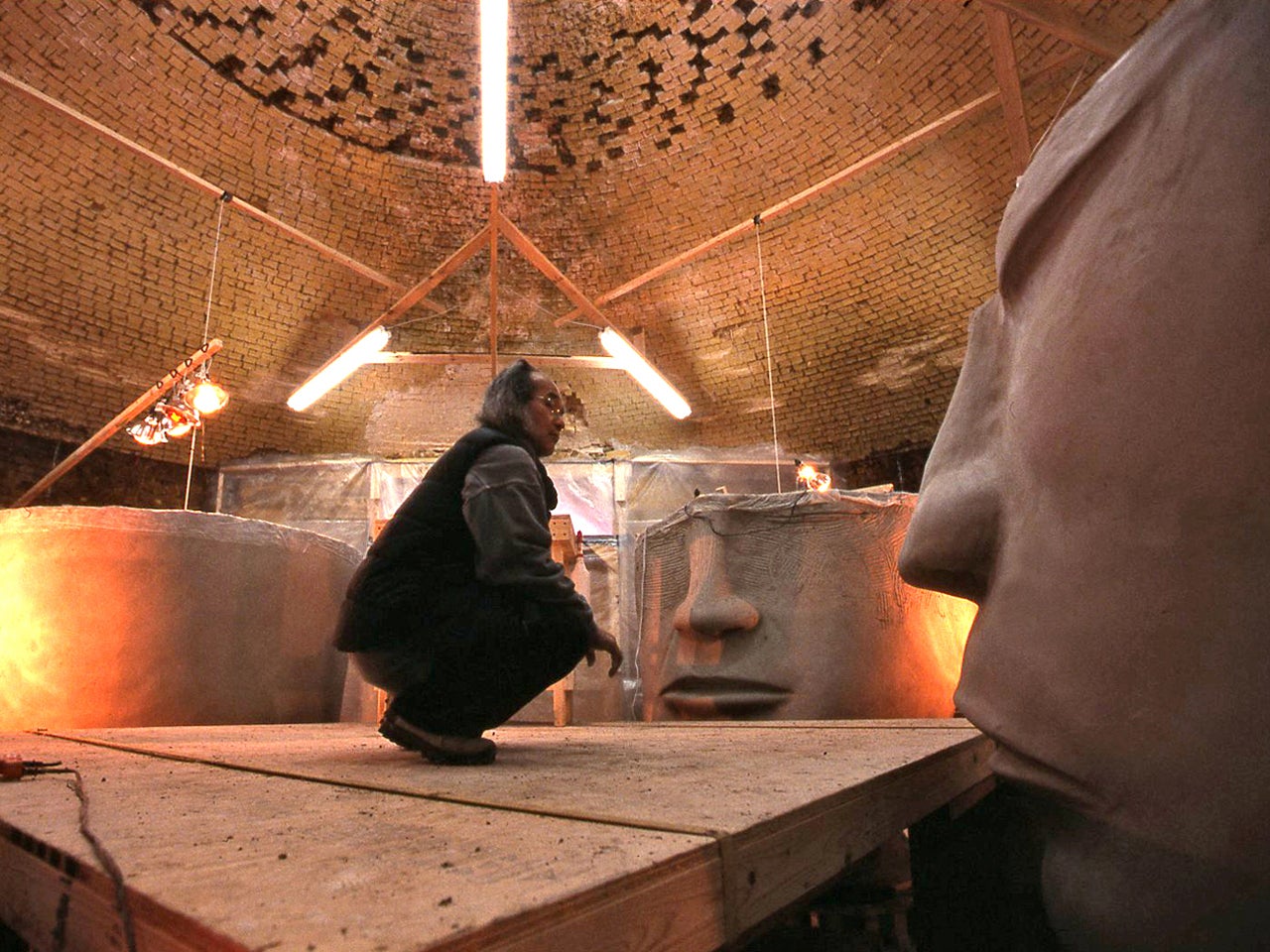 The giant, fanciful art of Jun Kaneko
(CBS News) Our summer Art Fair takes us to the heart of the country -- where our Mo Rocca has the story of an artist whose remarkable work is literally larger than life.
Omaha, the middle of Middle America, and Nagoya, perched on the Pacific coast of Japan, are separated by 6,000 miles -- but share someone remarkable.
Jun Kaneko, born in Nagoya in the months following the attack on Pearl Harbor, wound up in Omaha 25 years ago because it's his wife Ree's hometown. Since then, the Japanese-born artist has been re-writing the rules on the size and shape of ceramic art.
A tour of Kaneko's 400,000-sq. ft. studio complex stretching across downtown Omaha is a study in scale.
Of his large pieces, Kaneko said, "I call it the spiritual scale. I am trying to make some piece strong enough to pull viewer into it. Then the physical scale is not the issue. You become one with it."
Kaneko left for America at 21 to study painting.
His host family, it turns out, collected ceramic art, and Kaneko's focus soon shifted from two dimensions to three.
His breakout works were called dangos -- Japanese for "dumplings" -- that resemble huge closed vases.
But the goal isn't just to make big pieces per se.
"That's true," he told Rocca. "It takes so much effort to make a big piece, so you better make sure the piece is going to be good. So don't make ugly, big piece!"
As his work became better known, he moved on to other forms -- like a six-foot, 1,200-lb. head.
"Most of the fabrication is done by my assistant now," Kaneko said. "But when you're making [a] face, it's funny. It looks like the person who is fabricating it."
At 71, Kaneko now leaves the heavy lifting to a team of assistants, like Garet Reynek, who hoisted a slab weighing 60 pounds.
Rocca asked Reynek, "How great is that that one of the masters of ceramic arts happens to live in Omaha?"
"I always tell people, 'You know, I'd go anywhere in the world for this job,' " he replied. "So, it's just real lucky that I'm at home, essentially!"
During Mo's visit, he was painstakingly building Kaneko's latest big things, called tanukis.
"Are you forming a relationship with that Tanuki?" Rocca asked Reynek.
"It's kind of hard not to," he replied.
Tanuki means "raccoon dog," and it's the name of a small Japanese animal popular in folk tales.
The heavy clay slabs are fitted and formed from the feet up around the hollow core. Each Tanuki takes more than a year to complete. Kaneko hand-paints each one.
His massive, fanciful creatures -- almost 7 feet tall and 900 pounds each -- are the centerpiece of a display running through November in Chicago's Millennium Park. The 21 Tanukis, along with 13 Dangos, offer an irresistibly hands-on art experience.
"You just want to run and hug them," one young visitor said.
"Kids must love this," said Mo of the Tanukis.
"Oh, yeah, they really go crazy," laughed Kaneko.
"I want a bunch of Tanuki to get together and start a band -- that could be a good kids' TV show: 'We're the Tanukis!' "
And just as Omaha has helped shape Kaneko, Kaneko's shapes are all over Omaha . . . and beyond.
He spent two years designing the costumes and backgrounds for a San Francisco Opera production of Mozart's "The Magic Flute."
There were no physical set pieces; all the scenery was projected onto screens, groundbreaking for a major opera production.
With his international acclaim, Kaneko is deluged with requests to teach and show his work around the world. But when he's on the road, he just wants to get back home to Omaha.
"I evaluate everything based on, 'Can I add extra time in the studio?' Because that's what I really want to do," Kaneko said. "I'm pretty sure I don't know when it's going to end, but without my studio time, it's not even worth for me to be alive almost."
For more info:
Thanks for reading CBS NEWS.
Create your free account or log in
for more features.