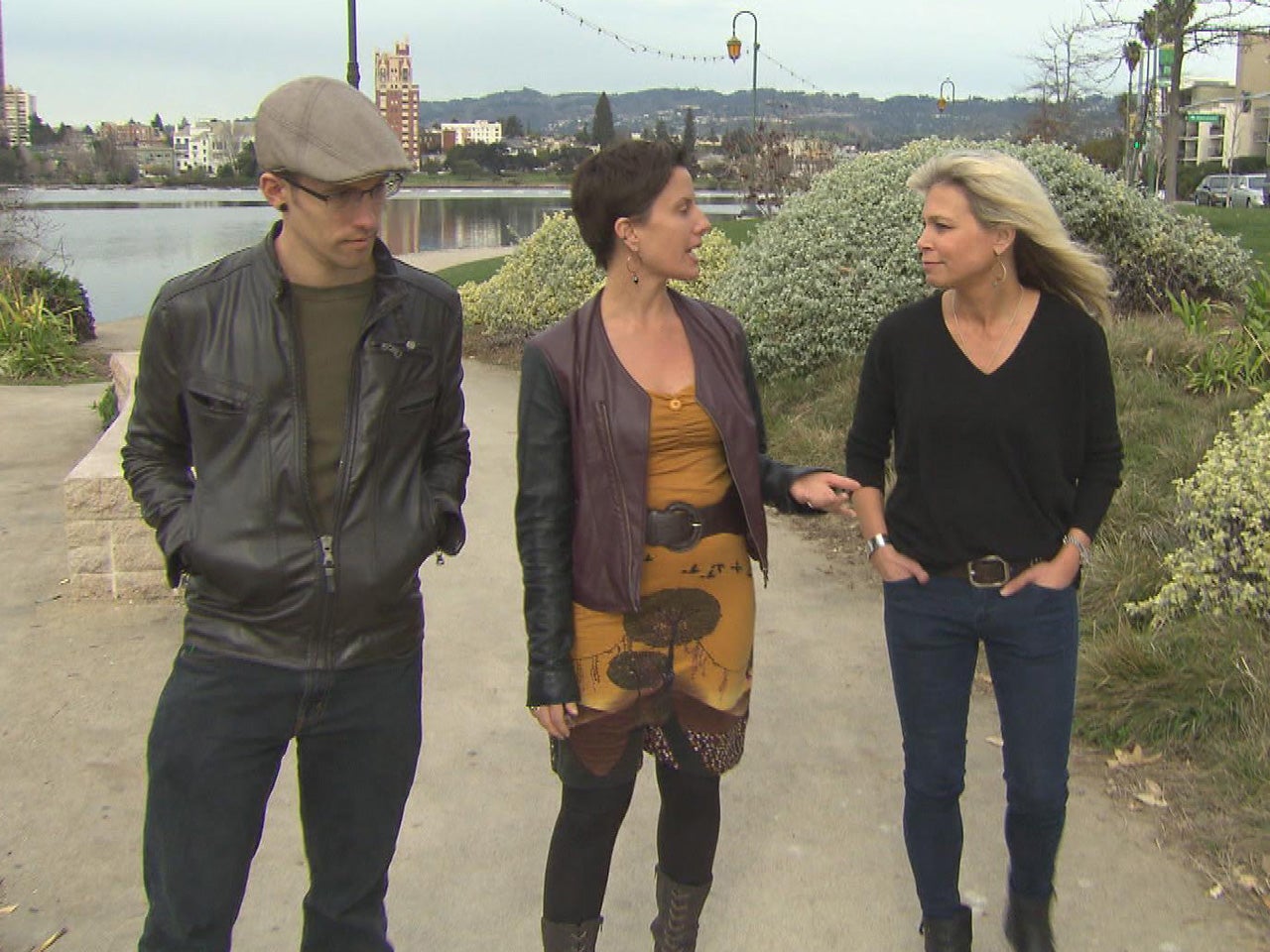 The freed American hikers speak on their captivity in Iran
It was nearly five years ago that we first heard news that three young American hikers had been imprisoned by Iran, accused of spying. This morning, those three hikers -- long since freed -- share the inside story of their captivity with Tracy Smith:

For three friends hiking in the Zagros Mountains of northern Iraq, images taken by the hikers that morning, recovered after being erased from their camera by Iranian police, showed what their final moments of freedom looked like.

"We look incredibly relaxed," said Sarah Shourd. "I just remembered what an incredible time we were having together that day, how much we enjoyed being together. But I also look at myself in those pictures, and I think that I'll never be that person again."
Sarah Shourd, Shane Bauer and Joshua Fattal were walking up a ridge when armed soldiers appeared in the distance, and waved them over.
"And then when we actually got to them, they pointed at the ground and said that we were in Iran," said Shourd. "And we had absolutely no idea that we were even anywhere near Iran.
"There are very few moments in your life where everything changes forever," she said. "And that was one of those moments."
With all the lovely places in the world where they could go for a hike, Smith asked Shane Bauer, why they chose that one?
"Well, we were living in the region," he replied.
They seem to get that question a lot: they're now inescapably known as the Iran hikers.
"In retrospect, I wish we hadn't hiked so far," said Shourd. "That's in hindsight."
"On that day, you didn't think you were doing anything wrong?" asked Smith.
"We didn't think we were taking a risk," she replied. "We thought we were taking a hike."
But it would be the start of a 26-month ordeal.

In July 2009, Shourd and Bauer were living and working in Damascus. He was a freelance journalist; she taught English.
When their friend Josh Fattal flew in for a visit that summer, the three Cal Berkeley graduates decided to take a run up to the hills of Iraqi Kurdistan, and the Ahmed Awa waterfalls, a popular spot with locals, complete with picnic areas and hiking paths.
Ahmed Awa was a stone's throw away from the Iran-Iraq border, but they say they had absolutely no intention of crossing it.
It was a perfect day, and the trail beckoned.
Bauer said there were no markings or fencing indicating there was a border: "No, no, no, nothing."
"And did anyone say to you, 'You're dangerously close to the border'?"
"No, definitely not," said Shourd.
Shourd, Bauer and Fattal were taken into custody and driven to Tehran, where they were locked up on charges of espionage, with no idea of when -- or if -- they would ever walk free.
Fattal said, "When we got to the jail cell, and Shane and Sarah kind of unclutched from each other, Sarah looked at me and says, 'Josh, how you doin'?' I said, 'I want to have kids one day.'"
Except for the occasional call or letter, the three friends were, for the most part, cut off from the world.
"The hard part," said Fattal, was when he realized, "that if I were in America, I'm not sure I would have cared about three American hikers."
"Why not?" asked Smith
"I would have said, 'What the hell were they doing there?' and I would have said, 'You know, there's tens of thousands of people who are in prison around the world unjustly. And why do I actually care about these three?'"
In fact, their families and friends had already begun a campaign to free them, but progress was maddeningly slow.

There was the occasional bright spot: in the Spring of 2010, their mothers were allowed to visit. Bauer even managed to sneak into Shourd's prison cell one night for a few stolen moments of intimacy.
Smith said, "Under those conditions, the last thing on my mind would be having sex, I think, to be quite blunt."
Bauer replied, "It's true. But you, you know, at the same time it's like, when you're in those conditions, you realize what's really important to you, you know. That becomes very clear."
"And on top of that," Shourd added, "what keeps you alive -- as a prisoner, everything in your life is controlled. You have to get permission to go to the bathroom. You don't know if you're gonna get a shower. You wait by the door for food to come. You start smelling it and anticipating it hours before it's actually brought to your cell. You have absolutely no autonomy. And any way that you can break those rules, any kind of defiance, keeps you alive, keeps you feeling human, keeps you feeling like you are you."
She said they learned many ways to break the rules: "And breaking the rules and resisting our conditions was what helped us stay sane, and feel like we would never be broken."
Still, after more than a year in solitary confinement, Sarah Shourd was depressed, hallucinating, and near the breaking point:
"The worst moment was when -- I'm still not quite clear on the sequence of events - I remember being balled up in the corner of my cell with my hands over my head. And I heard this screaming. And I thought it was from another prisoner in another cell and it just wouldn't stop. And all I could think is, 'When will they stop? There's nothing I can do to help this person. Can they please just stop?'
"And then my cell door busted open and guards came in and started shaking me. And I realized that it was me, that I had been screaming. And they showed me the wall. And there were streaks of blood on the wall. I'd been beating at the walls until my knuckles were bloody."
Sarah Shourd was freed in September 2010 for what the Iranians said were humanitarian reasons -- and a half-million dollar bail reportedly paid by the Sultan of Oman.
She wasted no time trying to free her friends. "Until they're free, my life will not resume," she said.
The two men had been were tried and found guilty of espionage, and sentenced to eight more years. But after some diplomatic maneuvering -- and a payment of a million dollars in bail money, again reportedly from Oman -- Bauer and Fattal also walked free.
Smith asked, "Do you remember what was going through your head?"
"I think it was pure feeling at that moment," said Fattal.
Feeling of? "Just joy and relief. And I was just swimming in it."
Reunited once again, Shourd and Bauer made it permanent: they were married a few months later, and -- along with Fattal -- wrote a book about their ordeal: "A Sliver of Light: Three Americans Imprisoned in Iran" (Houghton Mifflin Harcourt).
Today, Shourd and Bauer have both found work that allows them to talk about prisoners' rights -- in the U.S. and around the world.
Fattal is now a doctoral candidate at New York University. But there's more to his story:
In prison, he got a few letters from a junior high girlfriend, Jenny Bohrman, and allowed himself to hope that he would one day see her again.
"When I had the welcome home party when I got back, she was there," Fattal said. "And it was immediately fantastic to see her. It was exactly the Jenny I envisioned."
"The Jenny that you dreamed of sitting in prison?" said Smith.
"Yeah."
They're together now, and living in New York City.
Smith asked, "What's the best part about being home?"
"I can hear the best part of being home in the background," said Fattal, referring to Isaiah, now seven months old -- and a reminder of how good life on the outside can be.

The baby's middle name is Azad -- the Farsi word for "free."

For more info:
Thanks for reading CBS NEWS.
Create your free account or log in
for more features.