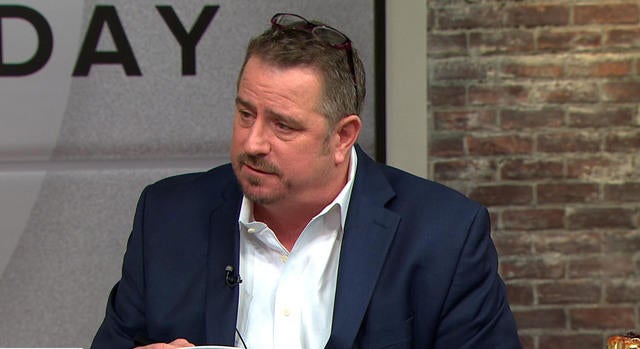 The Dish: Robert Wiedmaier
Born in Germany to a Belgian father and American mother, chef Robert Wiedmaier grew up helping out on a working farm. After culinary school, he found jobs at top restaurants in Holland and Belgium and eventually made his way to the Washington D.C. area.
In 1999 he opened the elegant Marcel's, which consistently earns among the highest marks for its French and Belgian menu and extraordinary service. He's also the driving force behind seven other Belgian-influenced restaurants in the D.C., Virginia and Maryland area.
Here are some of Wiedmaier's signature recipes:
Five onion soup
Ingredients

1/2 lb. butter
3 each white onions, sliced thin
2 each red onions, sliced thin
10 each shallots, sliced thin
3 quarts chicken stock
1 quart Fond de Veau
1 bunch thyme, fresh
1 tablespoon caraway seeds
1 cup croutons, toasted
1 cup Gruyere cheese, grated
1 bunch scallions, sliced thin
1/2 cup chives, chopped
Salt and pepper
Directions
1. Heat a large pot on high and place the butter into the pot. Once melted, add the sliced onions (both red and white) and shallots and sautee until softened and caramelized.
2. Tie the small bunch of thyme with butcher's twine and add into the pot of onions. Add the caraway seeds, chicken stock, and Fond de Veau into the pot. Reduce the heat to medium-low and allow to simmer for 20 minutes.
3. Remove the thyme and add salt and pepper to taste.
4. Portion the soup into oven-safe serving bowls and top with the desired amount of croutons and cheese. Place the bowls into an oven under the broiler until the cheese is melted and caramelized.
Bread pudding with lemon custard, rehydrated raisins, powdered sugar and ice cream
Lemon custard ingredients
1 cup sugar, separated into 2 half-cups
2 cups heavy cream
2 cups half and half
1 cup egg yolks
3 lemons, zested and juiced
Bread pudding ingredients
3 each Large eggs
1 1/4 cup sugar
1 1/2 teaspoon vanilla extract
1 1/4 teaspoon nutmeg, ground
1 1/4 teaspoon cinnamon, ground
1/4 cup unsalted butter, melted
2 cups whole milk
5 cups bread, cubed [stale or lightly toasted brioche or croissants recommended]
1/2 cup raisins
Powdered sugar to taste
Directions
1. Place half of the sugar in a pot with the heavy cream, half and half, and lemon zest. In a separate bowl, whisk the remaining sugar into the egg yolks until it becomes light and creamy. Heat the cream to a boil and slowly add the yolk mixture by drizzling. Reduce to a low heat and stir with a spoon until the mixture has thickened and coats the back of the spoon. Be careful not to overcook at this point in order to avoid curdling the mixture.
2. Strain the mixture, and chill it in a bowl over an ice bath. Before serving, add lemon juice to taste. Place on the bottom of a bowl under the Bread Pudding [see recipe below.]
3. Whisk eggs, sugar, vanilla, nutmeg, cinnamon and butter in a bowl until all ingredients are incorporated. Heat milk to a simmer and temper into the egg mixture, slowly adding it with a whisk to bring up to temperature.
4. Place bread cubes into a large mixing bowl and pour the hot egg mixture on top until it just covers the bread - ensuring that some custard is reserved for later. Let it sit for 30 minutes or so to allow the custard to absorb into the bread. If it becomes too dry, add more custard, as needed.
5. Add the bread mixture to a lightly greased 8" x 10" loaf pan, or 8 individual ramekins, and then drizzle the remaining custard on top of the bread.
6. Preheat the oven to 350 degrees Fahrenheit. Place pan or ramekins in the oven at 350 degrees, and then immediately lower the temperature to 300 degrees Fahrenheit. Cook for approximately 30 to 40 minutes, until it becomes firm in the center. Once firm, increase the temperature to 425 degrees Fahrenheit and bake for another 10 to 15 minutes, until it puffs up, and reaches a golden brown color. At that point, remove the bread pudding from the oven, and allow it to rest for 10 minutes.
7. Before serving, rehydrate raisins by placing them in a pot with water or brandy and heating until they are plump. Serve over the Bread Pudding [see assembly instructions below.]
8. Serve warm and cut the loaf into 8 equal squares as individual portions, or carefully remove from the ramekins. Serve in a shallow bowl atop Lemon Custard with rehydrated raisins, and a sprinkling of powdered sugar, and a scoop of ice cream, if desired.
Classic mussels
Ingredients
1 tablespoon unsalted butter
1 tablespoon minced garlic
1 tablespoon minced shallot
1 lb. Penn Cove mussels, cleaned and de-bearded in the shell
1 cup dry vermouth
1 cup heavy cream
1 tablespoon choppped Italian flat-leaf parsley
Directions
1. To a pot or heavy pan over medium heat, add the butter. Sweat the garlic and shallot until translucent about 45-60 seconds. Add the mussels and vermouth and cover the pot. When the mussels are almost open (about 90 seconds to 2 minutes), add the heavy cream and cover the pot. Once all of the mussels are open (about 2 more minutes), sprinkle parsley over top and serve.
2. Cooked mussels can be eaten directly from the pot or pan or transferred to a wide-rim soup bowl. Keep covered until just prior to eating as they cool quickly.
Roasted Margret duck breast with bing cherries, duck confit, and Valrhona chocolate
Ingredients
1 whole Margret Duck
10 garlic cloves, divided
1 bunch thyme
Sauce ingredients
2 cups demi glace (veal stock reduced)
1 tablespoon sugar
2 tablespoons banyuls or red wine vinegar
1 tablespoon shallots, finely minced
1 tablespoon garlic, finely minced
6 ounces Valrhona 66% chocolate
1/4 pound bing cherries (4 cherries with pit removed and stem on)
1 tablespoon butter
Directions
1. Put the sugar in a small sauce pan cook on medium heat swirl until the Sugar lightly caramelizes, add the Vinegar, add the reduced Duck Stock, add the Demi Glace. Pit the Cherries and cut them in half, reserve a few for garnish, put the rest in the sauce. Steep the Cherries in the sauce while reducing to napper consistency (coats the back of a spoon). Strain by pressing the Cherries into the strainer. When ready to serve, heat the sauce, add the halved Cherries for garnish, melt the Chocolate and stir in half, reserve the rest for an additional garnish.
2. Place the Duck Breasts in a sauté pan cook them on low to medium heat skin side down until the skin is rendered, and crispy (about 10 minutes.) Portion the Duck Legs into small uniform pieces, and place them under the broiler until the skin is crispy. Turn the Breasts over cook them another 2-3 minutes for medium rare.
3. Slice the duck breast about .25 inches thin. Drizzle the bing cherry, baby spinach, duck confit, and Valrhona chocolate Sauce lightly over the duck breasts. Take the reserved halved cherries and sporadically place around the plate. For a nice artistic finish, place a small dollop of melted chocolate (approximately 80% melted) on the plate separate from the duck and sauce, then drag a spoon through leaving a nice trail across the plate. Place the pitted cherry with the stem at the end of the chocolate trail.
Sauteed spinach
Ingredients
1 tablespoon olive oil
1 clove garlic, finely chopped
2 bunches spinach, tough ends trimmed
2 tablespoons water
1 teaspoon lemon zest, finely grated
Kosher salt
Black pepper, freshly ground
Directions
Heat oil in a large skillet over medium-high heat. Add garlic and cook, stirring, until fragrant, about 30 seconds. Add spinach, season with salt and pepper, and cook, tossing, until beginning to wilt. Add 2 tablespoons of water and cook, tossing, until tender, about 2 minutes. Stir in lemon zest and season with salt and pepper.

Thanks for reading CBS NEWS.
Create your free account or log in
for more features.