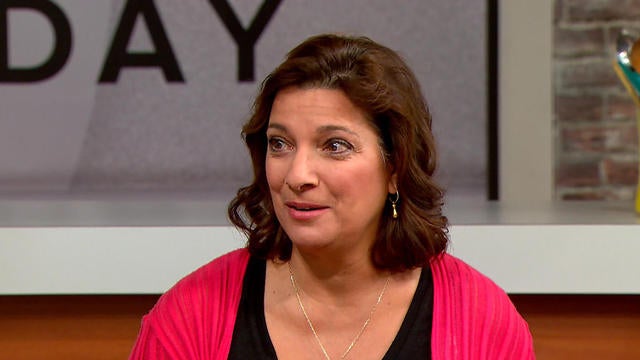 Celebrity chef and cookbook author, Diane Kochilas is from New York, but has made the Greek island of Ikaria her home, a place renowned for the longevity of its inhabitants. She runs a cooking school there and is an award-winning author of almost 20 books on Greek and Mediterranean cuisine. Her latest project is called "My Greek Table," a 13-part cooking travel series about Greece and Greek cuisine.
Here are some of Kochilas' signature recipes:
Classic Greek lamb chops

Ingredients
4 loin lamb chops, about 10 oz. each
3 large garlic cloves, minced
2 tablespoons fresh chopped rosemary
1 tablespoon dried thyme
1 tablespoon dried savory or oregano
1 cup dry red wine
½ cup extra-virgin olive oil
Salt and freshly ground black pepper to taste
2 lemons, cut in half, for garnish
Sourdough bread for garnish
Directions
1. Trim, rinse and pat dry the lamb chops.
2. Using a spice grinder or mortar and pestle, pulverize the garlic, rosemary, thyme and oregano or savory. The mixture should be a paste.
3. Rub the lamb chops all over with the herb and garlic mixture. Place in a single layer in a shallow bowl and pour in the wine and olive oil. Cover and marinate for 2 to 24 hours in the refrigerator. Let stand at room temperature for 30 minutes before grilling.
4. Light the grill to medium-high according to individual unit directions. Place the lamb chops over direct heat and grill, turning once about halfway through. They will need about 6-8 minutes for rare, 8-10 minutes for medium, 12-15 minutes for well done.
Braised octopus with olives

Ingredients
2 pounds stewing onions (stifado onions in Greek)
4 pounds octopus
6 tablespoons extra virgin Greek olive oil, plus extra to drizzle as garnish
1 medium red onion, very finely chopped
1 medium fennel bulb, very finely chopped
4 garlic cloves, minced and divided
3 bay leaves
1 star anise
½ teaspoon black peppercorns
5 thyme sprigs
½ cup white wine
1 tablespoon good quality tomato paste
2 cups whole teardrop or cherry tomatoes, stems removed
1 teaspoon chopped fresh thyme
¼ cup ouzo
2 tablespoons balsamic
1 tablespoon Greek honey or petimezi (grape molasses)
1 ½ cups pitted Greek whole black or green olives, rinsed
½ cup fresh parsley
Directions
1. Peel the stewing onions and set aside: Bring a pot of water to a rolling boil and blanch the onions for 2 minutes. Remove and place in a bowl of ice water. Using a paring knife, cut off their root ends. Pinch each onion to remove the skin, which will slip off very easily. Set aside.
2. Clean the octopus: Cut off the head/sac just below the eyes and using a sharp paring knife, dig out the beak and discard. (You can clean the inside of head by turning it inside out and removing the viscera while running it under cold water. I like to use it either by slicing it and cooking it together with the octopus, or by slicing, sautéeing separately, and mincing it for use in octopus keftedes.) Cut the remaining octopus into tentacles and set aside refrigerated until ready to use.
3. In a wide pot over medium heat, warm 3 tablespoons of olive oil. Reduce heat to low, add the chopped onions and fennel and sauté until very soft and just on the verge of starting to brown, about 10 to 12 minutes. Stir in half the garlic. Add the octopus tentacles, star anise, bay leaves, black peppercorns, and thyme sprigs. Cover and cook over low heat for about 30 minutes, or until the octopus turns deep pink and has exuded its liquid. Add the white wine. In about 5 minutes, when the alcohol cooks off, add the tomato paste. Continue cooking the octopus until tender but not stringy, about another 15 to 25 minutes.
4. While to octopus is simmering, prepare the stewing onions and tomatoes. In a large, deep, preferably nonstick frying pan, heat the remaining olive oil over medium heat and add the peeled stewing onions. Sprinkle lightly with salt. Cook slowly, shaking the pan back and forth every few minutes, until the onions turn light amber in color. Add the whole tomatoes to the pan and raise heat to medium-high. Adjust seasoning with salt and pepper. Add the remaining garlic and chopped thyme. Shake back and forth in the pan until the tomato skins wrinkle. Add the ouzo, balsamic and honey or petimezi and continue to cook another minute or two, until the tomatoes start to brown. Toss in the olives and shake to combine.
5. About seven minutes before removing the octopus from heat, add the stewing onion-tomato-olive mixture. Stir in the fresh parsley. Stir very gently to combine. Remove from heat and serve.
'Little Shoes': Eggplant halves baked with three cheeses and tomato

Ingredients
4 medium eggplants
½ cup extra virgin Greek olive oil, or more, as needed
6 red onions, coarsely chopped
4 garlic cloves, minced
5 fresh tomatoes, chopped
1 cup chopped fresh mint
1 cup chopped fresh parsley
Salt, pepper to taste
2 eggs, slightly beaten
2 cups combined Greek cheeses (1 cup coarsely grated Greek graviera cheese
½ cup grated kefalotyri cheese, ½ cup crumbled feta)
Salt, pepper to taste
Directions
1. Preheat the broiler. Cut the eggplant down the middle lengthwise, retaining its stem intact. (It looks pretty when baked.)
2. Using a sharp paring knife, criss-cross and score the open, flesh side of each eggplant half, careful not to draw the knife completely down to the skin or to puncture the skin in any way. Lavishly brush the eggplant halves, skin and flesh, with extra virgin Greek olive oil.
3. Place on a lined cookie tray or shallow pan, skin-side down. Broil 8 inches / 20 cm from heat source for about 5 to 7 minutes, until the skin starts to char lightly, then turn using kitchen tongs to broil on the other side. Remove when the flesh is tender but still al dente, in about 6 to 7 minutes. Pierce the flesh with a fork to gauge its readiness. Remove and set aside to cool. Switch the oven to bake mode and preheat to 350F / 180C.
4. While the eggplant is roasting, start the onion – tomato mixture. In a deep skillet or wide pot over medium heat, warm 3 tablespoons of olive oil and cook the onions until wilted and just starting to brown, about 10 to 12 minutes. Stir in the garlic. Add the tomatoes and stir to combine. Raise heat to medium-high and cook for about 5 minutes all together, until most of the liquid from the tomatoes cooks off. Set aside to cool.
5. Using a tablespoon, carefully remove most of the pulp from the eggplant, leaving enough around the perimeter of each eggplant half to keep it firm enough to hold up to the filling. I usually leave about an eight of an inch.
6. Burn the eggplant on the stovetop flame for 15 minutes, turning occasionally. Let it rest for 20 minutes. Cut the eggplant in half and season with oil, salt and black pepper. Remove the pulp and reserve.
7. Coarsely chop the pulp and mix into the onion-tomato mixture. Mix in half the cheeses and all of the herbs. Season to taste with salt and pepper. Stir in the beaten eggs.
8. Place the eggplant halves in an oiled ovenproof glass or ceramic baking dish just big enough to hold them snuggly. Spoon equal amounts of the tomato-onion-cheese mixture into the eggplant halves. Bake for 30 minutes, or until the filling is set and the onions soft. Sprinkle remaining cheese mixture over the top of each eggplant half and bake for a few more minutes, until it melts and starts to bubble. Remove, cool slightly and serve.
Shrimp Saganaki

Ingredients
1 1/2 pounds large fresh shrimp, shelled and deveined, heads and tails on
6 tablespoons ouzo
Juice of half a lemon
1 teaspoon lemon zest
4 tablespoons extra virgin Greek olive oil
1 large red onion, finely chopped
1 green chili pepper, finely chopped
2 garlic cloves
2 cups grated fresh tomato or chopped canned tomatoes
Salt, freshly ground black pepper to taste
2 teaspoons dried Greek oregano
2 tablespoons finely chopped flat-leaf parsley
⅔ cup crumbled Greek feta, optional
Directions
1. Place the cleaned shrimp in a mixing bowl with the three tablespoons of ouzo and lemon juice and chill for 15 minutes or up to two hours, until ready to use.
2. Heat the olive oil over medium heat in a large, deep frying pan. Sauté the onion and pepper until wilted, about 8 minutes. Stir in half the garlic. Add the tomato and bring to a simmer. Season lightly with salt and pepper. Cook for 15 minutes over medium-high heat, until most of the watery liquid from the tomatoes has evaporated.
3. In another skillet, heat the remaining olive oil over medium high heat and add the shrimp. Sear, toss with garlic, and when shrimp turn pink, spritz with remaining ouzo carefully as it may flame up a bit. Add shrimp and juices to tomato sauce and cook for a few minutes until firm but ready to eat. Stir in the dried oregano, parsley, lemon zest. Add crumbled feta, saying this is optional.


Thanks for reading CBS NEWS.
Create your free account or log in
for more features.