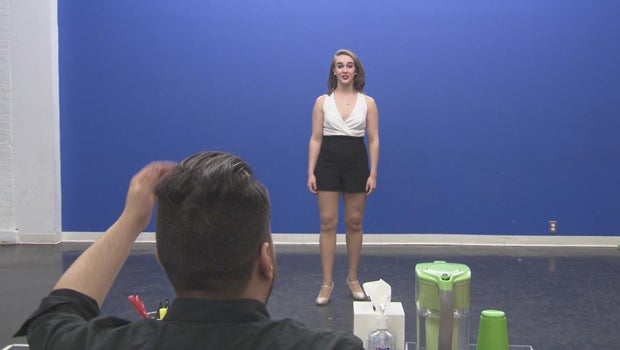 ​The casting director: The actor's lifeline
The actors who answer a Broadway casting call probably all hope to win a Tony someday. First, though, they need to survive the audition ... and for even the biggest names there are no guarantees, as Jamie Wax now shows us:
For all actors, auditioning is part of the job. From veteran Dame Helen Mirren ("There might be the odd role that they might not be thinking of me for because they think now I'm the bloody Queen, and I would say, 'Look, let me just show you what I can do with this'"), to Broadway newcomer Ruthie Ann Miles, last year's Tony Award-winner for "The King and I" ("I think I always have to audition because I'm not even sure I'm right for a part"), to this year's Tony nominee Leslie Odom Jr., who plays Aaron Burr in the musical "Hamilton."
"There's something about the fighting for it, I think, that's healthy," he said. "You gotta prove yourself. I'm not above that. I will never be above that. Bring it!"
And often the first person an actor sees when trying out is the casting director.
"What a casting director does is they're a connector," said Odom. "I mean, they can be a lifeline, especially if they champion you, which Bernie has done for me for 20 years!"
"Bernie" is Bernie Telsey, a top casting director, who says, "There's nothing more rewarding than finding new people."
He sees thousands of actors at his offices each month.
"We need to find out who the best people are to show the creative team, because they don't have the time to see every single actor that exists," Telsey said.
Kyra Sedgwick knows firsthand; she's been on both sides of the audition table, as actress and as executive producer of the recent TV series, "Proof." "It's such a huge job," she said. "There's so many really fine, talented actors out there.
"It really takes a special casting director not just to hand you a list that has no imagination to it."
Sedgwick and her team couldn't settle on an actress to play the lead role. Jennifer Beals, who starred in "Flashdance," was the last to audition.
"And she did the first scene and it was just that moment where an actor just goes, 'Oh yeah, that would be my part, thank you very much,'" Sedgwick said. "And you know, I mean we read the rest of the scenes but I wanted to turn around to all my executive producers and go, 'Let's go celebrate because there she is!'
To get to that point casting directors cast a wide net, such as the three-hour open call where anyone with a resume and a headshot can audition.
Cesar Rocha, one of Telsey and Company's casting directors, heard more than 100 actors sing just a few bars of musical theater songs.
"Some people ask, 'How do you sit through hundreds and hundreds of people when most of them are not right?' Because you know what? One might be," said Telsey.
The office handles multiple projects, from theater to television, commercials to movies.
So when director Rob Marshall wanted to create the movie musical "Into the Woods" and fill it with top stars, he hired Telsey. But first they needed one really BIG name.
And that name, said Marshall, was Meryl Streep.
Wax asked, "Does it give you more access to other stars once a role is cast with someone like Meryl Streep?"
"Yes," said Telsey. "When you have someone like Meryl Streep, everybody wants to work with her."
Telsey suggested Marshall see a rising star Streep already knew.
"Emily Blunt came in to audition for the Baker's Wife and sang 'Moments in the Woods,'" Marshall recalled. "It was so magical in the room, you couldn't believe it. And I remember at the end Emily saying to me, 'Are you crying, Rob?' And she won the role."
Emily Blunt performs "Moments in the Woods" from "Into the Woods":
In fact, eight years earlier, it was another casting director -- Ellen Lewis -- who on "The Devil Wears Prada" cast the then-little known English actress Blunt opposite Streep, and made her a star.
Lewis has been the casting director on 72 films, including "A League of Their Own," "Forrest Gump," and "The Birdcage." For 25 years, she's been Martin Scorsese's go-to casting director, having done 13 films with him.
Their first: 1990's mob classic , "Goodfellas."
Rao's in New York's East Harlem is an Italian eatery famous for its mob mystique -- and it became a casting gold mine for Lewis. "And it hasn't changed at all in the time I've been coming here since 1990," she said.
"Nick Pileggi knew that Rao's was a fantastic place to get the overall flavor of 'Goodfellas.'"
Screenwriter Pileggi, author of the book "Wiseguy" which he adapted for "Goodfellas," arranged a dinner for Lewis so she could screen real-life customers who looked the part.
"Some were brought over to the table knowing that we would not be able to use them in the film because maybe they were a little too 'connected,'" Lewis said. "We ended up casting about six people. A guy named Johnny 'Roast Beef' Williams -- he's in the movie."
Below: Johnny "Roast Beef" Williams with Robert De Niro in "Goodfellas." Some dialogue NSFW, because De Niro.
"They were able to add a fantastic feeling of veracity to the film," she said.
"I haven't gotten hundreds of jobs that I've auditioned for," Leslie Odom Jr. said, but he believes there's an upside even in rejection.
"It gets you better at auditioning, and you gotta get good at auditioning. So every single one of them has gotten me to this moment. I'm grateful for all of it now, because it makes you stronger."

For more info:
Thanks for reading CBS NEWS.
Create your free account or log in
for more features.