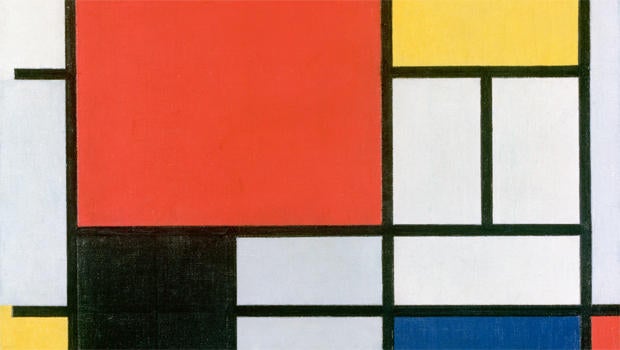 The Dutch painter Piet Mondrian left an unmistakable mark on the world of art -- which is why a city in his homeland is paying him tribute. Mark Phillips takes us on a walking tour:
Walk along any street in The Hague, in The Netherlands, lately and it can seem like all the shops are selling the same stuff. A few rectangles, and the appropriate colors, and bingo.
"Everybody's proud of it and wants to show it, that it's part of what the city is," said Benno Tempel, director of the Gemeentemuseum.
The city looks like it's been invaded by a very disciplined graffiti artist. On storefronts, construction fencing, train stations, the sides of buildings -- red, yellow and blue rectangles with black stripes.
"Everybody understands what it is about," Tempel said.
It's about the 100th anniversary of perhaps the simplest and most enduring idea in modern abstract art -- and it's about the man who painted these pictures, Piet Mondrian.
"It is such a strong image, it's so hard to resist it," said Tempel.
Tempel put together the exhibit commemorating the anniversary at the Gemeentemuseum, which has the world's largest collection of Mondrian's art. The exhibition traces how the man everybody thinks they know became who he is.
"Because it's very exciting to see the path he took," Tempel said. "And there are very [few] artists in which you can see such a beautiful development of his work."
"And such a drastic change of style?"
"Exactly. So, in the Netherlands you always had the heritage of the Golden Age, the 17th century, Rembrandt and his artist friends."
And it's from that heritage that Mondrian's journey begins.
Hans Janssen is one of the leading authorities on Mondrian and how his work developed into something nobody had ever seen before. Even in retrospect, Janssen said, he could not see what direction he was heading in.
The exhibit has tried to show how Mondrian's art morphed through his life, from very traditional beginnings -- windmills and landscapes – to where color takes the dominant role. The signs that something completely different was coming were there early on.
And then, in 1912, we come to what Janssen calls "The most modern painting in Holland" (below).
"It is almost horizontal and vertical, but it's still flowing," said Janssen.
The curved lines began to disappear. The shapes become more abstract.
"The emotion of beauty, Mondrian said, is always obscured by the appearance of the object. Therefore, the object must be eliminated from the picture."
"There was no meaning, no representation, nothing whatsoever. It was just what it is," said Janssen.
"And it should be in everybody's living room to make life more vivid and to make life more happy and to make life more cheerful."
Mondrian called the style of work that made him famous "Neo-Plasticism" -- the world distilled down to basic forms and primary colors. For an artist trying to make a living, it was risky. But it paid off.
"In 1921, this was completely new," said Janssen. "What he did was one-of-a-kind."
Did he spot a gap in the market? "He was curious to see where the modern art will go, where it would end," Janssen said.
It ended in America.
In the house (now a museum) where Mondrian grew up, in the Dutch town of Amersfoort, they've put together a sound and light show on what happened to Mondrian's work when he first went to New York in 1940, fleeing the Nazis who considered his art degenerate.
In the New World, the vibrancy and the music took him further down the road he was already on. Those colors and those shapes took new form, and became what is considered his masterpiece. He called it "Victory Boogie Woogie."
"He tried to achieve a new kind of beauty that he associated with Afro-American music," Janssen said. " Jazz, boogie woogie. He loved it.
"He was a boogie woogie guy!"
Benno Tempel said, "Going there really made his legacy, I think. People in America came in contact with him, started to realize really what his work meant. But more important maybe, all the American artists that came after him reflected on his work -- Pollock, Barnett Newman, Rothko, those three American artists that really made modern art in America. It's all in a sense, in reflection to Mondrian."
Not just art reflected Mondrian. Variations on his work have appeared on a range of products ever since -- perhaps most famously on that Yves Saint Laurent dress, designed in the '60s, and seeming as stylish today as when Mondrian created the idea a century ago.
"The image is so strong, that it can influence fashion designers, graphic designers, architects, city planners," said Tempel.
No wonder the people of The Hague have embraced Piet Mondrian again … all of them.
"Everybody joins in," said Janssen. "There was even a sex shop!"
"I won't ask what configuration those squares were in," said Phillips.

For more info:
Thanks for reading CBS NEWS.
Create your free account or log in
for more features.