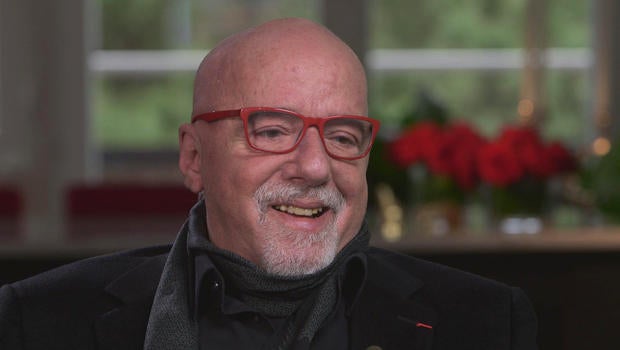 The alchemy of author Paulo Coelho
Study the fine print of any novel by Paulo Coelho and you'll find all the signs of a master at work. Rita Braver traveled to Switzerland to pay him a visit:
For this 69-year old man, his morning routine on the terrace of his penthouse in Geneva, Switzerland, is not just archery, but a form of meditation.
"It works wonderfully, because every time you have to open the bow, you can see the universe," said writer Paulo Coelho.
And soulful observations like that have made Coelho one of the top-selling authors in the world.
"I have 210 million books in print, which means 600 million people read my books, because the average is three per book," he said.
His latest novel is based on the life of Mata Hari, the Dutch-born exotic dancer who, in 1917, was executed by the French, accused (Coelho believes falsely) of spying for Germany.
She refused to be blindfolded once she faced a firing squad. "She wanted to die, like she lived, you know, standing," he said.
Coelho told Braver that when he started writing as Mata Hari, it was as if her voice was talking to him. "I could hear her," he said. "She was innocent of spying, but she was not that innocent. She used lies to survive, and then people lied against her and condemned her to death."
"The Spy" is Coelho's 28th book.
A self-described Internet junkie, he has more Facebook followers than any other author -- many drawn to him because of his most famous work: "The Alchemist." It has spent an astonishing eight years on The New York Times bestseller list. It's an allegorical tale of an Andalusian shepherd boy who goes searching for treasure, and ends up finding the key to happiness.
Braver said, "People started calling you a guru, a seer, a prophet for writing that book."
"They think so," he replied. "Of course not. I was trying to understand my own life."
And what a life!
Coelho was raised in a conservative Brazilian Catholic family. He wanted to become a writer from an early age, but his parents didn't approve of that -- and put him in a mental institution.
He would escape three times before his parents gave up.
Coelho adopted a hippie lifestyle, and in a few years, was writing hit songs.
But forces linked to the ruling right-wing Brazilian military establishment thought his counterculture lyrics bore a secret Communist message.
"I was then taken to these hidden places, where they used to torture and things like this," he said. "That was the worst part of my life."
What happened to him there? "I was beaten. They used shocks and total isolation, in dark room, no light, with a siren -- whah, whah, whah!!"
Released after a month, he found work writing for TV. And he found love with artist Christina Oiticica, now his wife.
But by 1980 he wanted to write books.
Coelho said, "I said, 'Christina, I have you, I have money, I have a work that I am not very enthusiastic about. But what am I doing here?
"'I have $17,000 to find the meaning of life. If it is more expensive, we are lost!'" he laughed.
It would be years before "The Alchemist" found a U.S. publisher -- and took off, helped in part by famous fans, like President Clinton and Madonna.
But now, Coehlo makes no secret about the fact that having written this book made him very rich.
"I read, if it's true, more than $500 million rich," said Braver.
"Yeah, more, more, more," he replied.
Today, Paolo and Christina give millions to charity, and own several homes, including an elegant apartment, decorated with her artwork. Just a short walk away is the institute that houses his archive.
Coelho told Braver that the most important thing he has is his first typewriter from when he was 15 years old.
And it is here that Paulo Coelho can really appreciate the enormity of what he has accomplished:
"It is something that I could never, ever dream of, and then you see that your soul goes beyond yourself -- what all these people have in common? I would say, what am I doing here, huh? That is the main question."
For more info:
Thanks for reading CBS NEWS.
Create your free account or log in
for more features.