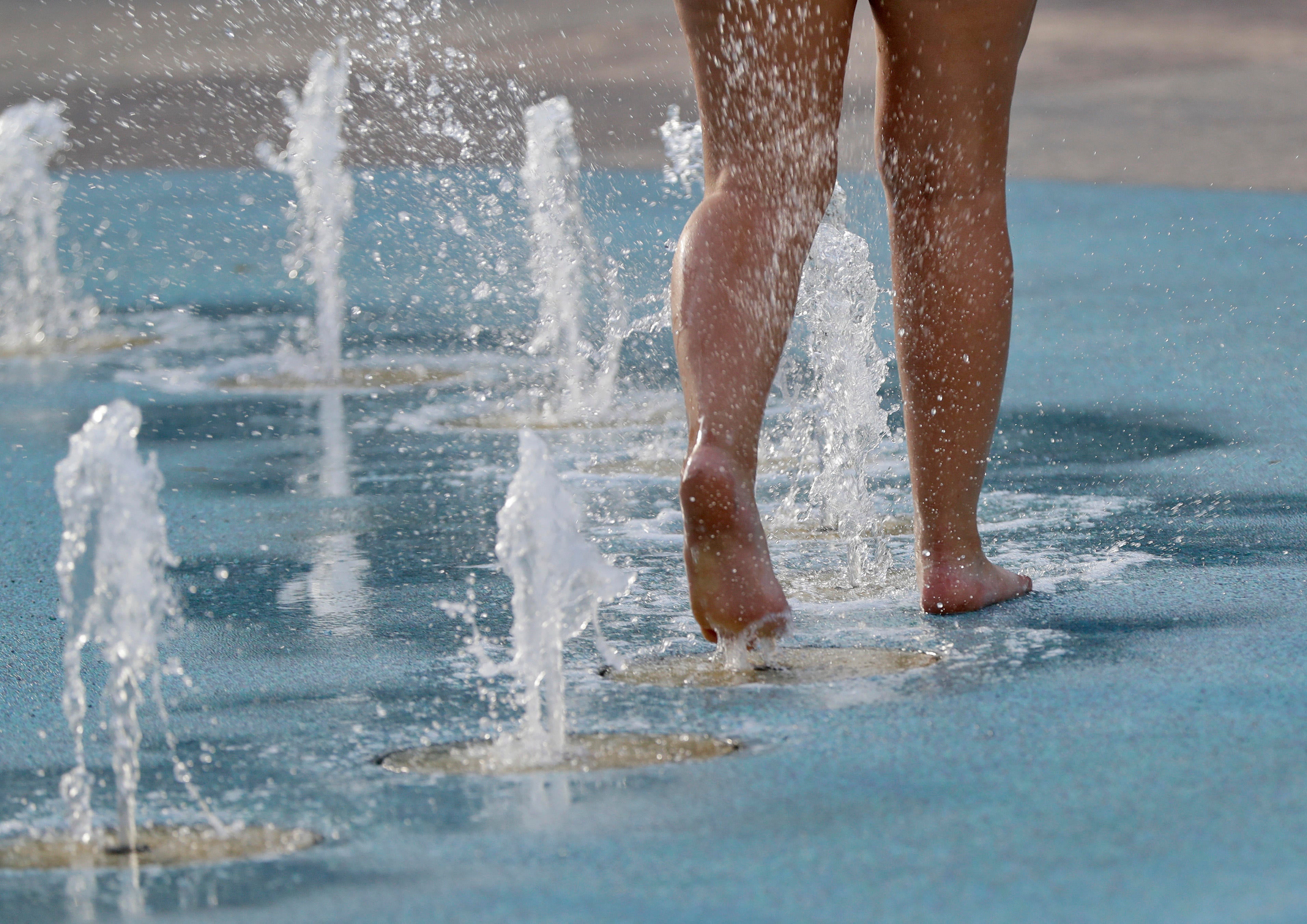 Temps near 120 degrees in Southwest as Texas reports record highs
Temperatures in some Central Texas cities set all-time record highs Monday as summer settled deep in the heart of the state. The National Weather Service said Waco reached 114 degrees around 5 p.m., beating the city's previous all-time record of 112 degrees set Aug. 11, 1969.
Burnet, in the Texas Hill Country, reached 110 degrees, matching its all-time high set Aug. 28, 2011. Camp Mabry in Austin reported a high of 110 degrees, breaking its July record of 109 degrees set July 26, 1954.
An excessive heat warning was issued for a broad swath of the southwestern U.S. on Monday with temperatures expected to approach 120 degrees -- almost 49 Celsius -- this week in what forecasters say could prove to be the hottest days of the year.
Meanwhile, more than 26 million people along the Eastern Seaboard were under a flash flood watch Tuesday morning. Heavy downpours in central Pennsylvania on Monday triggered massive floods that swamped roads and homes and swept away cars. Now, that dangerous storm system is stalled over the East Coast.
CBS News weather producer David Parkinson said the weather events are related.
"Essentially the reason why you're getting all this rain in the East is also the reason why you're getting the heat in the West," he said. "You've got this bottleneck in the jet stream, so everything is jammed up and nothing can move. That's why for the next 10 days in the East we're looking at rain, and potentially for the next 10 days in the West they're looking at this oppressive heat."
The National Weather Service said southern Arizona will experience temperatures from 112 to 119 degrees through Wednesday. That heat warning extended to parts of Southern California, including desert communities such as El Centro, Palm Springs, Twentynine Palms and Blythe. The news prompted the operator of California's electrical grid to call for voluntary conservation of power Tuesday and Wednesday due to high temperatures in much of the West.
The Las Vegas area could see its hottest day of the year this week. An excessive heat warning from the National Weather Service in Las Vegas is in effect through Thursday, when temperatures are expected to reach 114 degrees.
Meteorologist Alex Boothe said the area will see no overnight relief through Friday, with low temperatures not projected to drop below 89 degrees. Boothe said heat waves like this are the deadliest type of weather in Las Vegas and that the week will be "brutal" for anyone who spends time outdoors. He also urged people to move their pets indoors.
Parts of Utah were also issued an excessive heat warning with temperatures this week expected to approach 109 degrees. The weather service said the warning for Utah's Dixie and Lake Powell regions will be in effect Tuesday through Thursday.
A lesser heat advisory was in effect for west Texas and southeast New Mexico into Monday evening, with high temperatures well into the triple digits, the service said. Still, it was so hot in Las Cruces on Monday morning that afternoon school bus service was canceled.
The weather agency uses a complicated formula that varies from region to region to declare an excessive heat warning, including close to record-breaking temperatures.
Some of the highest temperatures over the next few days were expected in Phoenix, where the weather service issued a tweet to warn residents to stay hydrated and take advantage of cooler indoor buildings. The tweet said officials "can't stress enough that it will become dangerously hot early this week."
The weather service said Phoenix set a record of 115 on Monday and that "more of the same is in store through at least Wednesday."
"Nationwide, heat is the #1 weather-related killer," it warned.
Firefighters and city officials on Monday morning distributed bright red cloth visors, hand fans and blue-colored cooling neckerchiefs to downtown commuters, advising them to stay inside as much as possible.
"I'm hoping to stay in the air conditioning all day, and I'm planning to take it easy," Lisa Kirby said, who was visiting from Rhode Island for a conference. Kirby said she visited the area several summers ago and had a hard time dealing with the heat.
Fire Capt. Jake Van Hook said the department gets dozens of calls a day about heat-related illnesses during excessive heat warnings. "They range from someone who just needs to get inside to someone who needs to get urgently to the hospital," he said.
Maricopa County public health officials say 155 people died in the Phoenix area last year from heat-caused illnesses like heat exhaustion and heat stroke.
Forecasters say monsoon moisture will slowly return to the Phoenix area from the east by the weekend.
Arizona's monsoons are summer rains that can cause flash flooding and bring heavy winds.
Thanks for reading CBS NEWS.
Create your free account or log in
for more features.