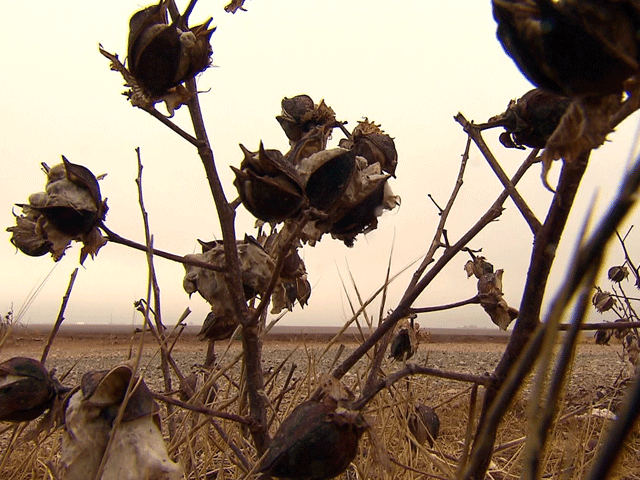 Texas drought a job killer where cotton is king
LUBBOCK, Texas - People in northern Texas Wednesday got a glimpse of something they haven't seen much of this summer: rain. It was just some scattered showers, though, not nearly enough to compensate for the worst drought in a half century.
Just about every part of Texas has been affected by the drought. But as CBS News correspondent Ben Tracy reports, few people there are suffering as much as the state's cotton farmers.
With the cotton harvest just two weeks away, Rex Kennedy would not normally be getting ready to go fishing. But there's nothing normal about this year.
"I just had to live with what I have," Kennedy says. "You have to play the law of averages. It usually rains, it always has and it will again - it just didn't this year."
Amid Texas drought, water war brews
Kennedy has been cotton farming in Lubbock for 22 years. Only one-third of his cotton crop has survived. Only insurance is saving his business from an $800,000 loss.
"When you have zero rain you just can't make it happen," Kennedy says. "That's one thing I guess the Lord has showed us. We have to have rain."
In the high plains of Texas, only half the land is irrigated. So these days as soon you get beyond the point where the sprinklers reach -- nothing is growing. In fact 54 percent of the land used to grow cotton has been abandoned.
Texas drought threatens cattle ranchers livlihood
The land near Lubbock accounts for nearly two-thirds of all Texas cotton, and more than a quarter of all cotton grown nationwide. Last year, the high plains produced 5.3 million bales. This year, it's expected to be just two million. As many as 11,000 cotton jobs could be lost.
Kennedy will end up bringing a lot less cotton to the gin down the road.
See the U.S. Drought Monitor map
"It's just going to be real tough to make any money this year," says Jerry Butman. He built a brand new cotton gin just three years ago. Last year, he produced 82,000 bales. This years, he expects to gin just 25,000 bales.
"It's a huge difference," Butman says. Huge for his workers too. Instead of 60 people, this year Butman will hire just 30.
"Simple math will tell you it's $3 million less revenue that we'll take in," Butman says. "That's real money. "
"We're just ready to get this to harvest and get 2011 behind us," Kennedy says.
Cotton may be king in these parts, but Kennedy knows the weather still rules. The drought is expected to last through winter.
Thanks for reading CBS NEWS.
Create your free account or log in
for more features.