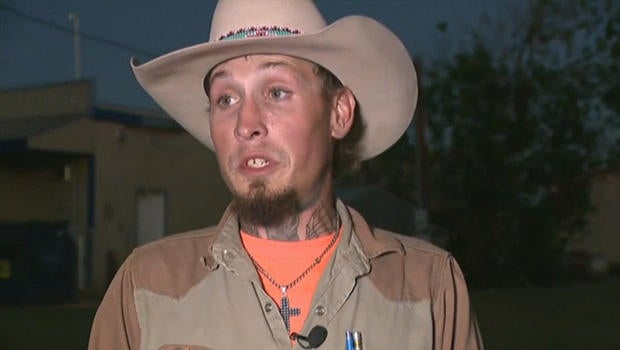 Witness describes chasing down Texas shooting suspect
It's unclear what motivated 26-year-old Devin Patrick Kelley to allegedly open fire on churchgoers at the First Baptist Church, in the small community of Sutherland Springs, about 30 miles southeast of San Antonio. Investigators don't know if the suspect has any connection to terrorism.
But on Sunday he came to the house of worship dressed in all-black tactical gear and a ballistic vest, apparently prepared to inflict mass casualties.
Twenty six people were killed; about 20 other people were injured.
Following a chase, police found the suspect dead from a gunshot wound inside his vehicle. Wilson County Sheriff Joe Tackitt told correspondent Jeff Glor that the fatal wound was self-inflicted.
Texas Governor Greg Abbott described the massacre in Sutherland Springs -- the deadliest in a house of worship in U.S. history -- as an act of "pure evil."
"I saw the guy, and to know that's what he was doing, it just -- your mind doesn't want to process it," said one witness.
Investigators say the suspect was first spotted at a Valero gas station across the street around 11:20 a.m. Sunday.
"The suspect crossed the street to the church, exited his vehicle and began firing at the church," said Freeman Martin, regional director of the Texas Department of Public Safety. "The suspect then moved to the right side of the church and continued to fire."
Kelley went inside and kept firing his AR-15-type rifle. Soon after, he returned outside where a neighbor engaged him in a gun battle.
"I just pulled up to an intersection and saw gunfire," said Johnnie Langendorff. He and the neighbor chased after the gunman as he fled the scene.
"The gentleman with the rifle came to my truck as the shooter took off, and he briefed me quickly on what had just happened and said that we have to get him," Langendorff said. "We just take pursuit. And like I said, we hit about 95 trying to catch this guy until he eventually lost control on his own and went off in the ditch.
"He just hurt so many people. And he just affected so many people's lives. Why wouldn't you want to take him down?"
When police arrived a few minutes later, they found the suspect dead in the driver's seat.
CBS News has learned Kelley served at Holloman Air Force Base in New Mexico from 2010 to 2014. He was court-martialed in 2012 on charges he assaulted his spouse and child. Kelley was sentenced to 12 months confinement, and received a bad conduct discharge.
Just last week Kelley posted a photo to Facebook of a semi-automatic rifle with the quote "she's a bad b****."
Investigators have not said how Kelley obtained his weapons, or whether he was known to the community. The FBI crisis response team is on scene to offer assistance to local police.
Thanks for reading CBS NEWS.
Create your free account or log in
for more features.