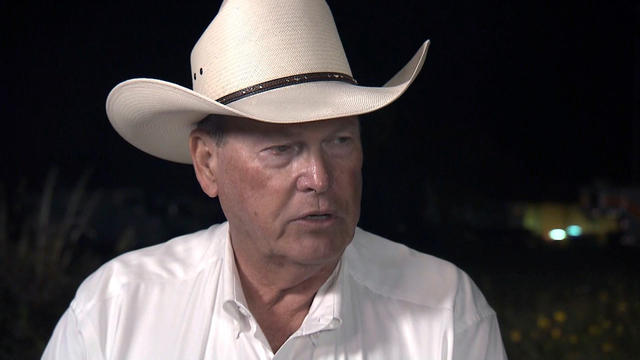 Sheriff: Texas shooting suspect apparently died of self-inflicted gunshot
Devin Patrick Kelley, the 26-year-old suspect in the attack on a Texas Baptist Church in which 26 people were killed and 20 wounded, is believed to have killed himself following a high-speed chase, Wilson County Sheriff Joe Tackitt told CBS News on Monday.
"There was some gunfire exchanged, I believe, on the roadway also, and then (the shooter's vehicle) wrecked out," Tackitt told correspondent Jeff Glor. "At this time we believe that he had a self-inflicted gunshot wound, after he wrecked out."
Tackitt also said that the investigation is at a standstill at the moment.
"We've still got a lot of shell casings and things we need to go through over there at the church, and it's going to take hours to do that, but you know, the suspect is deceased, so at this point we don't have anyone to start questioning," Tackitt said.
Tackitt said that Kelley was at a convenience store across the street from the First Baptist Church Sunday morning before the attack.
"[He] went around the church firing rounds, and then came back to the front and went in the front door, went all the way up to the front firing as he was going, and then turned around going out the door," Tackitt said. "At that point we believe he dropped his rifle.
"A citizen was across the street. They engaged in firefight for just a little bit. The suspect gets in his vehicle and takes off."
Witness Johnnie Langendorff, who was stopped in his truck at a nearby intersection when the gunfight took place, was approached by the man who was chasing the suspect, and the two pursued Kelley in a high-speed chase.
"There was some gunfire exchanged, I think, on the roadway," Sheriff Tackitt said, "and then he wrecked out. And at this time we believe that he had a self-inflicted gunshot wound."
Asked to describe the community of Sutherland Springs, Tackitt said, "This is a close-knit community. Everyone here knows everyone, you know? They help each other. It's going to be traumatic for a lot of people. But they're going to come together. They're strong people."
Thanks for reading CBS NEWS.
Create your free account or log in
for more features.