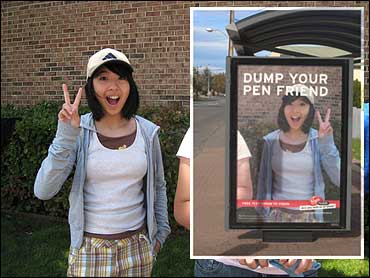 Teen Finds Her Flickr Image On Bus Stop Ad
An American family has sued Australia's Virgin Mobile phone company, claiming it caused their teenage daughter grief and humiliation by plastering her photo on billboards and Web site advertisements without consent.
The family of Alison Chang, who lives in Texas, says Virgin Mobile grabbed the picture from Flickr, Yahoo Inc.'s popular photo-sharing Web site, and failed to credit by name the photographer who took the photo.
Chang's photo was part of a Virgin Mobile Australia campaign called "Are You With Us Or What?" It features pictures downloaded from Flickr superimposed with the company's ad slogans.
The picture of 16-year-old Chang flashing a peace sign was taken at an April church car wash by Alison's youth counselor, Justin Ho-Wee Wong, who posted it that day on his Flickr page, according to Alison's brother, Damon.
The commercial use was discovered when Brenton Cleeland, a photographer in Australia, noticed a bus stop ad in Adelaide featuring Chang, with a line on the bottom of the ad saying the image had been taken from flickr.com/photos/chewywong.
In the ad, Virgin Mobile printed one of its campaign slogans, "Dump your pen friend," over Alison's picture.
The ad also says "Free text virgin to virgin" at the bottom.
A snapshot of the bus stop ad was then uploaded to Brenton's Flickr page, starting a flood of comments on the site about the appropriateness or inappropriateness of Virgin Mobile's use of Alison's image.
Apparently the photographer was not approached before the picture was used, and no model release for Alison was ever requested. Strangely, the ad's producers were careful enough to remove the Adidas logo from Alison's cap.
The family charges in the lawsuit that the experience damaged Alison's reputation and exposed her to ridicule from her peers and scrutiny from people who can now Google her.
"It's the tag line; it's derogatory," said Damon Chang, 27. "A lot of her church friends saw it."
The lawsuit, filed late Wednesday in state district court in Dallas, names Virgin Mobile USA LLC, its Australian counterpart, and Creative Commons Corp., a Massachusetts nonprofit that licenses sharing of Flickr photos, as defendants.
The family accused the companies of libel and invasion of Chang's privacy. The suit seeks unspecified damages for Chang and the photographer.
A spokeswoman for Virgin Mobile USA said the company had nothing to do with the ads and had asked to be removed from the lawsuit.
Virgin Mobile Pty Ltd., the Australian company, released a statement saying the use of the photo is lawful and fits with Virgin's image.
"The images have been featured within the positive spirit of the Creative Commons Agreement, a legal framework voluntarily chosen by the photographers," the statement said. "It allows for their photographs to be used for a variety of purposes, including commercial activities."
People who post photos on Flickr are asked how they want to license their attribution. The person who posted the photo of Chang chose a sharing license from Creative Commons that allows others to reuse work such as photos without violating copyright laws, if they credit the photographer and say where the photo was taken.
Amid the online discussion on the Flickr site, a posting by user "rickif," who claimed to work for Virgin Mobile Australia's advertising team, said the use of Flickr pictures was

"a creative decision based on a desire to reject 'professional' photography in favour of more genuine and spontaneous shots. … It is very Virgin to embrace new and inclusive initiatives and Flickr seemed like a perfect match for Virgin Mobile.

"This was never based on exploiting the Flickr community, quite the opposite - we felt it would be a great idea to use the creative commons licence to champion the world of Flickr."
Flickr was a Canadian company that developed the photo-sharing Web site then sold it to Yahoo in 2005.

Associated Press Writer David Koenig contributed to this report.
Thanks for reading CBS NEWS.
Create your free account or log in
for more features.