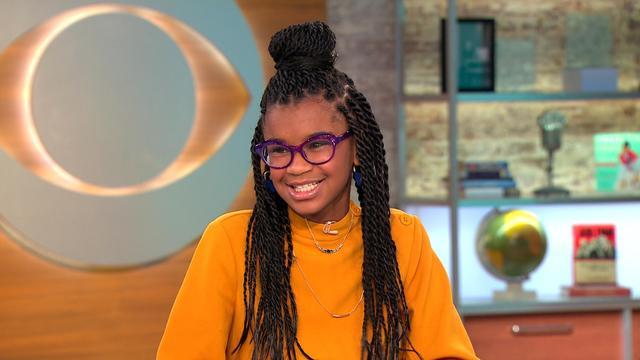 How 13-year-old Marley Dias is inspiring activism in others
She's an author, public speaker and one of Forbes' "30 under 30" this year – and she's not even in high school yet. After becoming frustrated that she wasn't reading any books in school featuring black main characters, then 10-year-old Marley Dias set out to collect books with characters who looked like her with the #1000BlackGirlBooks campaign. She ended up with more than 10 times that many. Now 13 years old, she has become an author herself with "Marley Dias Gets It Done: And So Can You!" a tale she hopes will inspire others to become activists.
Dias joined "CBS This Morning" to discuss her new book, why she launched a campaign about racial harmony and where she gets her confidence.
"In the book I talk about it where I'm kind of a perfect mix of everything, and so is everybody else. If you like reading, you are allowed to like to dance and to like to sing and to like to act. Even though I wear glasses, I'm not just a mousy person who stays in my room – even though I do sometimes stay in my room and read," Dias said.
She says she was bothered by the social structures that pushed away from the "intersectionality of being a black person and a woman and a girl."
"They're not including all of us, but they are thinking that because you're black and because you're a woman we are trying to create a system that supports you, but they're not thinking about that point of intersection between the two where I'm a mix of both and that we need to include me in both of those realities and not just one or the other," Dias said.
For the 13-year-old, who says she has a diverse group of friends, it's about making an effort to check one another.
"We try to just be open with each other about whether or not we feel like someone made a joke that was not appropriate or we feel like we were saying something that was not an educated response to a question," Dias said.
She acknowledged that while it makes her sound "really, like, PC or whatever," it's never cut into their ability to have fun.
"So at the same time we try to keep it, you know, loose because not every conversation is going to have perfect knowledge with things that we say, but we want to always stay educated on the things that are happening in our community and the communities that surround us."
In terms of advice for aspiring activists, Dias hopes to remind others that helping even one person with your full energy is just as impactful as what she's achieved.
"I think the biggest thing is that success is not measured by whether or not you're on 'CBS This Morning' or whether or not you make the local news station—" Dias said when "CBS This Morning" co-host Gayle King interrupted and joked, "Wait a second, Marley. Take that back, Marley!"
"I mean that it's not measured by the things, the places that you go.... But by the actual people that you touch and the places you're servicing," she said.
With a long list of accomplishments and a natural grace unmatched by many adults, King asked her where she got such confidence.
"I think the biggest thing, where my passionate-ness comes from, is that I love reading and it is something that I really care about. It's not like I'm talking about football or basketball or dancing – things that I enjoy but are not necessarily my favorite things. I try to say with kids you always, even if you're in the middle about things that you like, pick the stuff that you know you can go on and go on and keep going and keep going. Because it's so much more important to continue with that because you'll feel so much more joy in the things that you do."
Thanks for reading CBS NEWS.
Create your free account or log in
for more features.