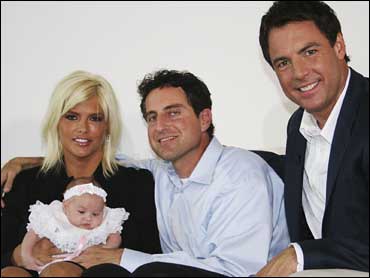 Tears As Anna Nicole Tells Her Story
In her first interview since the death of her son Daniel, Anna Nicole Smith says when her partner Howard K. Stern first told her that her son died, she thought it was a cruel joke, like an episode of MTV's "Punk'd."
The 38-year-old model - interviewed with Stern for "Entertainment Tonight" and "The Insider" - repeatedly wiped tears from her eyes as she talked about the tragedy. Daniel, 20, died suddenly in the Bahamas just days after Smith gave birth to a baby girl named Dannielynn.
In the interview, Smith spoke of the days before Daniel's death and how happy he was to hear the news of his sister's birth. She said he wanted to hold her and asked if he could he come quickly to the Bahamas to meet her.
Stern, who is also Smith's lawyer, talked about what he remembers of Sept. 10th, the day that Daniel died, by his mother's bedside at the Bahamian hospital where she gave birth. "Well, I remember Anna saying 'Howard, Howard, wake up! Daniel's not breathing!" said Stern. "I went over and checked his neck, and I didn't feel anything and we immediately called the nurse."
Stern said the room immediately filled with hospital personnel, who tried over and over to resuscitate Daniel, but to no avail.
Smith says she doesn't remember anything from the day her son died, just how she was told of his death.
"He said: 'Sit down'... he said: 'Daniel's dead.' I said: 'What are you talking about? and he said: 'Daniel's dead,'" said Smith, remembering when Stern told her the awful news.
It was, she said, impossible to believe.
"I thought they were playing that game they play on TV... Punk'd," said Smith, referring to Ashton Kutcher's MTV show.
"I don't understand why God took him and didn't take me," she said later, sobbing.
The results of official toxicology tests and a police investigation into Daniel's death have yet to be made public.
Pathologist Dr. Cyril Wecht, who was hired by the Smith family, asserts that Daniel was killed by the combination of Lexapro, Zoloft and methadone.
"It's horrible that now that everyone is just throwing everything on us at our lowest point in life," she said, in reference to all the controversy that's followed her son's death.
Among the many things Smith has had to face since her son's death is an investigation into whether she legally obtained permanent residency in the Bahamas.
Smith says that her family is helping her get through her grief. "If I didn't have Howard or my baby, I wouldn't be here," Smith told ET correspondent Mark Steines.
In portions of the interview to be broadcast later, Smith talks about Daniel's funeral, which was held in the Bahamas in October. Smith's home videos of newborn Dannielynn's first hours will also be broadcast.
Meanwhile, Smith's ex-boyfriend, Larry Birkhead and his lawyer Debra Opri believe Smith may have dyed Dannielynn's hair so that she looks more like Stern. Smith attorney Ron Rule told the Associated Press that the allegation is ridiculous.
Birkhead filed suit in October demanding that Smith bring the baby girl to California for a paternity test.
And the drama continues: Smith was hospitalized Monday with pneumonia and a partially collapsed lung, according to the AP. Doctors were keeping her at the hospital Thursday out of "an abundance of caution," according to her attorney, because she recently gave birth.
Steines traveled to Smith's Bahamian mansion - reportedly worth $1 million - for the interview and talks about the trip on his ET blog.
Thanks for reading CBS NEWS.
Create your free account or log in
for more features.