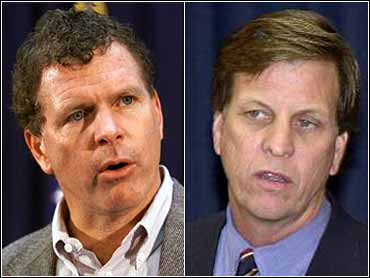 Tallahassee's GOP Kingmakers
Two of the most powerful men in Florida state politics, House Speaker Tom Feeney and Senate President John McKay, have become key players in the election saga, as their GOP-dominated legislature prepares to open a special session on Friday that could lead to the selection of a slate of presidential electors pledged to George W. Bush.
Republicans Feeney and McKay are major powers in the Florida GOP who have endured political scandals and are allies of Jeb Bush, Florida's governor and brother of the presidential candidate.
The 42-year-old Feeney is a lawyer and two-term representative from Orlando whose deep conservative principles and amiable style have ensured him a rapid rise through the party ranks. His political enemies take him seriously and claim his easygoing manner belies a self-righteous aggressiveness. But, his allies praise his moral conviction and unbowed commitment to causes he believes in.
Married with two young sons, Feeney has been named the Christian Coalition legislator of the year - and the Florida Conservative Union gave him a 100 percent rating.
"When he bases something on philosophy and principle, I mean he believes that 110 percent to his core, and come hell of high water he's going to move forward," former
GOP state representative Charles Sembler told the Sun-Sentinel.
In the House, Feeney is known as an ardent debater and has spearheaded reforms on education and insurance issues.
He has also famously called for Florida to secede from the Union if the national debt ever exceeded $6 trillion - and he once raised the ire of Haitian-Americans by suggesting that Haitians were coming to Florida simply to collect welfare benefits. One of his most controversial moves was his outspoken support for the Lake County school district's movement to teach the superiority of American culture.
Feeney came to prominence in 1994 as Jeb Bush's running mate in his first, ill-fated campaign for governor. Democrats portrayed Feeney as an extremist - and some analysts say that his ultra-conservative views lost them the election to Democrat Lawton Chiles.
Over in the Florida Senate, John McKay was until now probably best known for an extramarital affair that blew up into a full-fledged political scandal and forced him to resign from the Senate's Ways and Means Committee.
During a 1996 divorce hearing, his wife accused him of having an affair with a telecommunications lobbyist while he was drafting deregulation legislation for the industry. A state investigation eventually concluded that the lobbyist's organization did not receive exclusive treatment. McKay ended up marrying her.
The 52-year-old McKay moved into politics after years as a real estate and mortgage broker in Bradenton. He made his name in the legislature by fighting steadily for tort reform measures in 1998 and 1999, which led his way toward being elected to the Senate presidency earlier this year.
He is known for his intlligence, political survival skills, and ability to express himself clearly on complex issues. His opponents and allies praise his considered approach toward writing legislation and his capacity for consensus building.
"I think he understands that authority is a poor substitute for leadership," Democratic state senator Walter Campbell said about McKay.
In 1999, McKay found himself embroiled in another scandal after an office complex he owned nearly went under due to tax problems. Anonymous out-of-state donors bailed the venture out at the last minute before foreclosure.
Thanks for reading CBS NEWS.
Create your free account or log in
for more features.