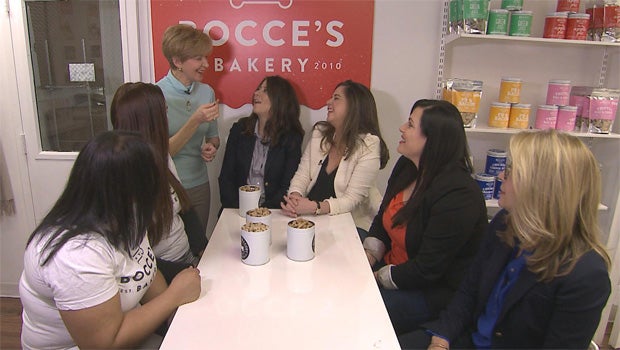 ​Taking the dog biscuit taste test
It takes an odd sort of job to elicit the reaction YOU DO WHAT?!? And throughout the morning, our Susan Spencer will be showing us a few of the weirdest:
At Bocce's Bakery in New York City, some ordinary folks at work are having an ordinary lunch -- hardly! Yes, they are eating dog biscuits.
"This is my current favorite," said Andrea Tovar.
"So I'm watching this, and I'm thinking to myself, 'These people are eating dog biscuits!'" laughed Spencer. "'They're acting like this is a totally natural, normal thing to do.'"
"It is, in this office," said Natalia Tovar.
Their office is a family-run dog treat company, where employees are expected to test the product themselves before Fido gets his little paws on it.
"Do we think it's strange that we're tasting dog treats? Probably, a little bit," said Andrea. "But for us, it's not really dog food, because we know where it comes from."
Originally it came from Andrea Tovar's small kitchen in New York. Since 2010, she and sister Natalia have operated on a core belief: if people deserve all-natural, no-preservative, gourmet treats, then so do their dogs.
Spencer asked, "How do you break this to employees that this is part of what you expect?"
"You would be surprised: a lot of them try them without us actually making them," Andrea laughed.
The treats are nearly 10 bucks a bag, but what a menu: Chicken cordon bleu, lobster roll, Truffle mac and cheese.
"I don't know how to tell you this, but dogs eat garbage," said Spencer. "They drink out of toilets."
But Andrea responded, "We have a lot of very picky customers."
Maybe, but dogs operate with roughly 1,700 taste buds. Humans can have as many as 10,000.
Just don't try telling that to office mascots Blue and Bocce, who must be two of the luckiest dogs in America.
And they love these biscuits!
Bocce's Bakery sells about 8 million biscuits a year nationwide. No one's counting the ones eaten in the office.
Business is booming, though requirements for working are not be to everyone's taste.

For more info:
Thanks for reading CBS NEWS.
Create your free account or log in
for more features.