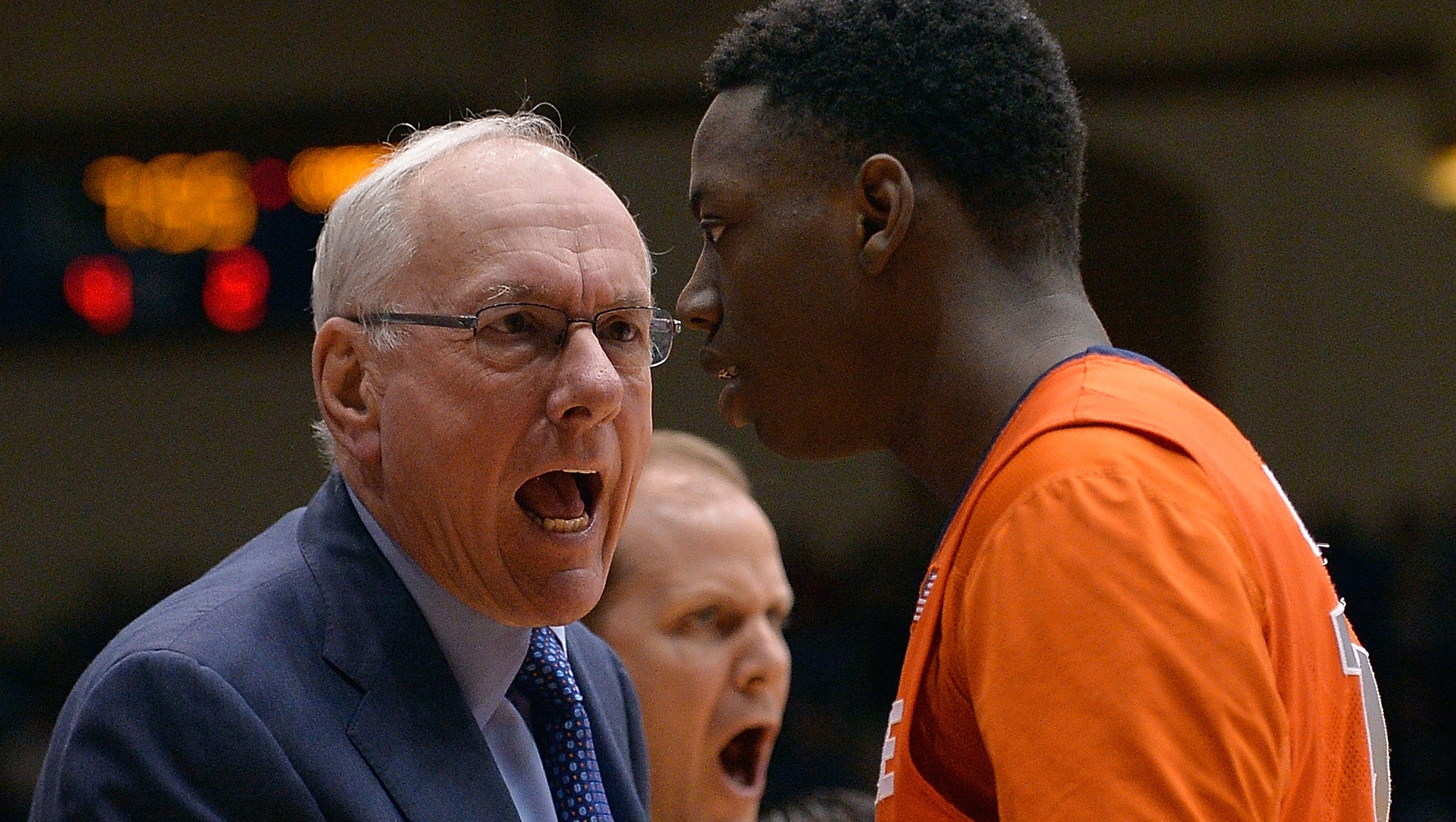 Syracuse coach Jim Boeheim suspended for school violations
SYRACUSE, N.Y. -- Syracuse coach Jim Boeheim was suspended for nine games Friday, with the school punished for ignoring the "most fundamental core values of the NCAA" for academic, drug and other violations committed primarily by the men's basketball program.
The school was put on probation for five years and the basketball team must vacate wins in which ineligible players participated, the governing body said. Those players competed during five seasons: 2004-2007 and 2010-2012.
The punishment includes financial penalties and the reduction of three men's basketball scholarships a year for four years. Recruiting restrictions will be enforced for two years. Boeheim's suspension will be applied to Atlantic Coast Conference games next year.
In anticipation of the report, Syracuse chancellor Kent Syverud had announced a postseason ban for this year for the basketball team. The NCAA accepted the ban, meaning next year's recruits won't be affected.
The NCAA said Boeheim did not promote an atmosphere of compliance but failed to monitor the activities of those who reported to him regarding academics and boosters.
The NCAA said several violations involved students and staff. The report added that academic violations stemmed from the director of basketball operations, who was hand-picked by Boeheim to address academic matters.
"We had a problem with the NCAA over some tutoring and some things, and that can happen," Boeheim told "CBS This Morning" in November. "I'm not ashamed to say it.... Obviously it's troubling whenever you see that."
In 2012, former center Fab Melo was declared ineligible for the NCAA tournament days before it started. NCAA spokesman Erik Christianson said the university declared Melo ineligible. Melo also missed three Big East games during the season because of an academic issue.
In the 2012-13 season, former forward James Southerland sat out six games for an academic issue related to a term paper but played in the NCAA tournament and helped lead the Orange to the Final Four.
In its decision, the committee specifically addressed its concern about academic integrity.
"Improper institutional involvement and influence in a student's academic work in order to gain or maintain eligibility is a violation of NCAA rules and a violation of the most fundamental core values of the NCAA and higher education," the committee wrote. "The behavior in this case, which placed the desire to achieve success on the basketball court over academic integrity, demonstrated clearly misplaced institutional priorities."
The committee also found that from 2001-09 the school did not follow its own written policies and procedures for students who tested positive for banned substances. NCAA rules require that if schools have a drug-testing policy, it must include substances on the banned list and the school must follow its policy. Syracuse had a written policy, but both Boeheim and athletic director Daryl Gross admitted they did not follow it.
In addition to the one-year postseason ban for the men's basketball team, the university announced it also had self-imposed other penalties, including elimination of one scholarship for men's basketball for the 2015-2016 season, vacating 24 men's basketball wins (15 in 2004-05 and nine in 2011-12), and vacating 11 football wins from 2004-07.
Thanks for reading CBS NEWS.
Create your free account or log in
for more features.