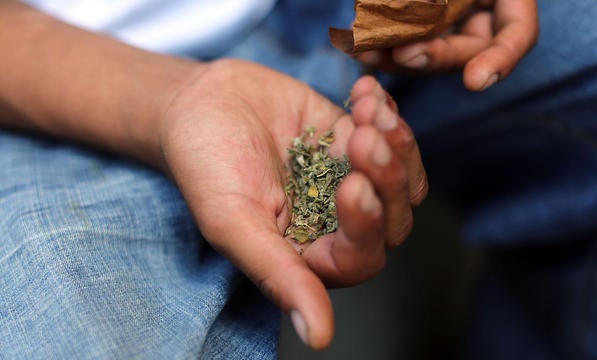 3 deaths tied to excessive bleeding from synthetic marijuana, possibly tainted with rat poison
Three people in Illinois have died after experiencing severe bleeding linked to use of synthetic marijuana, health officials say, and a chemical used in rat poison has been detected in at least one of those cases. According to the Illinois Department of Health, 107 people have been treated for severe bleeding linked to the drug since March 7, mostly in the Chicago area.
Officials say one of the deaths was a 22-year-old man who died of excessive internal bleeding March 28, CBS Chicago reports.
Although an official cause of death has not yet been determined, an autopsy detected the presence of brodifacoum, a deadly anticoagulant used in rat poison, which has recently been found in several cases of synthetic marijuana use in Illinois. It can cause severe bleeding, which can be fatal.
"This poisoning is unique in that its effects can last weeks to months. Symptoms may range from unexplained bruising, bleeding from the nose or gums, blood in the urine or stools, coughing up or vomiting blood, to bleeding in the brain. Even without symptoms, the blood's ability to clot is severely impaired and risk of bleeding is high," Dr. Jenny Lu, a toxicologist and emergency medicine physician at Stroger Hospital, told CBS Chicago.
"As bleeding can be life-threatening," she continued, "it is important that people who have used synthetic marijuana seek medical attention at the first sign of poisoning so we can begin treatment right away."
Synthetic cannabis — often called Spice, K2, or fake weed — consists of man-made mind-altering chemicals either sprayed on dried shredded plant material, or sold as a liquid to be vaporized and inhaled. Foil packets of the drug are often sold over the counter at convenience stores, sometimes deceptively labeled as "herbal incense" or "potpourri."
Most of the cases in the outbreak involved synthetic marijuana purchased from Chicago-area convenience stores, dealers, or friends, but officials warn the contaminated products could be in counties across the state or beyond.
"With this particular cluster, what we are seeing is people are coming in with various types of bleeding," Dr. Jennifer Layden, the chief medical officer of the Illinois Department of Public Health, told CBS Chicago in March. "Whether it's nose bleeds, bleeding from their gums, bleeding in their urine. Very severe bleeding that's prompting them to go to the emergency room."
Several similar cases have been reported in other states including Maryland, Wisconsin, Indiana and Missouri. The New York State Department of Health has issued a statewide health advisory about the risk, although it says no cases have been reported in New York to date.
Three people are facing federal charges for allegedly selling synthetic marijuana to undercover officers at a mini-mart in the North Lawndale neighborhood of Chicago. Investigators say traces of the rat poison chemical brodifacoum were found in preliminary tests. The packets seized were labeled with such names as "Matrix," "Blue Giant," and "Crazy Monkey."
Public health officials have said the product is not safe, and urge that if anyone has purchased it they shouldn't use it.
Thanks for reading CBS NEWS.
Create your free account or log in
for more features.