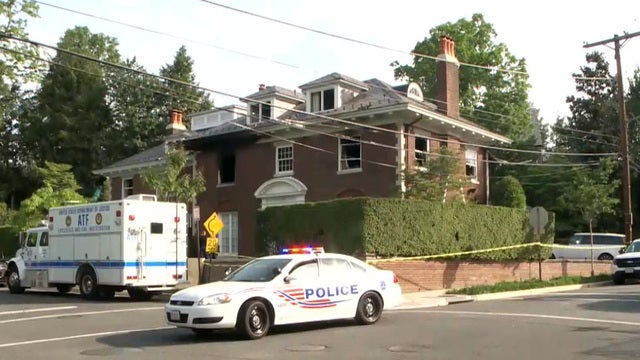 Police name suspect in D.C. family's brutal murder
Police have named a suspect in a harrowing quadruple murder in Washington, D.C., blocks away from the vice president's home, reports CBS News correspondent Wyatt Andrews.
Police say Daron Dylon Wint was involved in the torture of the Savopoulos family and their housekeeper.
Police believe Wint and possibly other assailants held the family captive overnight last Wednesday in the home, eventually torturing them until their deaths. But while holding the family in terror, they took time late Wednesday night to order a Domino's pizza online, with instructions that it be left outside. The pizza may have been their undoing. Police reportedly recovered Wint's DNA on the leftover crusts from the pizza.
"What they'll find in this person is that he's very psychopathic," former FBI profiler Mary Ellen O'Toole said.
She said the ordering of pizza while holing captives in the state of terror fits the pattern of a diagnosable psychopath; someone without remorse.
"Their ability to do this, order a pizza, you have to imagine that the victims are crying, they're scared, they may even be having a physical reaction, these offenders continue to do what they're doing," O'Toole said.
Hours before the Savopoulos family home went up in flames, an assistant to Washington businessman Savvas Savopoulos was instructed to drop off a package carrying $40,000 and to leave the money outside.
Now investigators think it's possible the money was an extortion payment Savopoulos had to pay to stop the physical abuse of his family including the torture of his 10-year-old son Philip. Police have confirmed three of the four victims were beaten or stabbed before the fire and the shocking realization that assailants would harm a child has made the crime a top priority for the D.C. police and chief Cathy Lanier.
"It's, you know, one of the horrible things we have to deal with," she said. "And anytime there's a child involved it's one of those things that really shake all of us."
At the end of the family's night of horror, one of the assailants stole their Porsche 911 and drove it to Lanham, Maryland, 13 miles from their home, and torched the car. That area of Maryland is thought be near where the suspect is from.
Thanks for reading CBS NEWS.
Create your free account or log in
for more features.