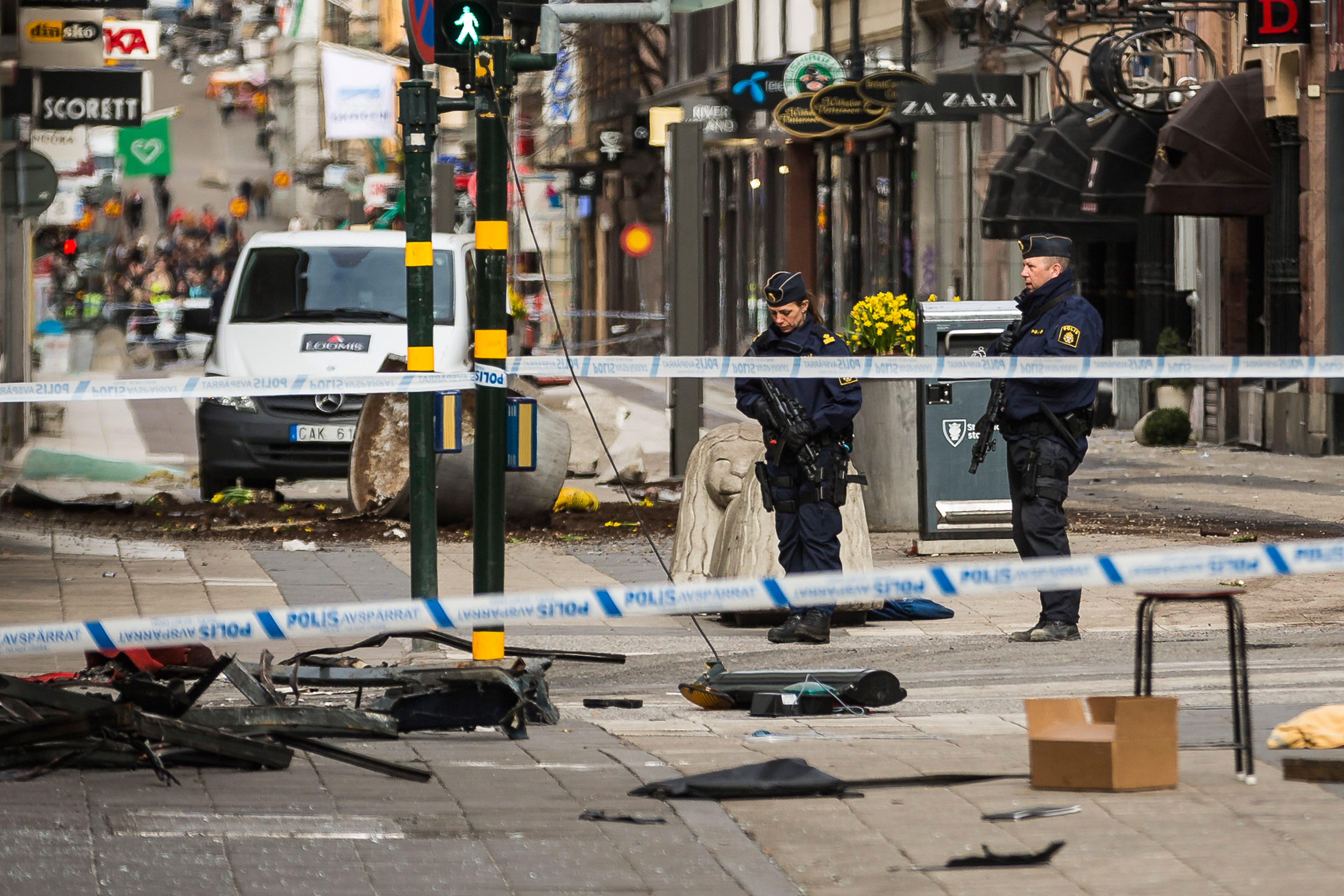 Suspect in Stockholm attack was Uzbek native, Swedish police say
STOCKHOLM -- The suspect in Stockholm's deadly beer truck attack is a 39-year-old native of Uzbekistan who had been on authorities' radar previously, Swedish authorities said Saturday. The prime minister urged citizens to "get through this" and strolled through the streets of the capital to chat with residents.
Swedes flew flags at half-staff Saturday to commemorate the four people killed and 15 wounded when the hijacked truck plowed into a crowd of shoppers Friday afternoon in Stockholm. Prime Minister Stefan Lofven declared Monday a national day of mourning, with a minute of silence at noon.
Sweden's police chief said authorities were confident they had detained the man who carried out the attack.
"There is nothing that tells us that we have the wrong person," Dan Eliason told a news conference Saturday, but added he did not know whether others were involved in the attack. "We cannot exclude this."
Eliason also said police found something in the truck that "could be a bomb or an incendiary object, we are still investigating it."
Prosecutor Hans Ihrman said the suspect has not yet spoken to authorities and could not confirm whether he was a legal resident of Sweden. Anders Thornberg, head of the Swedish Security Service, said security services were working with other nations' security agencies to investigate the attack, but declined to elaborate.
Police declined to comment on media reports about overnight police raids around Stockholm or if they were hunting any more suspects in the case. They said the suspect had been on their radar before but not recently, and did not explain why authorities apparently had not considered him a serious threat.
Eliason told reporters the suspect was "a more marginal character."
Sweden's health service said 10 people were still hospitalized for wounds from the attack and four of them were seriously injured.
Many in Sweden were shocked by the attack, questioning whether Swedish society -- considered democratic and egalitarian -- had failed in some way.
Visiting the attack site at an upscale department store, Sweden's Crown Princess Victoria laid roses on the ground Saturday and wiped away a tear.
"We must show a huge force, we must go against this," she told reporters.
The stolen beer truck traveled for more than 500 yards along Drottninggatan, a main pedestrian street, before smashing into a crowd outside the popular Ahlens department store.
The crash was near the site of a December 2010 attack in which Taimour Abdulwahab, a Swedish citizen who lived in Britain, detonated a suicide bomb, killing himself and injuring two others. He had rigged a car with explosives but the car bomb never went off. Abdulwahab died when one of his devices exploded among panicked Christmas shoppers.
Steve Eklund, 35, who works in an office nearby, said "maniacs can't be stopped."
"It's very simple. Things like this will always happen in an open society," Eklund said. "Sweden is not a totalitarian society."
In February, President Trump suggested that Sweden could be the next European country to suffer the kind of extremist attacks that have devastated France, Belgium and Germany. Two days after his remarks, a riot broke out in predominantly immigrant suburb of Stockholm where police opened fire on rioters, a surprise to many Swedes who aren't used to officers using guns.
"We must get through this. Life must go on," Lofven said Saturday after again laying flowers near the crash site. "We in Sweden want an open society."
Lofven also made a point of walking around Stockholm, including along the Drottninggatan, chatting with people having coffee outside a cafe.
The prime minister says said the aim of terrorism is to undermine democracy.
"But such a goal will never be achieved in Sweden," he said.
Thanks for reading CBS NEWS.
Create your free account or log in
for more features.