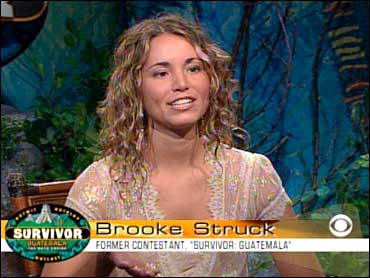 'Survivor' Castoff Tells Her Side
Et tu Judd?
When 26-year-old law student Brooke Struck watched the show Thursday night, she tells The Early Show co-anchor Rene Syler many thoughts came to her head about Judd Sergeant.
"I was thinking, when he said 'king of the jungle,' during the first challenge, you would still be lost in the jungle if Jim (Lynch) and I had not led you out using the map and compass," Brooke says. "It was quite the betrayal."
And quite unfair, Brooke says, adding that she was not the weakest link. But the reshuffling of the teams worked against her with her tribe evenly divided as four Yaxha members joined the four in Nakum.
"We had less than 24 hours to get to know our new team," Brooke says. "They hadn't seen everything that I had done, that I was one of the strongest ones in the jungle. They hadn't seen Judd throwing up during the jungle hike. They hadn't seen during the rope challenge I actually went and got one of the farthest ones. I hung in there and did better than some of the guys on my team."
If anyone was weak, she says, it was two-time "Survivor" player Stephanie LaGrossa.
"She got her team lost in the jungle, whereas I was able to lead my team through the jungle and not get lost," Brooke says. "Stephanie and Judd were the ones who kind of ran us to the ground during the ax-throwing challenge. We were kind of yelling at them: Switch out. Let someone else try it. It took Stephanie about 30 tries to break the first one. Whereas on the other team, Danni (Boatwright) walks up and in four tries gets it.
"Stephanie is not much of a team player. She brings the team spirit down a little bit. She didn't even know my name and everyone else on the tribe knew each other's name. Lydia's a much more positive person. When I was guarding her in the basketball challenge, she had all the energy."
And Stephanie? "Stephanie was flat on her back on the sidelines from the heat," Brooke says. "People could hardly stand up." She says the temperature some days reached 120 degrees.
"We didn't have a thermometer, but during the challenges Jeff Probst would announce the temperature. You don't realize how hot it gets," Brooke says. "I think that's why the guys got sick right away. They couldn't handle the hot weather."
But the heat factor at least was something predictable. The shocker was that the two tribes exchanged players.
"We didn't see it coming that soon," she says. "This was the first time we were going to be able, as a tribe, to send a member out of our team and have the advantage in a challenge and we never got to use that advantage for our team."
Another shock was that it was her time to go.
"Up until right before we went to Tribal Counsel," she says. "I thought I was safe, that we were all voting Lydia (Morales) off."
Now that she is out of the Guatemalan jungle, Brooke says she will be studying for the bar in February and looking for a job. But life for her will not be that different.
"There's a little back stabbing and cut throat in the legal world," she says.

Thanks for reading CBS NEWS.
Create your free account or log in
for more features.