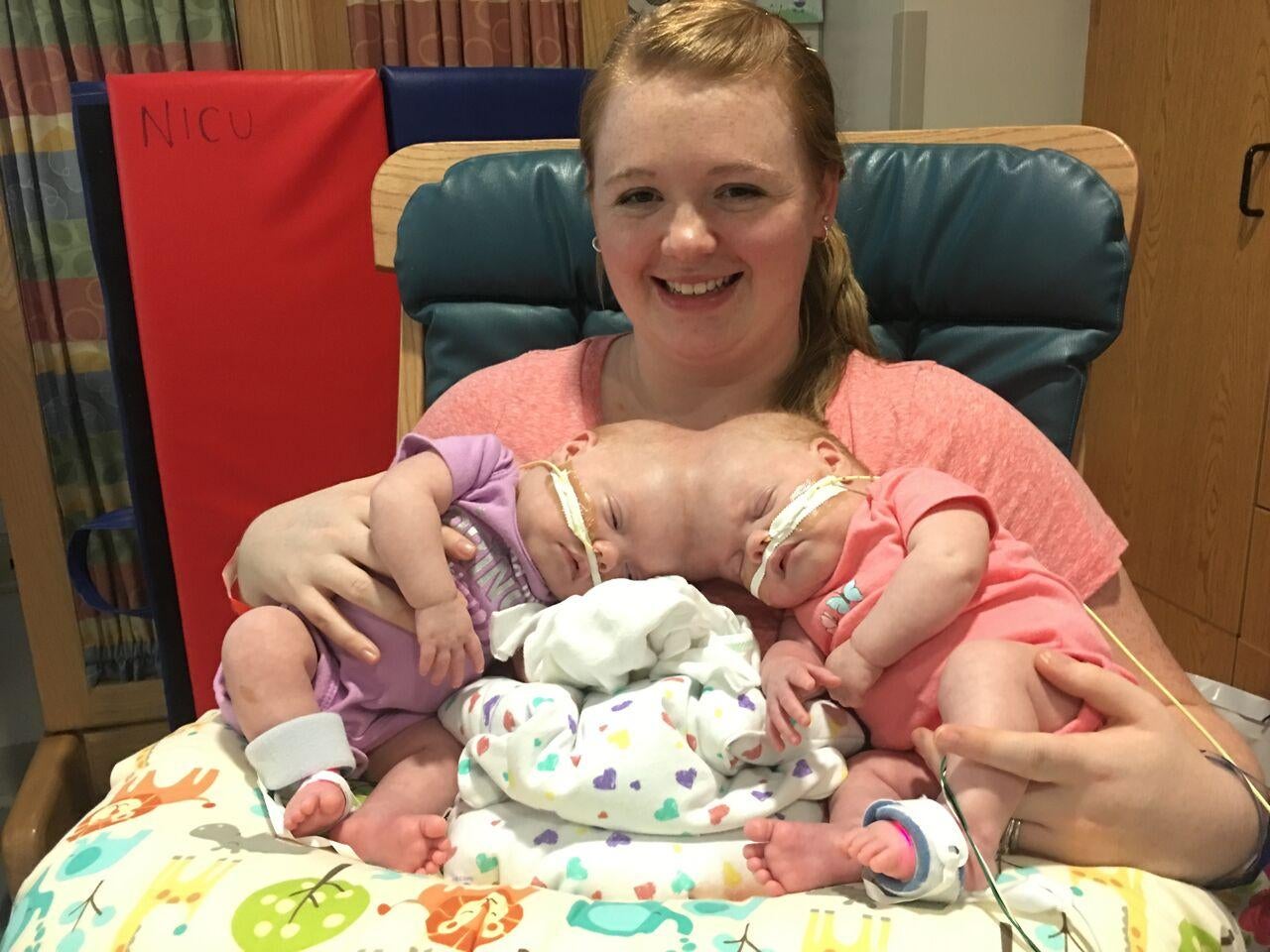 Surgeons separate twin girls joined at the head
For the first time in their lives, twins Erin and Abby Delaney are able to lie side by side in their own beds.
Until a week ago, the 10-month-old baby girls from North Carolina were joined at the head -- a condition called craniopagus. It's an uncommon type of conjoined twins.
More typically, conjoined twins are born joined at the chest, abdomen or pelvis. Conjoined twins also sometimes share one or more internal organs. The condition occurs when, in the early stages of development, an embryo only partially separates to form two babies.
Surgeons at Children's Hospital of Philadelphia (CHOP) completed the girls' separation on June 6. It took a 30-member team of doctors, nurses and other medical staff from specialties including neurosurgery, plastic and reconstructive surgery, and anesthesiology.
The 11-hour operation was led by neurosurgeon Dr. Gregory Heuer and plastic surgeon Dr. Jesse Taylor. Both are also on the faculty of the Perelman School of Medicine at the University of Pennsylvania.
"Separating conjoined twins is a very complex surgery followed by a long and complicated recovery, but we are very hopeful for a positive outcome," Taylor said in a press statement.
Heuer described some of the operation details.
"During the separation surgery, our team first meticulously separated the infants' shared blood vessels and dura, the tough protective membrane surrounding both brains, then moved on to separate the sagittal sinus, the most difficult portion of the operation," he said in a statement.
Then they divided the medical team in half, one group for each of the girls, and finished the reconstruction portion of the surgery, he said.
Physicians monitoring the twins' vital signs and administering their anesthesia throughout the operation used green and purple tape, one color for each baby, to track their separate progress.
Erin and Abby are recovering in the hospital's Pediatric Intensive Care Unit and being closely monitored. The post-surgery care team also includes nutritionists and developmental pediatricians to help the newly separated babies thrive.
This was the 23rd time that surgeons at CHOP have separated a pair of conjoined twins, but the Delaneys are the first pair conjoined at the head.
Parents Heather and Riley Delaney learned they were expecting conjoined twins about 11 weeks into the pregnancy. They traveled from their home in North Carolina to Philadelphia during Heather's 19th week of pregnancy for evaluation and monitoring, and returned every two weeks until her 26th week, when she stayed permanently until the girls' birth. They were born by C-section on July 24, 2016, 10 weeks premature, each weighing two pounds and one ounce.
They babies received physical, occupational and speech therapy in the months before their separation while their doctors developed a comprehensive plan for their full surgical separation.
Heather and Riley plan to bring Erin and Abby home later this year.
"When we go home, it's going to be a big party," said Heather. "Welcome home, baby shower, first birthday."
Additional surgeries will also likely be needed, the hospital reported.
Thanks for reading CBS NEWS.
Create your free account or log in
for more features.