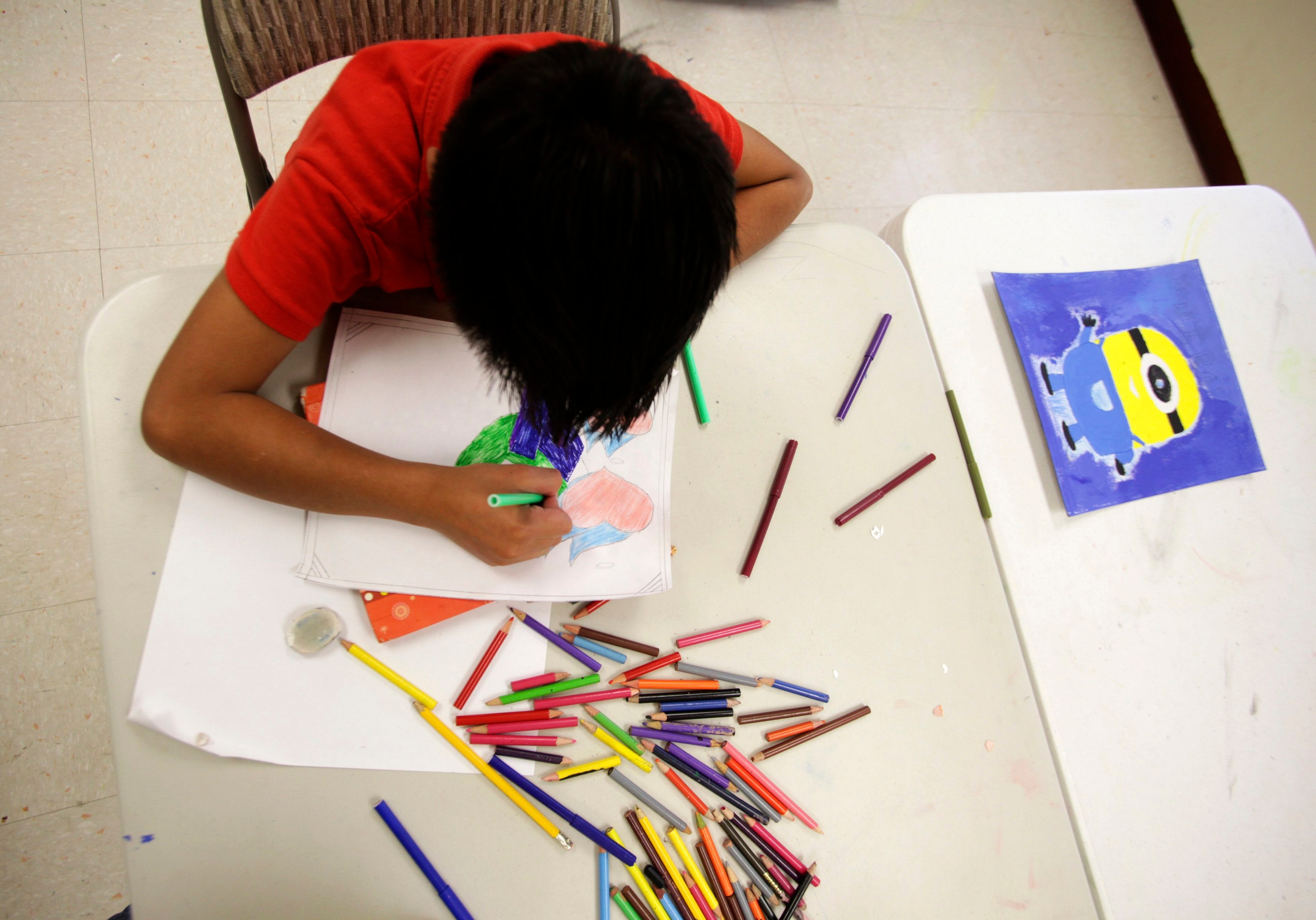 Surge in unaccompanied child immigrants spurs White House reaction
Updated at 10:25 p.m.
A huge spike in unaccompanied children attempting to cross the southern border into the United States has prompted the Obama administration to declare "an urgent humanitarian situation" that requires a coordinated federal response.
Craig Fugate, the administrator for the Federal Emergency Management Agency (FEMA) will quarterback the administration's unified response to care for the 60,0000 unaccompanied minors that are expected to cross the border this year, including housing, care, medical treatment and transportation. He will coordinate with the several agencies that play a role in apprehending and caring for the children, including the departments of Health and Human Services, State, Defense, and the General Services Administration.
Cecelia Munoz, the White House Director of Domestic Policy, said the impetus for the emergency measures by the administration was an increase in the number of the arrivals that was "much larger than anticipated" - more than 90 percent compared to last year. There are also rising numbers of girls and children under the age of 13, she said.
Statistics released by Customs and Border Protection (CBP) after the call revealed that 47,017 unaccompanied children ages 17 and younger have already been apprehended at the border during the 2014 fiscal year, a 92 percent increase over FY2013.
Munoz cited "economic conditions in [Central American] countries, increase in sustained violence in those countries as well as a desire to be reunited with their families in the United States" as a principal reason children are showing up at the southern border in such large numbers.
As recently as fiscal year 2009, CBP encountered 19,418 children from Mexico, El Salvador, Guatemala and Honduras between the official ports of entry into the U.S., according to data provided by the agency. By fiscal year 2013, that number had risen to 38,045. The number of Mexican children arriving alone has hit a high of 17,240 in FY2013 , much of the increase in arrivals since 2009 has been driven by a 700 to 1,200 percent increase in the number of children arriving from the three Central American nations.
A spokeswoman for the agency, Jenny Burke, told CBS News that unaccompanied children represent about 9 percent of total apprehensions, and the increase in children coming from Central American nations is consistent with the broader increase in apprehensions of adults from the region.
Children who arrive from Mexico can be turned back if they are apprehended at the border as long as they have no credible fear of persecution, no trafficking indicators and have the ability to make independent decisions. Those from non-contiguous nations like El Salvador, Guatemala and Honduras will be processed by the Border Patrol and turned over to the Office of Refugee Resettlement (ORR), which is part of the Health and Human Services Department (HHS), within 72 hours.
HHS will then try to place them with a parent, relative or other sponsor in the United States, a process the agency says typically takes 30 to 45 days. But the children will still be in deportation proceedings, and decisions to remove them from the country will be made on a case by case basis.
On average, ORR used to care for 7,000 to 8,000 unaccompanied children each year. That number jumped to 13,625 in fiscal year 2012 and nearly doubled to 24,668 in fiscal year 2013. They are projected to receive 60,000 children this year.
According to the fiscal year 2013 statistics, 37 percent of the children came from Guatemala, 26 percent from El Salvador, and 30 percent came from Honduras. Just three percent of the children who made it to their care originated from Mexico, with 2 percent coming from El Salvador and 3 percent arriving from other countries.
The government has become so overwhelmed with the number of arrivals this year that they have set up two temporary facilities to house the children. Lackland Air Force Base in San Antonio, Texas, can house up to 1,000 children in HHS care, while another facility at the Naval Base Ventura County in Oxnard, Calif., could begin housing up to 600 by the end of the week, the administration said.
Multiple groups that have studied the surge have concluded that significant numbers of children come to the U.S. because they are fleeing violence in their home countries as a result of increased threats from organized criminal actors like gangs, drug cartels or even the state, which is often coupled with a failure of police to provide protection in their home countries.
A full 48 percent of the 404 children interviewed while in ORR custody in a study by the United Nations High Commissioner for Refugees shared stories of being personally affected by violence, and another 21 percent said they had suffered abuse or violence in the home at the hands of their caretakers. Children from Mexico are uniquely affected by the human smuggling industry, and nearly 40 percent of the 102 children from Mexico interviewed had been recruited or exploited by smugglers.
A lack of economic opportunity at home and a desire to reunite with family members living in the U.S. was another common factor among many of the children interviewed for the study.
"The many compelling narratives gathered in this study...demonstrate unequivocally that many of these displaced children faced grave danger and hardship in their countries of origin," the study concluded. The root causes of entrenched poverty and lack of opportunity or education and employment have been compounded by years of civil war and violence in El Salvador, Guatemala and Honduras, the rise of drug cartels in Mexico, and an inability of the state to stem the violence in all four countries.
The study also found that the number of children who might need international protection had jumped from 13 percent of those interviewed in a similar study in 2006 to 53 percent in 2013.
Doug Massey, a sociology professor at Princeton University, traces the rise in Central American migration back to U.S.-Contra intervention in Central America in the 1980s as a way to ward off communist influence in the region. It also led to lasting instability in countries including Honduras, Guatemala and El Salvador
"It was really driven initially by cohorts that left Central America in the '70s and '80s because of the violence," Massey said in an interview with CBS News. "What we're seeing now is the long-term consequences of that with people trying to unite with their families north of the border where they can't return."
His research found very little migration from Central America prior to 1980, followed by an uptick in the 1980s and 1990s. In the mid-2000s, the number of apprehensions and deportations of Central American immigrants from Nicaragua, El Salvador and Guatemala soared to more than 150,000 even as it remained close to zero among nations where the U.S. had not intervened, like Costa Rica, Panama and Belize as enforcement along the border tightened and deportations were increased.
Many immigrants who might have returned to visit or stay their home countries chose to stay in the U.S. because it became so much harder to return, he said.
After the administration's announcement, House Judiciary Committee Chairman Bob Goodlatte, R-Va., called the surge in child arrivals "an Administration-made disaster" that started because "word has gotten out around the world about President Obama's lax immigration enforcement policies."
Munoz, the White House domestic policy advisor, said the increase began in 2009, before policies like the Deferred Action for Childhood Arrivals, which halts deportation proceedings for certain young immigrants brought to the country illegally as children, were put into place. She also said that the administration's anecdotal experience has suggested children are unaware of the potential benefits from U.S. policies like DACA or immigration-reform legislation, none of which would apply to current arrivals because they contain cut-off dates before which children must have arrived.
"What's driving his is what's happening in their home countries, in particular violence and fear, poor economic conditions and the desire to be reunited with parents in the United States," she said.
Meanwhile, Munoz said the U.S. is taking steps, including enlisting international partners, to warn people in Central American nations about the dangers of attempting to travel through Mexico and cross the U.S. border.
This article has been updated to include the latest CBP statistics.
Thanks for reading CBS NEWS.
Create your free account or log in
for more features.