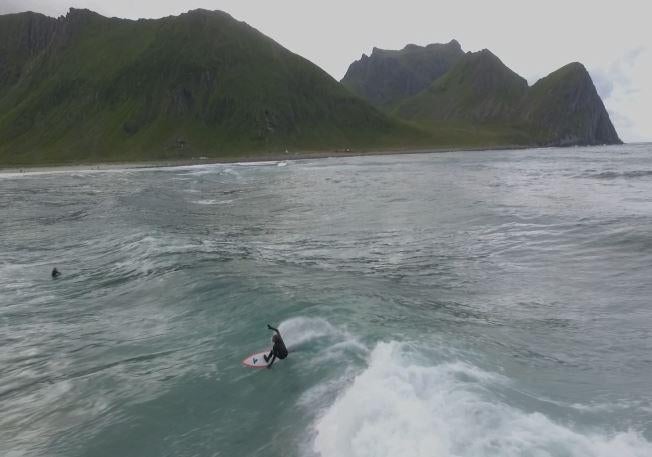 More surfers brave frostbite to ride Arctic waves in Lofoten islands
ARCTIC CIRCLE -- The islands of Lofoten, inside the Arctic Circle, have been called some of the most beautiful on Earth -- so fantastic that the Nordic terrain inspired Disney's animated film "Frozen."
But the remote Norwegian islands have also become an unlikely Eden for some of the real world's most adventurous spirits; battling frostbite and fierce currents, surfers ride waves as cold as 37 degrees.
As CBS News correspondent Jonathan Vigliotti reports, surfing tends to conjure up images of The Beach Boys and golden sands in Hawaii -- not the Arctic Circle.
"I thought the exact same thing, back in the day," admits pro surfer Shannon Ainslie, who made the 7,000 mile journey from South Africa to the Lofoten islands.
"At first I was quite blown away, because there's so many beautiful waves in the Lofoten islands, with amazing mountains in the background… with really good world class waves and extreme weather, it's very intriguing."
Ainslie is experienced in surviving the extreme. Seventeen years ago he was attacked by not one, but two great white sharks near his home.
"It was the most amazing and scary moment of my life," he tells CBS News.
Today, he joins an intrepid squad who trek to the Lofotens during the Arctic's wind-swept summer, and its snow-packed winter.
"There have been times when I get out the water in the winter when my hair freezes on my head, my gloves starts freezing on my finger tips and it's quite painful, but it's quite a cool experience," Ainslie tells Vigliotti.
He and the other Arctic surfers have been enticed to the remote waves in large part by Chris Burkard, a California surf photographer credited with spreading the word about the polar paradise.
"This morning we had to shovel out the car for about an hour before we could even get out of the driveway," he says.
Burkard shares his photos with his 2.8 million Instagram followers.
"The reactions range from everything you can imagine, like, 'Oh, this is fake, this isn't real, this is Photoshop,' to like, 'Where is this? I need to go there.'"
Burkard concedes that surfing the Arctic waters is no challenge for the faint of heart.
"Let's just say it requires more of you," he says. "It requires your focus and your attention, and your utmost respect for the environment because anytime you step in the water here, you have to realize that there's nothing beyond."
But his gruelling work has paid off; his photos of the Northern Lights are among his most liked.
"I look outside and it's northern lights are just glowing… I was the only one here, you know, and it was really like a borderline spiritual experience," he recalls of capturing the images.
The region is capitalizing on others seeking that spiritual experience. In the town of Unstad -- population 12 -- there are now two surf companies, and it's not only the professionals surfing at the top of the world. More and more, beginners are riding this new wave.
Wetsuits may help fend off the cold, but they won't protect you from the waves.
Surf instructor Kristian Breivik, a local who has been riding the waves since 1988, gives lessons on the Lofotens at his surf camp.
When he first started surfing all those years ago, he'd be lucky to have a few customers. These days, he says, it's "thousands. Every summer." Among them when CBS News visited was American Aubrey Mable.
"The ability to say, 'Oh we surfed in the Arctic Circle, like, that's not something that many people can say," she says.
Burkhard recognizes that his passion has inspired thousands, and completely transformed the Lofotens in the process.
"In many ways I think it's a good thing," he tells Vigliotti. But he recognizes that it's a "hard balance."
"You always have this balance of keeping places sacred and wild and pure, versus letting people come and experience it and letting people experience that joy."
Ultimately, surfers like Ainsley say the extreme elements will keep the water clear.
At least, notes the surf pro who once tangled with great whites, they haven't got to worry about sharks.
"The only thing that bites up here is the cold," he says.
After all, not even great whites are crazy enough to swim in the Arctic.
Thanks for reading CBS NEWS.
Create your free account or log in
for more features.