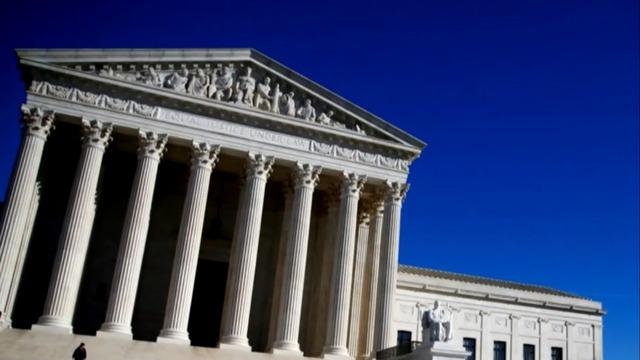 Supreme Court strikes down federal law banning sports gambling in most states
The Supreme Court has struck down a federal law that bars gambling on football, basketball, baseball and other sports in most states today. The decision gives states the go-ahead to legalize betting on sports.
The Supreme Court on Monday struck down the Professional and Amateur Sports Protection Act. The 1992 law barred state-authorized sports gambling with some exceptions. It made Nevada the only state where a person could wager on the results of a single game.
CBS News' Jan Crawford reports that the the justices agreed 7-2 that the federal ban was unconstitutional, and that states have the authority to decide whether to offer legal sports betting. Justices Ruth Bader Ginsburg and Sonya Sotomayor dissented.
One research firm estimated before the ruling that if the Supreme Court were to strike down the law, 32 states would likely offer sports betting within five years.
The court's decision came in a case from New Jersey, which has fought for years to legalize gambling on sports at casinos and racetracks in the state.
In a statement after the High Court's ruling on Monday, New Jersey Governor Phil Murphy said in a statement that he was "thrilled to see the Supreme Court finally side with New Jersey and strike down the arbitrary ban on sports betting imposed by Congress decades ago."
"New Jersey has long been the lead advocate in fighting this inherently unequal law, and today's ruling will finally allow for authorized facilities in New Jersey to take the same bets that are legal in other states in our country," he added.
Murphy credited the court victory to the bipartisan effort from former Governor Chris Christie and former State Senator Raymond Lesniak. Christie had argued last year that the federal government overstepped their bounds by enforcing such regulation.
"This is the fear of every governor that we'll be at the mercy of the federal government and they'll make us pay for it," said Christie. "Today it's sports gaming, tomorrow it's something else," he added. Christie said his state's "long experience" of casino gaming shows that New Jersey can appropriately regulate sports gaming.
Murphy meanwhile said he looked forward to formally enacting a law authorizing and regulating sports betting in the very near future."
More than a dozen states had supported New Jersey, which argued that Congress exceeded its authority when it passed the 1992 Professional and Amateur Sports Protection Act, barring states from authorizing sports betting. New Jersey said the Constitution allows Congress to pass laws barring wagering on sports, but Congress can't require states to keep sports gambling prohibitions in place.
All four major U.S. professional sports leagues, the NCAA and the federal government had urged the court to uphold the federal law. In court, the NBA, NFL, NHL and Major League Baseball had argued that New Jersey's gambling expansion would hurt the integrity of their games.
Major League Baseball issued a statement saying the Supreme Court ruling will have "profound effects" on the league. It said "our most important priority is protecting the integrity of our games."
MLB also said it would continue supporting legislation "that creates air-tight coordination and partnerships between the state, the casino operators and the governing bodies in sports toward that goal."
Outside court, leaders of all but the NFL have shown varying degrees of openness to legalized sports gambling.
The American Gaming Association estimates that Americans illegally wager about $150 billion on sports each year.
The 1992 law at issue in the case bars state-authorized sports gambling with exceptions for Nevada, Montana, Oregon and Delaware, states that had approved some form of sports wagering before the law took effect. Nevada is the only state where a person can wager on the results of a single game, though the law doesn't cover wagering between friends. The law also doesn't cover animal races, such as horse racing, which many states already allow.
New Jersey has spent years and millions of dollars in legal fees trying to legalize sports betting at its casinos, racetracks and former racetracks. In 2012, with voters' support, New Jersey lawmakers passed a law allowing sports betting, directly challenging the 1992 federal law which says states can't "authorize by law" sports gambling. The four major professional sports leagues and the NCAA sued, and the state lost in court.
In 2014, New Jersey tried a different tactic by repealing laws prohibiting sports gambling at casinos and racetracks. It argued taking its laws off the books was different from authorizing sports gambling. The state lost again and then took the case to the Supreme Court.
Thanks for reading CBS NEWS.
Create your free account or log in
for more features.