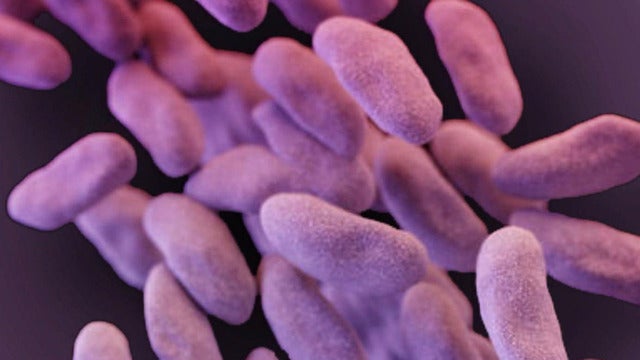 Superbug CRE a growing threat among young children
Antibiotic resistance is a major threat in the United States, with 23,000 people dying each year as a direct result of infections like Methicillin-resistant Staphylococcus aureus (MRSA) and Clostridium difficile (C. diff).
But a relatively new and highly fatal superbug called CRE is becoming a growing concern among adults, and new research shows that children are also getting infected at a much higher rate than the recent past.
CRE stands for Carbapenem-resistant Enterobacteriaceae, a type of bacteria that is resistant to many types of antibiotics and is most often found in hospitals and long-term care facilities. Some estimates have found that as many as 50 percent of those infected with CRE die from it.
Though there is a growing amount of data on CRE in adults, until now little research has existed on how it affects children.
"No one has looked at the impact of the rise of CRE in pediatric patients in the U.S and prior to our study, there was no data outside of single institution surveys on the epidemiology of CRE in U.S. children," Dr. Latania Logan, lead author of the report and an assistant professor of pediatrics at Rush University Medical Center, told CBS News.
For the study, published this month in the Centers for Disease Control's publication Emerging Infectious Diseases, Logan and her team analyzed a nationwide database of reports from 300 microbiology laboratories, to access the presence of CRE bacteria in over 300,000 cultures obtained from children between 1999 and 2012.
"CRE overall are a very urgent threat not only to the United States but to the world. There are very few antibiotics available to treat these infections, and even less are available to children," Logan said. "In our study, we found that CRE infections remain low in the pediatric population overall, but have significantly increased in number across children of all ages and in all healthcare settings."
Specifically, the results showed that the highest increase was seen in critically ill children between the ages of 1 and 5 being treated in intensive care units, with CRE rising from a zero percent rate in 1999-2000 to 4.5 percent in 2011-2012. In all patients aged 1 to 17, the rate increased from zero to .47 percent during that time.
The type of infections with the largest increases over time were infections in the bloodstream and the lower respiratory tract, such as pneumonia, where the increases were from zero percent in 1999-2000 to 3.2 and 2.3 percent in 2011-2012, respectively. This is important, Logan notes, because according to the CDC, up to half of people who develop a CRE infection in the bloodstream die from the infection.
Most adult CRE cases are seen in the elderly and critically ill people living in long-term care facilities. Similarly, infections among children are higher in intensive care settings, though the ways in which children acquire the bacteria may be different.
"We are studying the genes within the bacteria, in order to understand how they are causing resistance to our last line drugs," Logan said. "We are also looking at which children are specifically at the highest risk for acquiring these bacteria and which children may be silently carrying these bacteria."
Answering these questions may help researchers figure out the best strategies for prevention.
Earlier this month, the CDC released a report that looked at CRE rates in major metropolitan cities. The results showed higher-than-expected CRE levels in seven of the cities they analyzed, including Atlanta, Baltimore and New York City. Lower-than-expected levels were observed in Albuquerque, Denver, and Portland, Oregon, but researchers noted that they were alarmed that they found active cases of CRE in every city they examined.
That study's senior author, Dr. Alexander Kallen, a CDC medical officer, said the findings, which were published in the Journal of the American Medical Association, support the CDC's decision to promote coordinated efforts to stop the spread of CRE and other antibiotic-resistant bugs.
"Here we are with an opportunity to intervene on one of these multidrug-resistant organisms just as it's about to emerge and it's still relatively uncommon," he told HealthDay. "That is the time you want to intervene. It's much easier to control things and prevent the organism from becoming more common when it's rare."
Thanks for reading CBS NEWS.
Create your free account or log in
for more features.