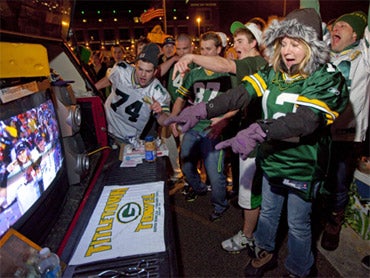 Super Bowl Sets TV Viewership Record
NEW YORK - For the second year in a row, the Super Bowl has set a new record for American television viewing.
The Nielsen Co. said Monday that an estimated 111 million people watched the Green Bay Packers outlast the Pittsburgh Steelers in professional football's ultimate game. That tops the 106.5 million who watched the 2010 game between New Orleans and Indianapolis.
The series finale of "M-A-S-H" had held the title of the most-watched TV show in the United States for 27 years. It is now No. 3.
Fox had the advantage of a game between two of the National Football League's iconic franchises and, even though it looked like it could be a rout when the Packers took a 21-3 lead, it went down to the final minute and held viewers' interest.
Complete Coverage: Super Bowl XLV
Photos: Super Bowl XLV
NFL Commissioner Roger Goodell said earlier Monday that preliminary TV ratings show the game is "on track to be the most-watched show in television history."
"So we're excited about the fan reaction," he said.
Television ratings in general have been super for the NFL this year, up 13 percent over last year, Nielsen said. Games on CBS, Fox and NBC averaged 20 million viewers, more than twice what networks get for their prime-time programming.
The most-watched moment of the game was Pittsburgh quarterback Ben Roethlisberger's final incomplete pass, which essentially clinched the game for Green Bay, according to TiVo Inc., the digital video recorder maker. At least initially, there was some debate among announcers about whether Mike Wallace had been interfered with.
The average Super Bowl viewer with a DVR either paused, rewound or fast-forwarded 145 times during the game, TiVo said.
Fox is owned by News Corp.
Meanwhile, in the Super Bowl of advertising, Justin Bieber replaced Ozzy Osbourne and Joan Rivers became a GoDaddy girl. But a pair of commercials by automakers took the early trophy for online buzz.
Best Super Bowl Ads? You Decide
Super Bowl Ads: Tibet and Groin Jokes
A two-minute ad for Chrysler starring Eminem and a Volkswagen ad featuring a mini-Darth Vader that went viral before it even aired were two of the most talked-about spots during advertising's big night, the Super Bowl, in which Green Bay Packers defeated the Pittsburgh Steelers 31-25.
Chrysler was one of nine automakers that took advantage of advertising's biggest and most expensive showcase, at $3 million for 30 seconds, to try to show they're back after two tough years for the industry.
The cinematic third-quarter Chrysler ad starred Eminem driving through Detroit and introduced a new car, the Chrysler 200 sedan, amid gritty scenes of the city. A voiceover talks about how the city has survived going through "hell and back."
"This is the Motor City and this is what we do," Eminem says.
The Chrysler ad was "the big story of the night," according to NM Incite, a Nielsen/McKinsey Co. that tracks online buzz.
Thanks for reading CBS NEWS.
Create your free account or log in
for more features.